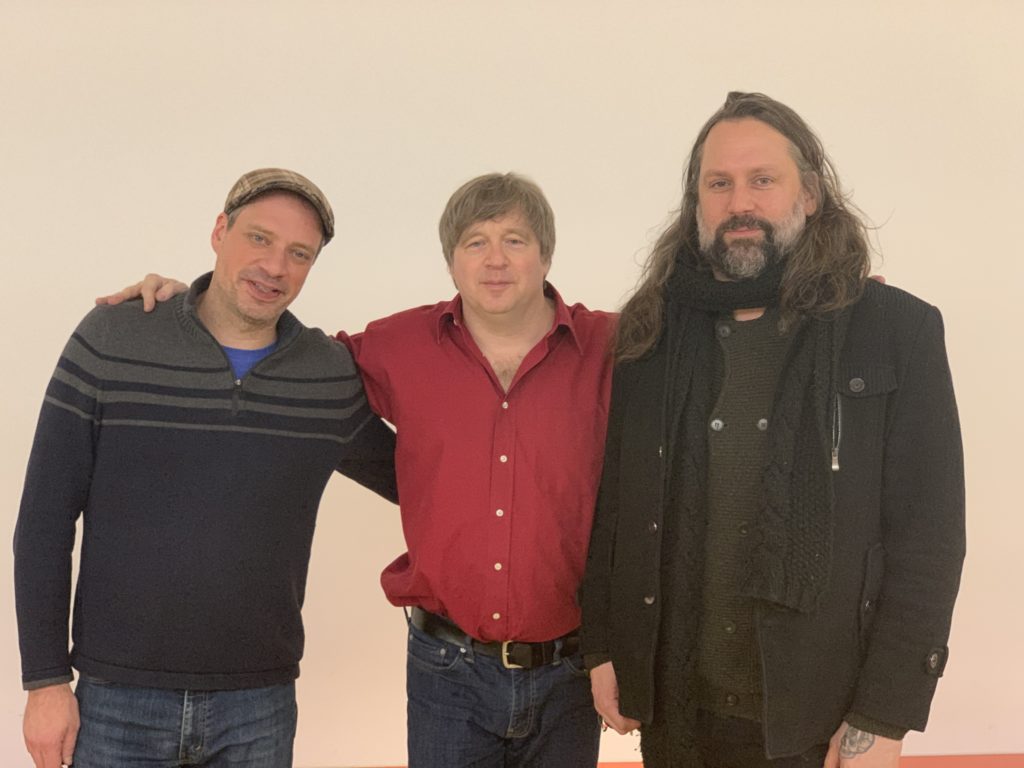 Experimental jazz trio SICK GAZELLE — featuring Bruce Lamont (Yakuza, Corrections House), Steve Shelley (Sonic Youth), and Eric Block (Veloce) — will make some rare live appearances on July 22nd in Chicago, July 23rd in Detroit, July 24th in Cleveland, and July 26th in New York City. See confirmed dates below.
SICK GAZELLE originally operated as a duo with Block on guitar and Lamont on saxophone and vocals. The pair functioned on a purely improvised basis. Shelley accidentally found himself playing drums with SICK GAZELLE when he was in town laying some parts down at the infamous Semaphore Recording Studios, where Block was an engineer and manager. An hour-long improv session ensued, followed by lunch and coffee, and then another hour-long session, this one with a caveat of doing something softer. The result was Odum, the band's debut LP. Boasting four tracks of improvised, haunting, experimental jazz, Odum was released in May via War Crime Recordings.
Odum is out now on all streaming platforms and limited edition black vinyl. Orders are available at THIS LOCATION where the record can be streamed in full.
SICK GAZELLE:
7/22/2019 Empty Bottle – Chicago, IL
7/23/2019 UFO Factory – Detroit, MI
7/24/2019 Happy Dog – Cleveland, OH
7/26/2019 Union Pool – Brooklyn, NY
Bruce Lamont is from Chicago, Illinois and plays in Yakuza, Bloodiest, Brain Tentacles, Led Zeppelin 2, and more.
Eric Block is a guitarist, recording engineer, and coffee lover, also from Chicago. His current creative projects include Veloce and SICK GAZELLE and has made many appearances with a slew of bands on stage and in the studio.
Steve Shelley, originally from Michigan, is best known as the drummer of Sonic Youth. He currently records and tours with Thurston Moore, Spectre Folk, Howe Gelb, and J.P. Shilo. In the recent past, he has recorded and/or toured with Yasmine Hamdan, Peter Walker and Mercury Rev, Hallogallo 2010 (with Neu!'s Michael Rother), Sun Kil Moon, Disappears, and Cat Power. He runs several record labels including Vampire Blues and helps curate the Sonic Youth live archive on nugs.net.
"The song falls somewhere between avant-garde jazz and Eno-esque ambience, and it's the kind of lingering slow-burner that really creeps up on you." – BrooklynVegan on "Atlantic"
"The results are a kind of semi-ambient psychedelic dub-jazz; Block's guitars are fed through such heavy effects that they're often more like synth drones. Shelley's rhythms are tribal and endless, while Lamont's saxophone floats through swathed in foggy reverb… this album has as much in common with Tony Conrad and Faust's Outside The Dream Syndicate as it does with 'jazz,' but it rules." – Stereogum
"…fully improvised as good Chicago jazz should be." – Deli Magazine
"A deeply tasteful and meditative recording, Odum seems destined to become a touchstone in improvisational music in the future and is a singular and imaginative statement from three masters in the form." – PopMatters
http://warcrimerecordings.bigcartel.com
http://warcrimerecordings.bandcamp.com
http://www.facebook.com/WarCrimeRecordings