"Fields Of Fire," the new video from American heavy metallers SEVEN WITCHES, can be viewed at THIS LOCATION. The song comes off the band's upcoming new full-length, Call Upon The Wicked, scheduled for release on June 28, 2011 via founding guitarist Jack Frost's own FrostByte Records with North American distribution via eOne Entertainment.
Their first record since 2007's Deadly Sins (and eighth overall), Call Upon The Wicked finds Frost reunited with former vocalist James Rivera (Helstar). Rounding out the lineup is bassist Mike LePond (Symphony X) and drummer Taz Marazz, who each play an integral role in crafting what is easily SEVEN WITCHES' finest offering to date.
Commented Frost: "I would just like to say thank you in advance to all of you who have been loyal to SEVEN WITCHES over the years and have waited so patiently for our new release. We also want to tip our hats to the fellow metalheads out there with open minds willing to give a listen to a great new record. Call Upon The Wicked is our latest project, a concept record that was a work in progress. I'm so proud to be releasing such an amazing product of our dedication. The time it took to put out this new addition to the 'WITCHES family, along with the blood, sweat and tears it took to make it, has been nothing but a wonderful experience for us. This album really captured a dream for me, as it is combination of classic SEVEN WITCHES style mixed with many of our greatest influences. I can honestly say that our fans will truly understand the devotion and loyalty we have shown to ourselves and our new music, and they will appreciate this record as much as we do. I am honored to be a part of this release, and thank you all so much for checking out our new baby, Call Upon The Wicked."
Call Upon The Wicked was recorded at Lickman Studios by Frost with co-producers LePond and Joey Vera (Armored Saint, Fates Warning), who also mixed the record. The CD features material that ranges in sound from classic Judas Priest to a touch of Rainbow. There's even an epic song featuring female vocals, a new step in the band's journey.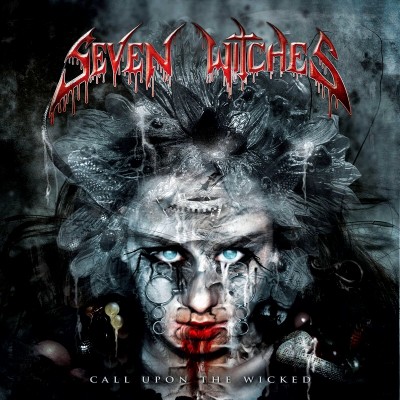 Call Upon The Wicked Track Listing:
01. Fields Of Fire
02. Lilith
03. Call Upon The Wicked
04. Ragnarock
05. End Of Days
06. Mind Games
07. Harlot Of Troy
08. Eyes Of Fame
09. White Room
10. Metal Tyrant (bonus track)
11. Metal Asylum (bonus track)
12. Jacob (bonus track)