Los Angeles-based sludge bandits SEVEN SISTERS OF SLEEP will set out on the longest tour run in the band's ancestry beginning next week as a two-and-a-half week tour with labelmates Full Of Hell begins.
Having shared the stage with Negative Approach, Integrity, All Pigs Must Die, Gehenna, Nails, The Love Below, Dropdead, Hoax, Eyehategod, Ringworm, Lack Of Interest and an amalgamate of other nihilistic acts since inception, SSOS has definitely mashed humans in the live setting, but never on an extensive excursion like the one scheduled to embark this week. Starting this Saturday, June 8th, SEVEN SISTERS OF SLEEP will scathe the nation in a clockwise hook of live actions alongside labelmates Full Of Hell, beginning in Santa Cruz, California and slicing straight around to their exit wound in Baltimore, Maryland. NYC-based Psychic Limb will join the melee for three dates, and all three acts will support Trap Them on a one-off at Saint Vitus Bar in Brooklyn, the trek sponsored by Invisible Oranges. Prepare for war.
The SEVEN SISTERS OF SLEEP faction is touring in support of their mammoth second LP, Opium Morals, released via A389 in mid-March. With over thirty-three minutes of pure auditory authority, Opium Morals embodies the band's murky blend of Disembodied, Grief, Harvest, Noothgrush, Unruh, Eyehategod and Xibalba into the most corrosive, debauchery-ridden and ethics-free sludge to date.
All ten encrusted anthems from Opium Morals can be heard RIGHT HERE.
SEVEN SISTERS OF SLEEP w/ Full Of Hell:
6/08/2013 418 Project – Santa Cruz, CA
6/09/2013 1st Church of the Buzzard – Oakland, CA, Badr Vogu
6/10/2013 The Know – Portland, OR
6/11/2013 Josephine – Seattle, WA
6/12/2013 The Mad Son House – Boise, ID
6/13/2013 The Shred Shed – Salt Lake City, UT
6/14/2013 Rhinoceropolis – Denver, CO
6/15/2013 Art Closet- Kansas City, MO
6/16/2013 Neverland – Chicago, IL
6/17/2013 Refuge Skate Shop – Dearborn, MI
6/18/2013 Now That's Class – Cleveland, OH
6/19/2013 Roboto Project – Pittsburgh, PA
6/20/2013 The Flesh Temple – Buffalo, NY, Psychic Limb
6/21/2013 Democracy Center – Cambridge, MA, Psychic Limb
6/22/2013 Saint Vitus – Brooklyn, NY w/ Trap Them, Psychic Limb
6/23/2013 Club K – Baltimore, MD
6/27/2013 Korova – San Antonio, TX [SSOS ONLY]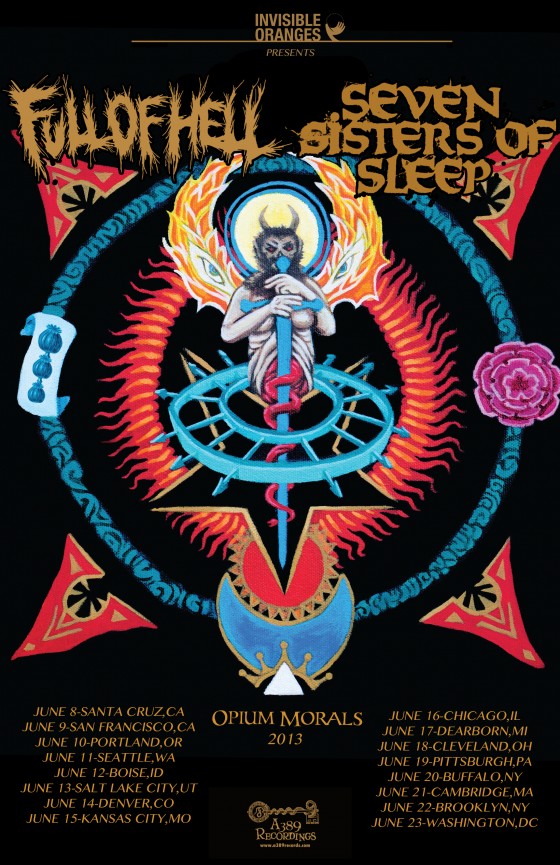 http://www.sevensistersofsleep.com
http://www.facebook.com/sevensistersofsleep
http://twitter.com/sevenSSSisters
http://www.a389records.com
https://www.facebook.com/a389recordings
https://twitter.com/a389recordings