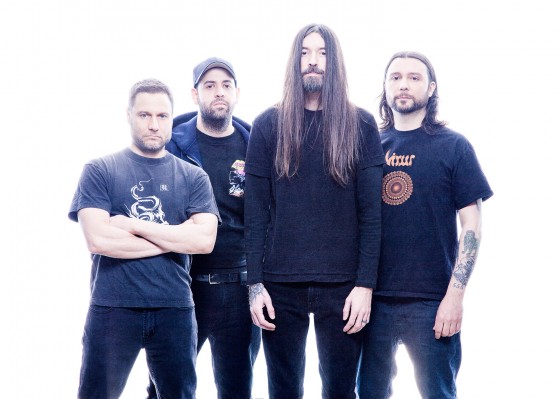 Breaking two years of silence since the release of their self-titled debut LP, today, New York City-based morbid sludge metal executioners, SERPENTINE PATH, unleashes the band's disturbing second album, Emanations, once again through Relapse Records.
Reborn in the smoldering remains of Unearthly Trance in 2011, bassist Jay Newman, drummer Darren Verni and vocalist Ryan Lipynsky (The Howling Wind) recruited guitarist Tim Bagshaw (ex-Ramesses, ex-Electric Wizard) to complete the SERPENTINE PATH lineup. Their crushing, self-titled debut full-length was referred to as "thudding death-doom that will have genre enthusiasts rolling their stoned skulls in graveyard genuflection" by Revolver, and "a contender for doom album of the year" by Decibel. Now officially augmented by second guitarist Stephen Flam, of NYC doom/death legends, Winter, SERPENTINE PATH brings forth their most demoralizing and anguish-filled slow-motion chaos yet, with Emanations. As with their debut, the new album was recorded by the band's Jay Newman, after which it was honed to devastating perfection at Audiosiege, the album capturing forty-five minutes of true sludge punishment with seven brand new songs from this true underground all-star team. Sure, the pedigree is undeniable, but regardless of their "members of" status, SERPENTINE PATH is one of the most scathing sludge acts on the planet.
To unveil Emanations to the masses for its street date, The Obelisk is now exclusively streaming Emanations from its dredging opening to demoralizing finale, The Taskmaster issuing of this intoxicatingly brute entity without qualms, "It's fucking dark." The writeup delves further into the murk, continuing, "Their tales may be morbid, and they may tell them with a lumbering brutality, but Serpentine Path also stand for the excellent end results that can occur with an assemblage of those whose joy derives from such dark artistry."
Stream the entire LP and be decimated RIGHT HERE.
Orders for the physical versions of Emanations can be placed HERE, and digital copies via iTunes HERE.
SERPENTINE PATH will ruin their hometown with a record release show in the coming weeks, marking the band's second live performance, ever. The henchmen will pummel Brooklyn on June 21st at The Acheron, with support from locals Churchburn, Throaat and Dridge. Additional live actions from the outfit will be announced in the coming months.
SERPENTINE PATH Emanations Release Show:
6/21/2014 The Acheron – Brooklyn, NY w/ Churchburn, Throaat, Dridge [info]
"Consisting of all three members of the dearly departed Unearthly Trance, along with ex-Electric Wizard/-Ramesses player Tim Bagshaw and Winter's Stephen Flam… A record like Emanations, with its war-march of big, thick, earth-groaning riffs, will appeal to fans of any of the aforementioned. That said, it will also earn new ones – this thing is a monster." – Invisible Oranges
"The result, on this album especially, is almost too good to be true. Fans of the genre or the band's previous efforts should rejoice. A contender for 'future album of choice to be played during the apocalypse' has arrived." – Metal Insider
"The reverb/sonic parts seem to progress as the record goes on, like you're going deeper into a crevasse of misery and misanthropy. Like Dante's levels of hell, but self-inflicted and with way more weed smoke." – Cvlt Nation
"…the culmination of years of experience within the genres of stoner, doom and sludge metal. Emanations teases at becoming truly evil, only being held back the uniform nature of doom and its attention sapping run time." – HeavyBlogIsHeavy
"The album is very well produced. The instruments and vocals are clear and not drowned out, but it does not sound completely fake either. There is some grittiness to the mix, and it does help add atmosphere and feeling to the death/doom sound." – Metal Reviews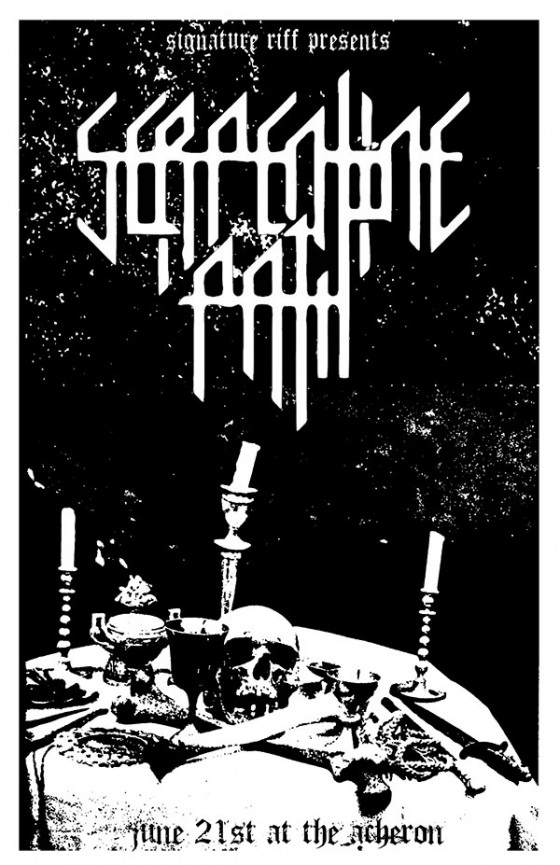 http://serpentinepath.blogspot.com
https://www.facebook.com/serpentinepath
http://serpentinepath.bandcamp.com
http://www.relapse.com
http://relapserecords.bandcamp.com
http://www.facebook.com/RelapseRecords