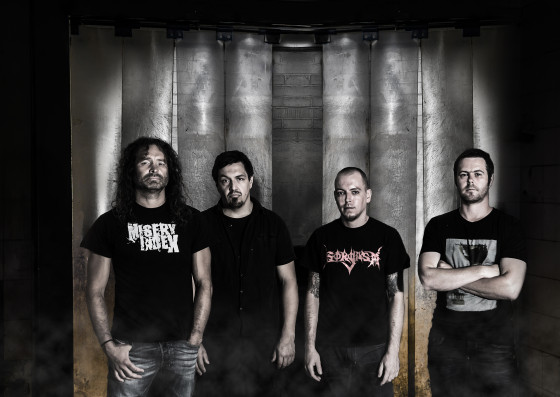 Belgian death metal horde, SERIAL BUTCHER – which features current and formers members of Aborted, Emeth, Moker, Ectopia and more — will spew forth their first full-length offering in five years this Fall via Unique Leader Records. Titled Brute Force Lobotomy, the follow-up to 2010's lauded A Crash Course In Cranium Crushing offering was recorded and mixed by Lander Cluyse (Hessian, Oathbreaker, Amenra etc.) at Hearse Studio, mastered by SERIAL BUTCHER guitarist Kenneth Keysers at Badass Audio Mastering and boasts ten brilliantly-formulated and expertly-executed death metal mantras. For forty-two venomous minutes, SERIAL BUTCHER punches you in the throat rapidly and repeatedly with a brutal assortment of blistering leads, bestial hooks, blasts, grooves and guttural grotesqueries, its raw, crisp production only heightening its devious aural annihilation. If you consider yourself a sincere fan of boundless brutal death metal, you owe it to yourself to investigate this ingenious monstrosity.
Comments the band in a collective statement, "Sometimes there's need for careful thought… for tranquil conversation… for peaceful mediation. And sometimes… you just want to stab someone in the eye with a blunt, rusty knife. Until (s)he's dead. And then you stab some more… Just to be sure…. It's the very definition of the latest SERIAL BUTCHER recording, Brute Force Lobotomy."
Brute Force Lobotomy Track Listing:
1. Hypovolemic Shock
2. Sadistic Spare Parts Surgery
3. Brute Force Lobotomy
4. Born On A Chopping Block
5. Bowel Soup
6. Fresh Frozen Females
7. Flayed Human Skin
8. Facialized By A Flamethrower
9. Rusty Lawnmowing Massacre
10. Worm Buffet
SERIAL BUTCHER was forged in 1995 by drummer Nico Veroeven (Emeth, ex-Apocryph, ex-Leptotrichia) and guitarist Hendrik Dobbelaere who were later joined by bassist Bob D'Hondt and vocalist Steven De Craeker (Putrid Inbred). A self-titled demo tape was unleashed upon an unsuspecting underground two years later. Likened to a more brutal version of Cannibal Corpse, the band performed regularly throughout the country, opening for international acts such as Loudblast, Natron, Suffocation and Aborted. Two more demos would surface by 2001 and – limited to just a few hundred copies – sold out quickly. D'Hondt and Dobbelaere eventually fled the band and the remaining members were joined by guitarist Nicolas Malfeyt (Leng Tche), leaving them bass-less for a time. SERIAL BUTCHER joined the Deepsend Records roster for the release of their Kris Belaen (Aborted, In-Quest etc.)-recorded Genocide Landscape EP (2003) before undergoing another bout of lineup shifts which saw the addition of bassist Koen Van Goethem (ex-Bloodfart), second vocalist Kurt Termonia (ex-Ectopia) and guitarist Gijs Cielen (ex-Apocryph) replacing Malfeyt who'd also left the group. Both De Craeker and Cielen would exit the lineup in 2007 paving the way for guitarist Kenneth Keysers (ex-Acephalous, Moker, Steengruis) who would eventually join the ranks, marking their first stable lineup in years. By 2008, SERIAL BUTCHER proved more punishing sonically than ever before as evinced by their A Crash Course In Cranium Crushing full-length. Tracked at the famed Berno Studio in Sweden with producer Henrik Larsson (The Haunted, Amon Amarth, Vomitory etc.), the record's terminally crushing assaults earned the interest of Unique Leader Records, who released the record in 2010. The band continued to slay stages opening for the likes of such extreme metal powerhouses as Malevolent Creation, Obituary, Vader, Exhumed, Brutal Truth, Leng Tche, Ulcerate and more.
In 2013, SERIAL BUTCHER was selected to take part of a worldwide art project called A Box-Sized Die created by Portuguese artist, Joao Onofre. The band was asked to perform in a fully sound and oxygen proof box measuring 5 feet and 10.87 inches at all sides and managed to do so for nearly twenty-five minutes. The audience could not see or hear the band but only capture vibrations coming of the cube. The event took place at the Center For Contemporary Art in Aalst, Belgium, was broadcast on regional TV and reaped the band commercial airplay on Studio Brussel with a live interview.
Enter Brute Force Lobotomy. The band's epitome of pure sonic sickness. The record comes bedecked in the twisted renderings of renowned artist, Tony Koehl and sees the addition of Koen Verstraete (ex-Leptotrichia, ex-Aborted), replacing longtime bassist Van Goethem, who departed the band just before the record's completion.
Brute Force Lobotomy will be released on CD and digital formats on September 18th, 2015 via Unique Leader Records. Teaser tracks and preorder info to be announced in the days to come.
SERIAL BUTCHER Personnel:
Kurt Termonia – vocals
Nico Veroeven – drums
Kenneth Keysers – guitar
Koen Verstraete – bass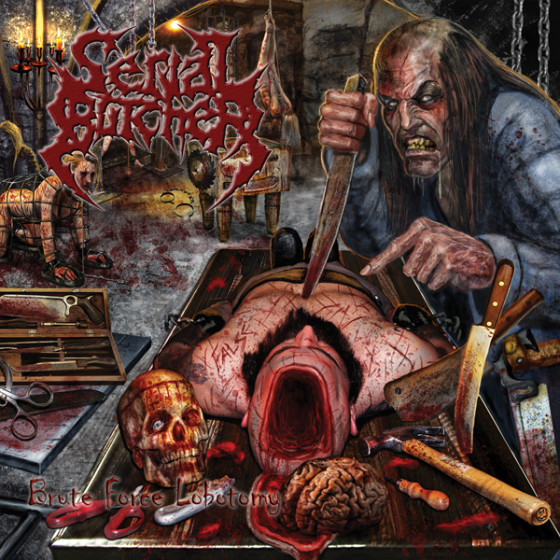 http://www.facebook.com/SerialButcher
http://www.uniqueleader.com
http://www.facebook.com/UniqueLeaderRecords
http://www.twitter.com/UniqueLeaderRec
http://www.youtube.com/uniqueleaderrecords