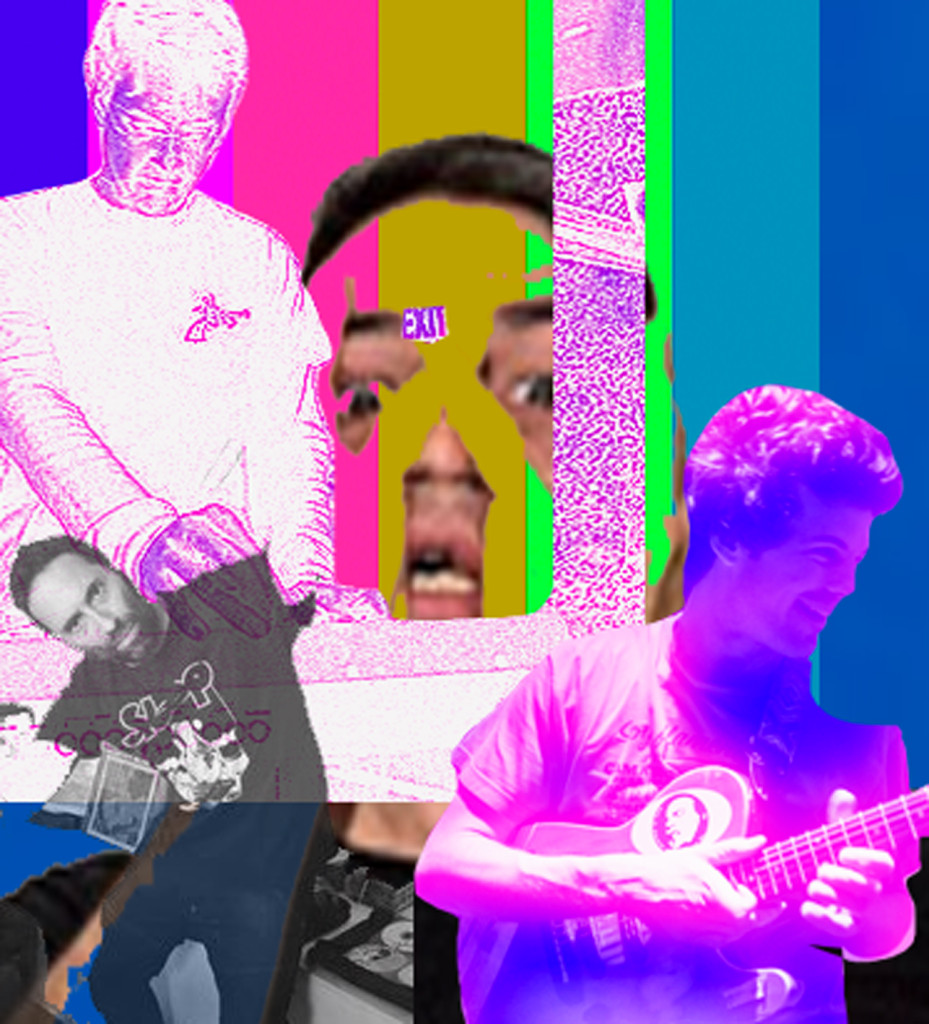 Nefarious Industries presents Lighteninging On Your Thames, the new album from eccentric and spontaneous megacollective, SEE?, the record now being finalized for release this December.
SEE? is a spontaneous supergroup featuring bassist Jon Ehlers (Bangladeafy, Pseudo/Sentai), guitarist Brandon Seabrook (Seabrook Power Plant, Needle Driver, Die Trommel Fatale), and drummer/vocalist/producer Timo Ellis (Netherlands, Cibo Matto, Spacehog, Joan as Police Woman), with additional keyboards by Stuart Popejoy (Bassoon, Sugarlife). An exuberant and explosive testimony to their collective intensity, ferocious skill and wild imagination, Ellis recorded the basics for Lighteninging On Your Thames in an evening and then mercilessly tweaked it over the next few weeks at the Williamsburg Garage, after which it was mixed and mastered by Ron A. Shaffer at Atlantic West Studios, and finalized with art by Ellis. Simply put, this is an unremitting thrill salad of joy, angst, brains…and a massive fucking heart.
Nefarious Industries welcomes SEE? to their family of twisted musical intensity, with Lighteninging On Your Thames being finalized for release on December 23rd. Stand by for audio samples from the record and more in the coming days.
Timo Ellis is a vocalist and multi-instrumentalist and has appeared on almost one hundred albums over the past twenty years. He's performed and collaborated with such artists as Yoko Ono, Cibo Matto, Joan As Police Woman, Mark Ronson, John Zorn, Melvins, Ween, Marc Ribot, The Lemonheads, Money Mark, White Hills, and Gibby Haynes. Currently he's tearing it up with his sludge/fuck-rock band Netherlands (on Prosthetic Records) on the heels of their latest LP Audubon; Netherlands has played with Napalm Death, Melt Banana, Black Flag, Candiria, and Mutoid Man among many others. Jon Ehlers is currently enjoying the critical and popular success of the latest Bangladeafy EP, Narcopaloma, which is fucking ferocious and totally singular in its sound and vision. He's widely becoming regarded as one of the most talented and inventive American bassists to emerge in years. Brandon Seabrook has been described by Spin Magazine as "an apocalyptic, supersonic general of the banjo" and has made a name for himself in the New York avant-garde music scene as an explosive guitar and banjo performer. He has been summoned by the likes of Anthony Braxton, Elliot Sharp, and Joey Arias, among many others, for his unpredictably spiked approach to improvisation and impeccable caterwauling. He regularly performs with his trios Seabrook Power Plant and Needle Driver, and his sextet Die Trommel Fatale. Stuart Popejoy is a terrifyingly badass bassist, keyboardist, guitarist and composer; he performs regularly with his instrumental post-rock/ butt-metal trio Bassoon, art/fuck/performance legends Sugarlife, theremin master Pamelia Stickney, along with many others in the NYC avant-rock and jazz scenes (including with Brandon in a few other ensembles!) It should be noted that Stuart's sublime performance on this record was improvised "sight unheard", I.E without ever having heard any of the music first.
Final details and review copies of Lighteninging On Your Thames will be delivered shortly.
SEE?:
Brandon Seabrook – guitar
Jon Ehlers – bass
Timo Ellis – drums, vocals
Stuart Popejoy – guest keyboards
https://www.facebook.com/seebandnyc
https://soundcloud.com/timoellismusic
http://www.facebook.com/NefariousIndustries
http://www.nefariousindustries.com
http://www.twitter.com/NefariousInd