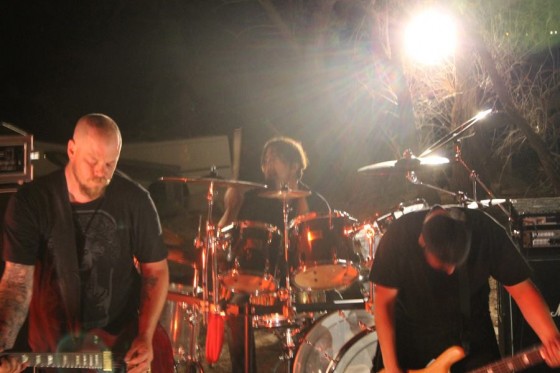 Following a brief silence after touring the West Coast through the latter half of 2013 in support of their debut album, To Sail Black Waters, Oakland-based SECRETS OF THE SKY, has been extremely busy locking down several new tours for the first half of the year.
SECRETS OF THE SKY has just announced an upcoming tour running from the end of March through the second week of April where the mammoth six-piece lineup will take their expansive and progressive style of atmospheric doom metal back out to new audiences up and down the West Coast. At press time, shows have been booked in San Jose, Livermore, Eugene, Portland, Seattle, Boise, Salt Lake City, Colorado Springs and Boulder, with several other locations are being scouted out for additional performances to be added.
Following this tour, SECRETS OF THE SKY will play locally over the next few weeks, with April gigs in Modesto and Berkeley confirmed, before heading back out on their next live trek, which is currently being finalized with Tucson sludge faction, Godhunter, where both bands will invade the Southwestern quarter of the country in June. Final dates on both tours will be confirmed and broadcast in the coming days.
SECRETS OF THE SKY Spring Northwest Tour Dates:
3/28/2014 Back Bar – San Jose, CA
3/29/2014 Black March at Dudes Garage – Livermore, CA
3/30/2014 Tiny Tavern – Eugene, OR w/ Ninth Moon Black
3/31/2014 Dante's – Portland, OR
4/01/2014 Chop Suey – Seattle, WA w/ Eye Of Nix
4/02/2014 Boise Shredder – Boise, ID
4/03/2014 Burt's Tiki Lounge – Salt Lake City, UT
4/04/2014 Triple Nickle Bar – Colorado Springs, CO
4/05/2014 7th Circle – Boulder, CO
4/12/2014 Sky Lounge – Modesto, CA
4/27/2014 924 Gilman – Berkeley, CA w/ He Whose Ox Is Gored
Italian label, Kolony Records, released To Sail Black Waters worldwide in October, exposing the planet to SECRETS OF THE SKY's expansive, powerhouse style of fusing progressive elements into their crushing doom metal foundation. Three of the band's six members each contribute with multiple instruments, layering synth/keys, violins and an array of vocal styles atop the crushing rhythm section and massive triple guitar attack, resulting in a dense and stunning forty-one minute opus. Bulldozing over doom, death, black, prog and post-metal genre boundaries, the expansive power of To Sail Black Waters was recorded over an eight month period of recording sessions at Trident Studios with engineer/producer Juan Urteaga (Testament, Machine Head, Cattle Decapitation), and appeared on over a dozen best of 2013 lists including Decibel, MetalSucks, Metal Injection, Metal Insider and more.
Watch SECRETS OF THE SKY's "Decline" video, which was filmed with Andrew Nethery (Melvins, Kyuss Lives, Dead Meadow) at THIS LOCATION, and explore To Sail Black Waters in its entirety HERE.
"…overflows with that rare quality of sounding familiar while remaining wholly unique… TSBW is the universal cure for a dull day, smarmy suburban consumerism, and all varieties of weak-willed hack music. Do not miss this.9/10" – Decibel
"Imagine if you tossed Neurosis, more recent Immortal, and Porcupine Tree into a blender. Sounds like a fucked up mix, right? It's an awesome fucked up mix though." – Metal Injection
"…equal parts Insomnium, The Ocean, Agalloch, Type O Negative, Opeth and something all their own. It's dark, dark stuff with a tinge of progginess that crosses multiple sub-genres and it sounds fantastic." – MetalSucks
"…a strong and superb debut release… I was especially impressed with the way the band mixes doom with post metal and something that could be described as progressive rock… If anything, this band is expanding the sonic possibilities of doom metal without sacrificing its essential dark nature. 4.5/5" – Sea Of Tranquility
"Secrets Of The Sky though are quickly becoming masters of taking so many different elements and styles and weaving them into this unique tapestry of sounds and aural experiences." – Metal Insider
http://www.facebook.com/secretsofthesky
https://twitter.com/secretsofthesky
http://www.kolonyrecords.com
https://www.facebook.com/kolonyrecords
https://twitter.com/kolonyrecords