Connecticut atmospheric doom metal miscreants SEA OF BONES are pleased to soil the masses with their latest slab of slow motion desolation in the form of The Earth Wants Us Dead.
Their first offering in six years, the crushing full-length serves as a true testament to the band's impenetrable determination. Having weathered all manners of hell both collectively and personally, from a tour-ending van crash and personnel changes to two scrapped recordings, trashed songs, and a near breakup, The Earth Wants Us Dead could have, quite easily, not been. However SEA OF BONES returns triumphantly to their original three-piece lineup, bruised, gnarlier and more determined than ever before.
Recorded with guitarist Tom Mucherino and longtime friend David Lutz at a secret underground location (aka Tom's cellar) and mastered by Mell Dettmer (Earth, Kayo Dot, Thou), The Earth Wants Us Dead heaves forth a cataclysmic wall of soul-rumbling distortion. Crowned, "beautifully agonizing," in an early review by Verbicide, who furthers, "pure, uncut ugly, cooked up on a bloody spoon, and slowly shot into your ear hole…with a railroad spike," the six track offering is unapologetically severe; an introspective outpouring of sound and emotion that is at once morose yet infuriated. SEA OF BONES' The Earth Wants Us Dead is the thick, sordid resonance of true despair and includes a nearly forty-minute soul-swallowing droney instrumental improv piece (the title track) recorded at InnerSpaceSoundLabs with Scott Amore.
Elaborates the band, "This album is more than just music to us, it is a testament to our friendship and the chemistry we have with each other. This album was made for the three of us but we hope you all will enjoy it as much as we do."
The Earth Wants Us Dead will be unleashed later this year. Further info, including live assaults, to be announced in the weeks to follow. In the meantime, sear your ears to the sound of album opener, "The Stone The Slave And The Architect" below.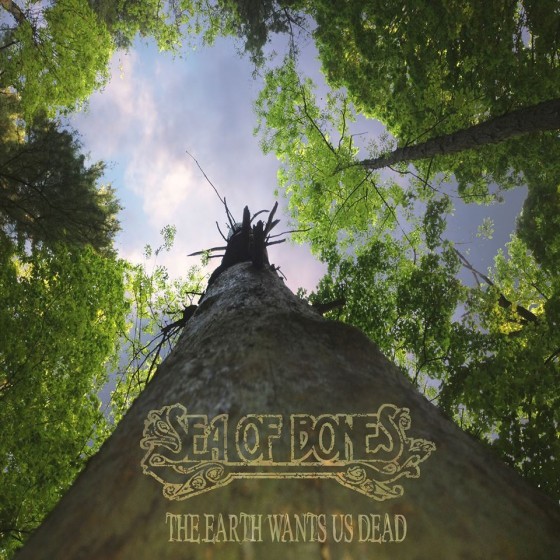 The Earth Wants Us Dead Track Listing:
1. The Stone The Slave And The Architect
2. Black Arm
3. Failure Of Light
4. Beneath The Earth
5. The Bridge
6. The Earth Wants Us Dead
SEA OF BONES:
Gary Amedy – bass, vocals
Tom Mucherino – guitar, vocals
Kevin Wigginton – drums, vocals
"SEA OF BONES' atmospheric sludge is even bleaker than Neurosis'. The only color is shades of black. Ultra-heavy riffs rumble below distant smears of feedback… " — Decibel
https://www.facebook.com/pages/Sea-of-Bones/35253450819
http://seaofbones.bandcamp.com/