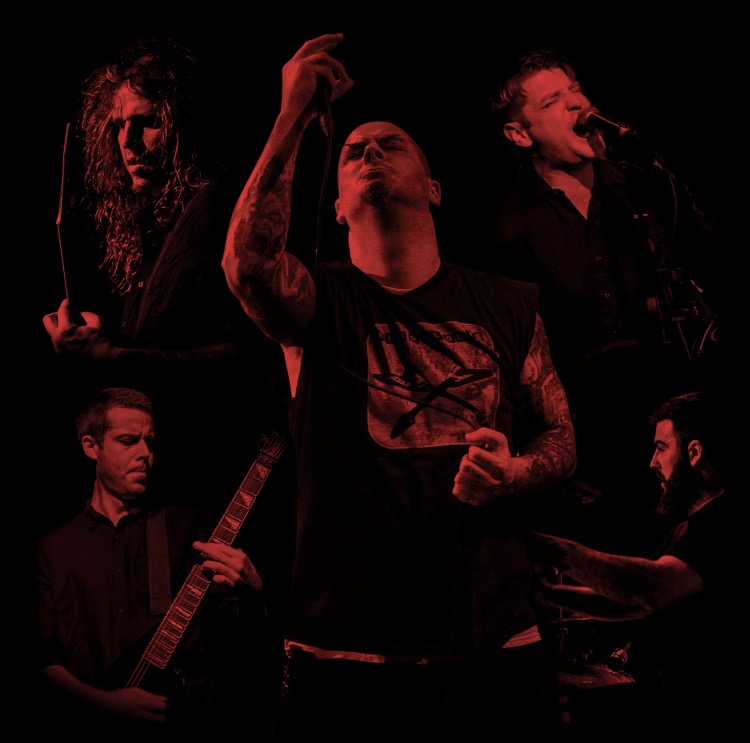 "A six-track romp through buzzing infernos and sludgy hellscapes, the supergroup's second EP, Red, is Anselmo's finest black metal hour to date – no corpse paint necessary." — Revolver
SCOUR — the extreme metal supergroup featuring Philip H. Anselmo (Pantera, Down, Superjoint), John Jarvis (Pig Destroyer, Agoraphobic Nosebleed), Derek Engemann (Cattle Decapitation), Chase Fraser (Animosity, Decrepit Birth), and Adam Jarvis (Pig Destroyer, Misery Index) — will play two rare shows in Texas next week in Fort Worth and Austin respectively. The band is also confirmed to appear at Roskilde Festival in Denmark next year alongside the likes of Mogwai, Clutch, Chelsea Wolfe, Bruno Mars, and so many more. See confirmed dates below.
SCOUR released their Red EP — part two of a three-part EP series — early last month via Housecore Records. Reaping critical hails from fans and critics alike, the recording recently placed among Revolver's 20 Best Albums Of 2017, with the esteemed publication noting, "ex-Pantera frontman Phil Anselmo has dabbled in black metal intermittently for over two decades now with side projects like Christ Inversion, Viking Crown, Eibon, and now SCOUR, his gnarled crew of battle-tested players from Pig Destroyer, Cattle Decapitation, and others. A six-track romp through buzzing infernos and sludgy hellscapes, the supergroup's second EP, Red, is Anselmo's finest black-metal hour to date – no corpse paint necessary." Additionally, the record's title track earned the #11 position of Revolver's 50 Best Songs Of 2017.
Stream Red in its ferocious entirety via Bandcamp HERE or Spotify HERE.
Red is available on CD, digital, and vinyl formats. Physical orders are currently available at this LOCATION. Desirers of the digital edition, go HERE.
In a recent review of the offering, No Clean Singing champions a, "fifteen-minute slab of instantly recognizable, no-compromises death metal." Overdrive Mag notes of Red, "extreme is an understatement… So many twists and turns… Six tracks clocking in at sixteen minutes, you won't know what hit you…" Spectrum Culture calls the EP, "evil," and, "demonic," adding, "SCOUR's music and lyrics disorient by whirling around you like a tornado, never giving you time to breathe or find your bearings. It's a blur of hyperspeed, blunt force violence." Skulls 'N' Bones concurs, "they have the pedigree for not only excellence, but brutality down to the smallest detail." Metal Nexus calls Red a, "punishing, sixteen-minute mix of pure modern black metal with pulsating grind and thrash which will leave you 'seeing red' with an insatiable bloodthirsty appetite for more…." While Metal Assault lauds a, "barrage of modern black metal goodness." Adds Dead Rhetoric, "SCOUR's unrelenting take on extreme metal not only gives Anselmo another platform for his acidic vocals, it's also just simply quality metal."
SCOUR:
12/15/2017 The Rail Club – Fort Worth, TX [tickets]
12/16/2017 Come And Take It Live – Austin, TX [tickets]
7/07/2018 Roskilde Festival – Roskilde, Denmark [tickets]
Forged in 2015, SCOUR's debilitating fusion of black metal, grindcore, and thrash made its debut with the ferocious single "Dispatched." The band's debut EP, Grey, was released the following year via Anselmo's own Housecore label. Just before a crushing performance at Hellfest Open Air, which featured a cover of the Pantera classic "Strength Beyond Strength," the band recorded their Red EP at Nodferatu's Lair with Steve Berrigan (Down, Philip H. Anselmo & The Illegals, Eyehategod, Haarp, Classhole, etc.) at the helm. The record was once again mixed and mastered by Dave Otero (Cephalic Carnage, Cattle Decapitation, Cobalt, Khemmis) at Flatline Audio.
http://www.facebook.com/scourband
http://www.thehousecorerecords.com
http://www.facebook.com/housecorerecords