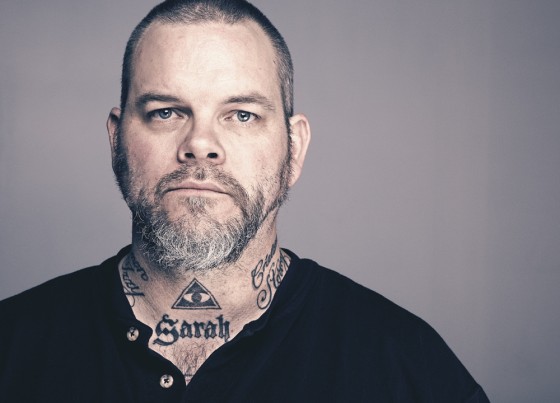 While NEUROSIS continues to dominate massive venues in support of their acclaimed tenth studio endeavor, Honor Found In Decay, founding guitarist/vocalist SCOTT KELLY has been touring smaller clubs with his more personal solo material amidst the shows. In addition to his recent American performances as part of CORRECTIONS HOUSE, and recent tours stateside and in Europe as SCOTT KELLY AND THE ROAD HOME, the latter act will perform a new string of West Coast shows beginning tomorrow.
At the firs of the dozen newly confirmed gigs, SCOTT KELLY AND THE ROAD HOME will perform this Thursday, February 28th on NEUROSIS' native soil in Oakland, alongside Eugene Robinson (Oxbow) as well as a screening of the DIY record industry film Blood, Sweat & Vinyl. Performances in Santa Cruz, Freson, Santa Ana, Phoenix, Salt Lake City, Boise, Spokane, Bellingham, Vancouver, Seattle and Portland will follow.
Dissimilar to his previous solo outings, KELLY sought out additional musicians to help create his latest musical vision, recruiting good friends Greg Dale and Noah Landis (Neurosis), forming SCOTT KELLY AND THE ROAD HOME. The first album by this trio, The Forgiven Ghost In Me, flows with over forty minutes of foreboding Americana showcasing the ever-evolving artist brandishing some of his most expressive hymns of pain, reflection and redemption to date also features guest contributions from Jason Roeder (Neurosis, Sleep) and Josh Graham (A Storm Of Light, ex-Neurosis).
Stream the title track to The Forgiven Ghost In Me via Decibel RIGHT HERE, and watch the official and video for the album's somber "The Sun Is Dreaming In The Soul" and more below.
SCOTT KELLY AND THE ROAD HOME West Coast Winter Tour:
2/28/2013 1-2-3-4 Go Records – Oakland, CA w/ Eugene Robinson, Blood, Sweat & Vinyl screening [info]
3/01/2013 Metavinyl – Santa Cruz, CA [info]
3/02/2013 Audies Olympic – Fresno, CA (happy hour show, 6pm)
3/03/2013 Constellation Room – Santa Ana, CA [info]
3/04/2013 Rhythm Room – Phoenix, AZ [info]
3/05/2013 *house show – Salt Lake City, UT
3/06/2013 Visual Arts Collective – Boise, ID [info]
3/07/2013 Mootsys – Spokane, WA [info]
3/08/2013 The Shakedown – Bellingham, WA
3/09/2013 Railway Club – Vancouver, BC [info]
3/10/2013 The Highline – Seattle, WA [info]
3/11/2013 White Owl Social Club – Portland, OR
"The trio keeps the vibe slow, stark and intimate throughout, with Kelly's acoustic guitar and weathered voice front and center. He wields the latter like a favorite stiletto… 8/10" – Decibel
"With raw, organic production letting you feel that Kelly and co-conspirators Noah Landis and Greg Dale are in the same room as you – if not actually taking residence somewhere inside your head – the is something achingly frank and grittily real about every note… 9/10" – Outburn
"Kelly's solo work is no less ominous or atmospheric than his regular gig. He sounds like an apocalyptic troubadour playing in a dusty cowboy bar at the end of the world." – The Onion's A.V. Club
"The Forgiven Ghost in Me does well to move beyond some of the Townes van Zandt-ery of Kelly's prior solo work – especially that one where, you know, he covered those Townes van Zandt songs – and somehow it makes sense that with the input of the others who appear here, Kelly should wind up with his most human and individualized outing yet." – The Obelisk
https://www.facebook.com/ScottKelly.official
http://neurosis.com
http://www.neurotrecordings.com
http://www.facebook.com/neurotrecordings