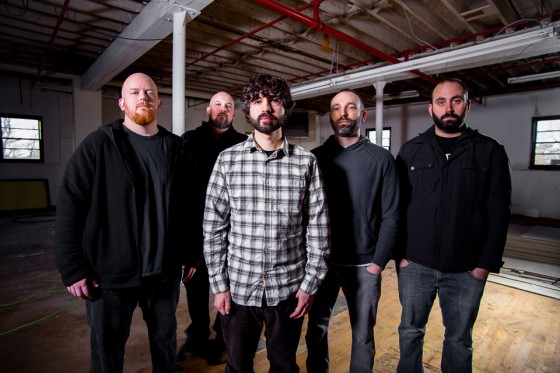 Tech/prog metal squad EAST OF THE WALL this week transmits the details for their upcoming stateside April tour. Beginning with a home state kickoff show on April 12th, the tour will hit eleven cities across the East Coast and Midwestern U.S. Sponsored by long-running webzine Metal Underground, the trek will see EOTW teamed up with LA-based stoner/groove metal outfit All Hail The Yeti for all shows, with Indiana's math/experimental metal outfit Exotic Animal Petting Zoo also joining the melee on three dates.
In conjunction with the new tour, EAST OF THE WALL will also issue a high-quality LP pressing of their previously out-of-print debut full-length, Farmer's Almanac. Initially released on CD through Forgotten Empire Records in 2008, this 2013 edition of the Farmer's Almanac broadcasts the entire maiden album performed by the band's earliest lineup and is hitting the streets via EOTW's cohorts at Nefarious Industries. It has been remastered at Menegroth, The Thousand Caves by Colin Marston, who originally recorded and mixed the album, and supplied guest guitar tracks during the recording sessions. The release will see limited pressings on 180-gram vinyl, with 250 copies on black and 250 on transparent blue, and will include an MP3 download coupon, all housed in a full-color gatefold jacket. Preorders can be placed here.
Recently EAST OF THE WALL posted a new digital single to benefit Translator Audio, the renowned NYC-based studio where the band and many others including Keelhaul, Unsane, Pelican, Cave In and Rosetta recorded some of their prime albums. Stream the track "I'm Always Fighting Drago" and purchase the two-song download to help rebuild Translator Audio RIGHT HERE.
EAST OF THE WALL will enter the studio in late Spring to construct their next massive LP for Translation Loss. More info will be announced in the coming weeks. Contact Earsplit PR for all EOTW press inquiries including previews and live coverage of the upcoming tour.
EAST OF THE WALL April Tour:
4/12/2013 Brighton Bar – Long Branch, NJ w/ All Hail The Yeti
4/13/2013 The Studio at Webster Hall – New York, NY w/ All Hail The Yeti, Meek Is Murder, Family
4/14/2013 Kung Fu Necktie – Philadelphia, PA w/ All Hail The Yeti
4/16/2013 The Depot – York, PA w/ All Hail The Yeti
4/17/2013 TBA – Pittsburgh, PA w/ All Hail The Yeti
4/18/2013 V Club – Huntington, WV w/ All Hail The Yeti
4/19/2013 Cheers – South Bend, IN w/ All Hail The Yeti, Exotic Animal Petting Zoo
4/20/2013 Planet Rock – Battle Creek, MI w/ All Hail The Yeti, Exotic Animal Petting Zoo
4/21/2013 Ultra Lounge – Chicago, IL w/ All Hail The Yeti, Exotic Animal Petting Zoo
4/22/2013 The Rockery – Detroit, MI w/ All Hail The Yeti
4/23/2013 Annabell's – Akron, OH w/ All Hail The Yeti
4/24/2013 TBA – NY
http://www.eastofthewall.com
http://eastofthewall.bandcamp.com
http://www.twitter.com/eastofthewall
http://www.facebook.com/eastofthewall
http://www.facebook.com/NefariousIndustries
http://www.nefariousindustries.com
http://www.translationloss.com
http://www.facebook.com/TranslationLossRecords