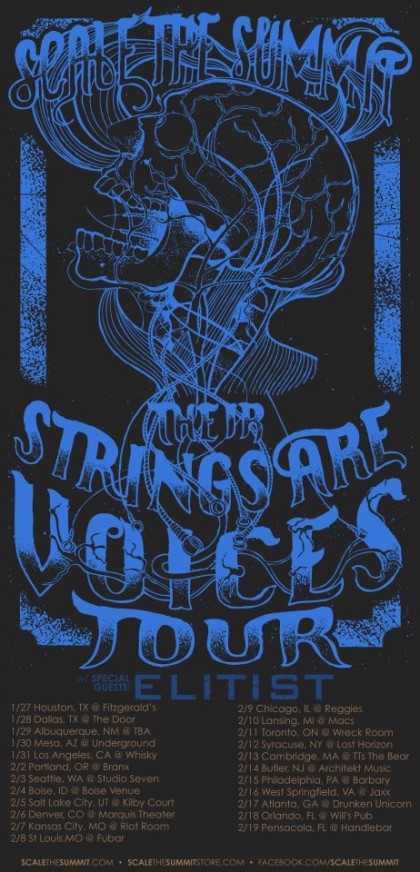 Houston progressive instrumentalists SCALE THE SUMMIT are currently leveling stages across the U.S. on their first ever headlining tour with support provided by Elitist. Dubbed Their Strings Are Voices Tour 2012, the trek is a week and a half in. Commented guitarist Chris Letchford from the road: "Our Their Strings Are Voices headlining tour has been a blast so far. It's great to see everyone really excited about us playing an 80-minute set and still want more when we're finished! Looking forward to the next few weeks on this tour!"
SCALE THE SUMMIT is touring in support of The Collective, released last year via Prosthetic Records. Called "terrifyingly good" and "essential prog" by Guitar World, The Collective was recorded in late 2010 at Paint It Black Studios in Orlando, Florida with producer Mark Lewis (Devildriver, All That Remains, The Black Dahlia Murder). Prosthetic Records recently issued The Collective on vinyl. The LP – limited to 500 copies on high-quality 180-gram wax – is available NOW at the Prosthetic Store and features enhanced cover art as well as bonus track, "Redwoods," initially only available on the Japanese version of the release. The track is currently streaming at MetalSucks. To check it out track, point your browser HERE. In addition, "Redwoods," is available at Amazon and iTunes.
SCALE THE SUMMIT Their Strings Are Voices Tour [remaining dates]:
2/05/2012 Kilby Court – Salt Lake City, UT
2/06/2012 Marquis Theater – Denver, CO
2/07/2012 Riot Room – Kansas City, MO
2/08/2012 Fubar – St Louis, MO
2/09/2012 Reggie's Chicago, IL
2/10/2012 Mac's – Lansing, MI
2/11/2012 Wreck Room – Toronto, ON
2/12/2012 Lost Horizon – Syracuse, NY
2/13/2012 TT's The Bear – Cambridge, MA
2/14/2012 Architekt Music – Butler, NJ
2/15/2012 Barbary – Philadelphia, PA
2/16/2012 Empire (formerly Jaxx) – West Springfield, VA
2/17/2012 The Drunken Unicorn – Atlanta, GA
2/18/2012 Will's Pub – Orlando, FL
2/19/2012 Handlebar – Pensacola, FL
* – No Elitist
SCALE THE SUMMIT formed in 2005 while attending the Musicians' Institute in Los Angeles. The band relocated to Texas in 2006, where they recorded their self-released debut album. After signing with Prosthetic, they released Carving Desert Canyons, which Revolver called "a cinematic blast of intricately melodic fretwork and pummeling percussion," in 2009. The band subsequently toured with Dream Theater, Devin Townsend and Between The Buried And Me, among others. SCALE THE SUMMIT also has tracks available for the Rock Band video game through the Rock Band Network, while Chris Letchford was recently featured in MetalSucks' "Top 25 Modern Guitarists" list.
"There are moments where the bass is front and center ('Colossal'), moments when the percussion sounds like rainfall instead of jackhammers and more of the time you'll just want to close your eyes and drift off to your mind's sweet-spot utopia with The Collective as the soundtrack. – 8/10 Decibel
"They uncover the beauty of 'Secret Earth,' measure the weight of 'Whales,' and float through the Gulf Stream with 'The Levitated.' Every time they embark on an excursion, they discover new paths. And those paths are worth following." – 9/10 Outburn
"The pinnacle of musical excellence." – Hails & Horns
"…if you're interested in the technique and sound associated with the 8-string guitar, The Collective is a must-have addition to your music catalog," — Ultimate.-Guitar.com
"When it comes to instrumental metal, SCALE THE SUMMIT is one of the most skilled groups out there. Their blend of progressive, post-rock and even some jazz has proven to be compelling…" – About.com
https://www.facebook.com/scalethesummit
http://www.scalethesummit.com
http://prostheticrecords.com