West Coast riff peddlers, SAVIOURS, will levy their thundering Palace Of Vision full-length upon the ears of the masses tomorrow via Listenable Records. Dark yet simultaneously driving and anthemesque, the band's first proper full-length in four years was captured at Type Foundry in Portland, Oregon with Billy Anderson (Brothers Of The Sonic Cloth, Eyehategod, Taurus, Ommadon etc.) and delivers nine tumultuous tracks of herculean riffs, quaking rhythms and galloping guitar harmonies twined around a fixation on the apocalypse, the occult, psychedelics and the arcane.
In advance of its official descent and following previous track premieres with Decibel, Cvlt Nation and Invisible Oranges, today MetalSucks offers up the record in full noting, "SAVIOURS are always good for a healthy dose of gnarly, NWOBHM fun; just the right amount of dirty rawness and just the right amount of Thin Lizzy polish. But, best of all, they never repeat themselves, which is so often the downfall of 'reliable' bands: they twist things up just enough to make each release an engaging listen, as they've done now over the course of five full-lengths and two EPs spanning a decade-plus career. Palace of Visions is their latest same-but-not-the-same endeavor, and you can stream it in full below."
Witness Palace Of Vision in all its head-jogging glory courtesy of MetalSucks at THIS LOCATION.
Following the release of Palace Of Vision, SAVIOURS will kick off a North American Fall tour supporting Corrosion Of Conformity and Brant Bjork And The Low Desert Punk Band. The trek will commence on November 16th and run through December 10th with additional support provided by Mothership. From there the band will level ten more stages from December 11th to December 20th to close out the year.
SAVIOURS w/ Corrosion Of Conformity, Brant Bjork And The Low Desert Punk Band, Mothership:
11/16/2015 Pub Rock – Scottsdale, AZ
11/17/2015 Teragram Ballroom – Los Angeles, CA
11/18/2015 Slim's – San Francisco, CA
11/19/2015 High Water Marl – Portland, OR * SAVIOURS only
11/20/2015 Venue Nightclub – Vancouver, BC
11/21/2015 Neumo's – Seattle, WA
11/23/2015 The Summit Music Hall – Denver, CO
11/24/2015 The Riot Room – Kansas City, MO
11/25/2015 Mill City Nights – Minneapolis, MN
11/27/2015 Rtr 20 – Racine, WI
11/28/2015 The Odeon – Cleveland, OH
11/29/2015 Underground Arts – Philadelphia, PA
11/30/2015 Firehouse Saloon – Rochester, NY * SAVIOURS only
12/01/2015 Opera House – Toronto, ON
12/02/2015 Machine Shop – Flint, MI
12/03/2015 Altar Bar – Pittsburgh, PA
12/04/2015 Gramercy Theater – New York, NY
12/05/2015 Brighton Music Hall – Allston, MA
12/07/2015 9:30 Club – Washington, DC
12/08/2015 Orange Peel – Asheville, NC
12/09/2015 Shaka's Live – Virginia Beach, VA
12/10/2015 Lincoln Theatre – Raleigh, NC
End Tour
SAVIOURS Headlining Dates:
12/11/2015 The 529 – Atlanta, GA
12/12/2015 The Nick – Birmingham, AL
12/13/2015 Siberia – New Orleans, OR
12/14/2015 Boondocks – Houston, TX
12/15/2015 611 E. 7th – Austin, TX
12/16/2015 Three Links – Dallas, TX
12/18/2015 Launchpad – Albuquerque, NM
12/19/2015 Flycatcher – Tucson, AZ
12/20/2015 All Star Lanes – Los Angeles, CA
Rooted in hardcore punk but preferring to cruise in outer space, SAVIOURS have always brought an infectious swing and swagger to their forward-charging heavy metal. The band melds the prime tenets of the New Wave Of British Heavy Metal, progressive rock, and proto-doom, and delivers it all with a snarling, West Coast hardcore edge. The result is a rugged beast of a sound that is singularly SAVIOURS.
Palace Of Vision will be released worldwide via Listenable Records on October 30th, 2015. Preorders for the album and vinyl are currently available by request at info@listenable.net.
"…these guys still have some of the tastiest guitar playing in the game…" – Invisible Oranges
"Riffs that wander, but through that brutal wall of sound, if there were a band that was the demon spawn of early Metallica and early Black Sabbath, SAVIORS would be that band…In an age of singles, SAVIOURS has made a superior album." – Glacially Musical
"Fans of bands like Iron Maiden, Black Sabbath, Motörhead, and other classic bands will hear multiple lines of influence here. But SAVIOURS is more than the sum of its parts. This is original heavy metal, played to perfection." – Sea Of Tranquility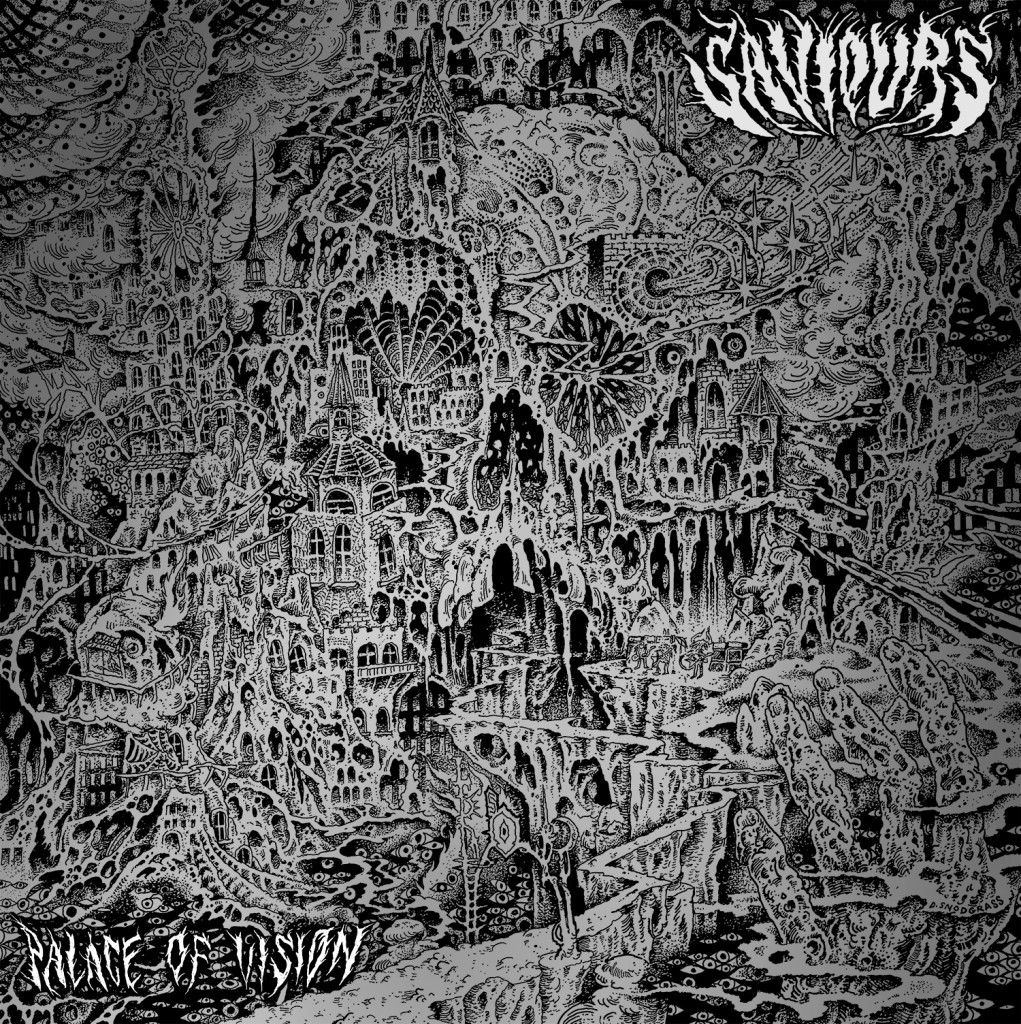 http://www.facebook.com/Saviours
http://www.killforsaviours.blogspot.com
http://www.saviours.bandcamp.com
http://www.facebook.com/listenablerecs
http://www.listenable.net