California metal behemoths, SAVIOURS, will embark upon a North American Fall tour supporting Corrosion Of Conformity and Brant Bjork And The Low Desert Punk Band. The trek will commence on November 16th and run through December 10th with additional support provided by Mothership. Tickets go on sale Friday, September 18th at all local ticket outlets.
The tour follows SAVIOURS' impending performance at the Day Of The Shred Festival in Santa Ana, California and comes in conjunction with their long-awaited new full-length, Palace Of Vision, set to detonate via Listenable Records next month. Captured at Type Foundry in Portland, Oregon with the inimitable Billy Anderson (Neurosis, Brothers Of The Sonic Cloth, Eyehategod, Taurus, Ommadon etc.), Palace Of Vision thrusts forth nine tracks of SAVIOURS' signature brand of towering riffs, colossal rhythms, infectious guitar harmonies and an obsession with the end of times, the occult, psychedelics and the arcane.
Sample first single, "Burning Shrine," still streaming at Cvlt Nation at THIS LOCATION
SAVIOURS:
11/1/2015 Day Of The Shred Festival @ The Observatory – Santa Ana, CA
w/ Corrosion Of Conformity, Brant Bjork And The Low Desert Punk Band, Mothership:
11/16/2015 Pub Rock – Scottsdale, AZ
11/17/2015 Teragram Ballroom – Los Angeles, CA
11/18/2015 Slim's – San Francisco, CA
11/20/2015 Venue Nightclub – Vancouver, BC
11/21/2015 Neumo's – Seattle, WA
11/23/2015 The Summit Music Hall – Denver, CO
11/24/2015 The Riot Room – Kansas City, MO
11/25/2015 Mill City Nights – Minneapolis, MN
11/28/2015 The Odeon – Cleveland, OH
11/29/2015 Underground Arts – Philadelphia, PA
12/01/2015 Opera House – Toronto, ON
12/03/2015 Altar Bar – Pittsburgh, PA
12/07/2015 9:30 Club – Washington, DC
12/09/2015 Shaka's Live – Virginia Beach, VA
12/10/2015 Lincoln Theatre – Raleigh, NC
Since the 2005 release of their debut EP, Warship, SAVIOURS has worked relentlessly, touring North America, Europe, and Japan with the likes of Mastodon, Corrosion Of Conformity, The Sword, High On Fire, Saint Vitus and Clutch. SAVIOURS has risen to become stalwarts of the world's metal scene, ambassadors of an aggressive-yet-stoned West Coast vibe, inspired by the '70s but totally real and relevant in 2015. Rooted in hardcore punk but preferring to cruise in outer space, the lysergic of SAVIOURS hessians have always brought a ton of swing and swagger to their forward-charging heavy metal.
Palace Of Vision will be released via Listenable Records on October 30th, 2015 with preorders to be unveiled in the coming days.
"Cult heaviness…" – Spin
"A dual-guitar riff-fest inspired by NWOBHM and '70s proto-doom." – Revolver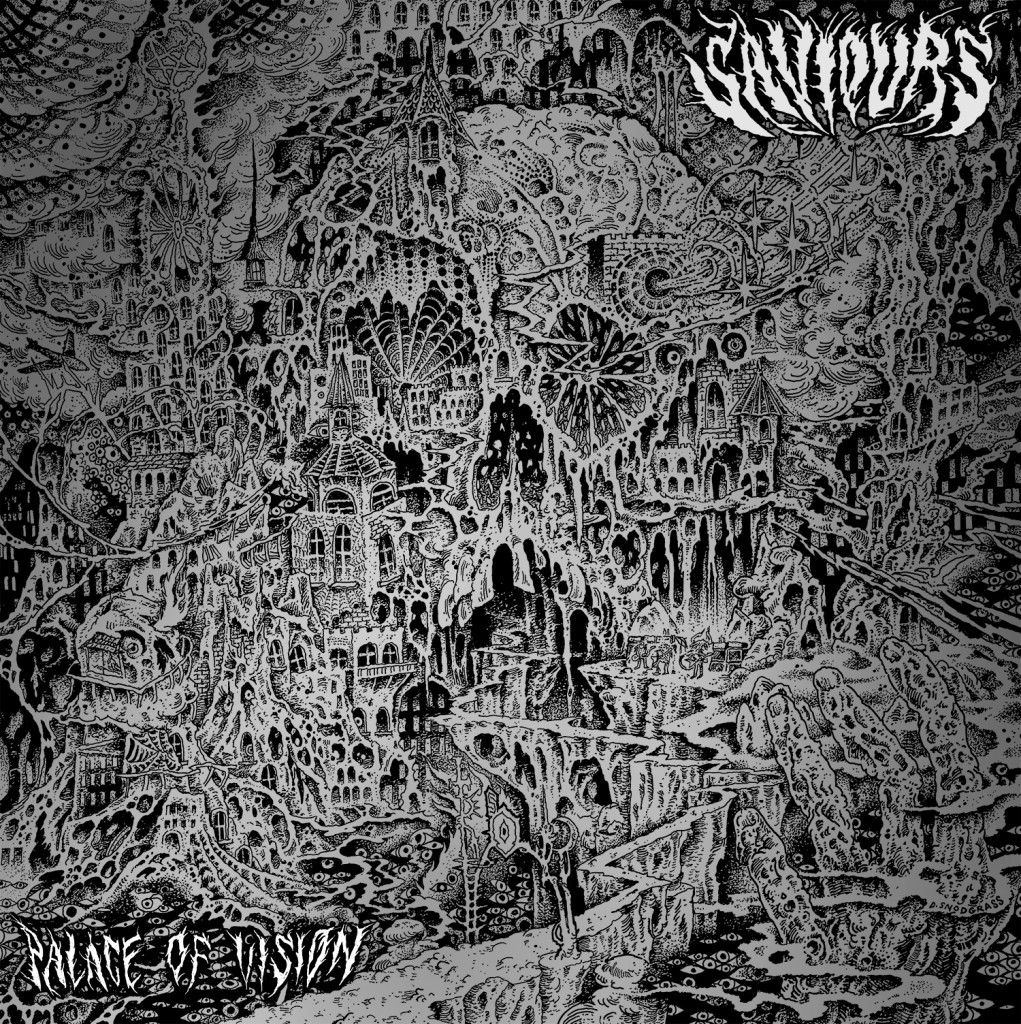 http://www.facebook.com/Saviours
http://www.killforsaviours.blogspot.com
http://www.saviours.bandcamp.com
http://www.facebook.com/listenablerecs
http://www.listenable.net