Decibel Magazine has debuted the crushing "Tempest Of Sorrow" from Portland, Oregon-based shred duo SATANARCHIST. The band's impending second album, First Against The Wall, will see an unruly independent release in early June.
Recorded and mixed by Fester at Haywire Studios (Usnea, Rabbits, Stoneburner) and mastered by Brad Boatright at Audiosiege (Obituary, Integrity, Nails), First Against The Wall will lure diehard blackthrash worshippers and devotees of crust/d-beat punk and social activism into its unrelenting attack. In addition to nine searing SATANARCHIST anthems, First Against The Wall comes to a finale with a cover of the macabre ballad "Silver Ships Of Andilar" by Texas country legend Townes Van Zandt.
Stream SATANARCHIST's "Tempest Of Sorrow" only at Decibel Magazine RIGHT HERE.
SATANARCHIST will independently release First Against The Wall digitally and on CD on June 2nd; find preorders alongside a stream of "Paradox" at THIS LOCATION.
"Metal punks SATANARCHIST launch an explosive blast on 'Tempest of Sorrow,' their latest new song, Decibel reports. "A furious whirlwind that combines black metal, anarcho-punk and thrash, SATANARCHIST formed in response to slow doom and music reliant on effects. And while new album First Against The Wall is rife with tremolo picking and references to Satanism, SATANARCHIST haven't forgotten their punk roots either, taking on fascism, environmental destruction and the evils of religion in their lyrics."
SATANARCHIST drummer/lyricist Mark Nunziata offers, "'Tempest Of Sorrow' (originally 'The Two-Thousand Years Plague') is among the earliest songs we wrote for First Against The Wall. It's about a dream I had a long time ago where all people who adhere to a religious faith wake up one morning suddenly stricken by the realization that religion had always only been a myth, and by the gravity of all the pain and suffering caused by agents of the church. Through the genocidal squashing of indigenous cultures throughout the history of colonization, the denial of healthy expressions of human sexuality, the protection of sexually abusive members of clergy, and the psychological violence leveled against LGBTQ people today among countless other examples, the institution of religion has caused unfathomable harm for far too long. This song imagines a world where proponents of it realize the traumas caused by their beliefs and experience a commensurate depth of remorse and shame."
In conjunction with the release of First Against The Wall, SATANARCHIST will embark on a cross-Canada trek from May 26th through June 10th, the first leg of the tour alongside Spinesplitter, and the rest of the dates see them paired with Hard Charger. Watch for additional tour dates to be announced in the coming weeks.
SATANARCHIST Canada Tour 2017:
5/26/2017 The Beer Gardens – Charlottetown, PEI w/ Spinesplitter, Busted Skulls
5/27/2017 Gus Pub – Halifax, NS w/ Spinesplitter, CrotchRot, Versifist
5/28/2017 Claudes House – Moncton, NB w/ Spinesplitter, Diner Drugs
5/29/2017 The Capital – Fredericton, NB w/ Spinesplitter, Mangler
6/01/2017 Maniac Mansion – Fredericton, NB w/ Hard Charger
6/02/2017 Scanner Bistro – Quebec City, QC w/ Hard Charger
6/03/2017 House Of Targ – Ottawa, ON w/ Hard Charger
6/0/2017 The Garnet – Peterborough, ON w/ Hard Charger
6/05/2017 Doors Pub – Hamilton, ON w/ Hard Charger, Greber, Thick Piss
6/06/2017 The Windsor Beer Exchange – Windsor, ON w/ Hard Charger
6/07/2017 The Temple – St. Catherines, ON w/ Hard Charger
6/08/2017 Coalition – Toronto, ON w/ Hard Charger, F*ckhawk, Black Tar
6/09/2017 Fattal – Montreal, QC w/ Hard Charger
6/10/2017 Rock Le Stage – Trois Rivieres, QC w/ Hard Charger
Formed by two former members of Spectral Tombs, SATANARCHIST surges with music that embodies the band's philosophies of atheism, Satanism and anarchism reflected in a sound that fuses black metal, anarcho-punk and thrash. The follow-up to their 2014-released Making Threats At Punks Again debut, on SATANARCHIST's First Against The Wall brutalizer, drummer/lyricist Mark Nunziata and guitarist/vocalist John Edwards maintain a similar hybrid of rabid metal/punk styles as before, but the material exhibits a progression in the intricacy and complexity of the songwriting. The lyrics deepen into a more straightforwardly political realm addressing environmental devastation and ecological sustainability, the rise of fascism in US politics, the damage wrought by the institution of religion, and the weight of death and loss.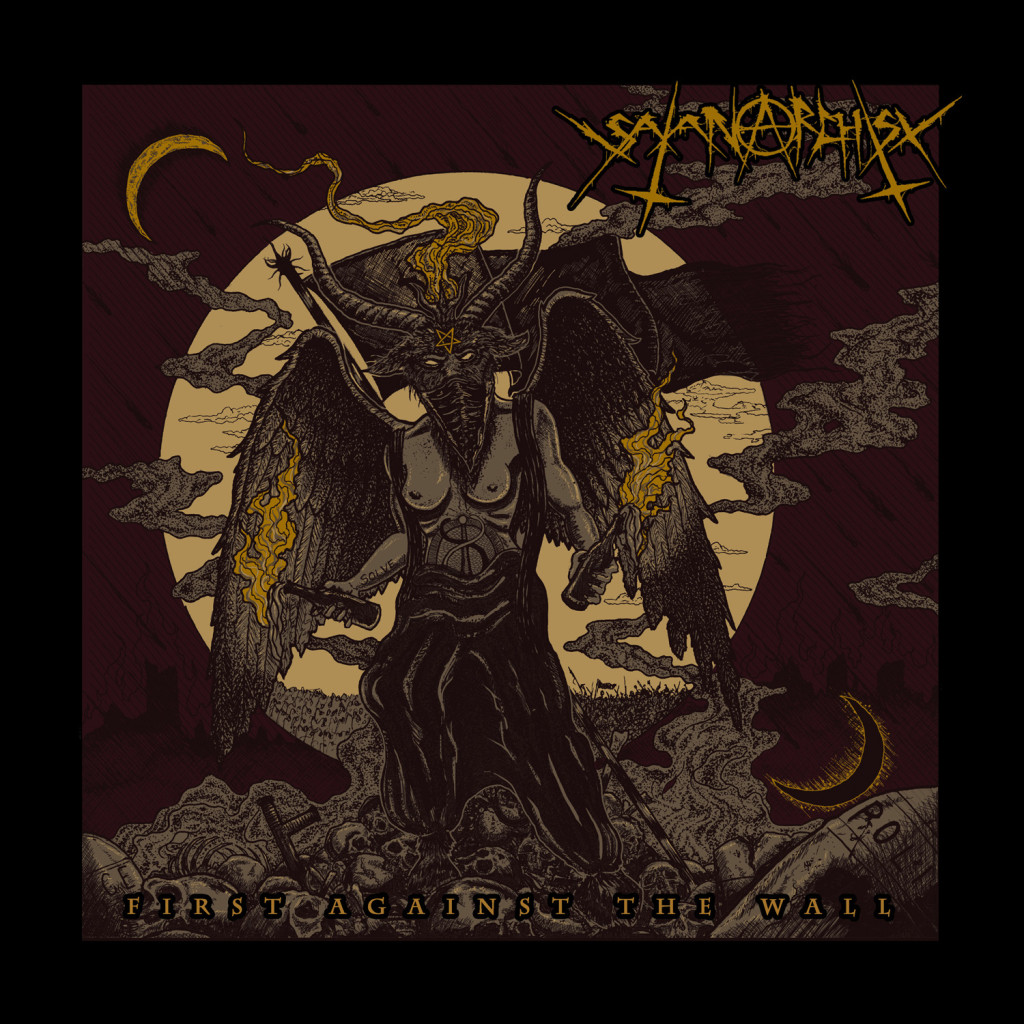 https://www.facebook.com/Satanarchistpdx
http://www.satanarchist.bandcamp.com