Once Birmingham UK-based now internationally-located atmospheric blackened death metal unit, SARPANITUM, who feature within their consuming ranks current and former members of Mithras, Lantlos and Tenebrous Aeon, will release their long awaited, second full-length and first for forward-thinking extreme metal perpetrators, Willowtip Records, this February.
Titled Blessed Be My Brothers, the ten-track follow-up to 2011's critically-fawned upon Fedelium EP was composed over a two-year period, tracked at Dreaming Studios UK by drummer Leon Macey (Contrarian, Mithras, The Senseless et al) and boasts a diseased fusion of traditional death metal, blackened guitar riff compulsions, and melodic atmospheres fit for devout supporters of Gorguts, Nile, Anata, Kataklysm, Morbid Angel, Ulcerate and the like.
Comments Tom Innocenti of the release: "Blessed Be My Brothers is true labor of love. The record maintains a blackened death metal sound but also incorporates more personal touches in terms of the music and lyrical themes. The song writing and atmospheric elements have progressed vastly since our first album, Despoilment Of Origin and Fidelium EP while still being recognizable as SARPANITUM. Listeners will notice a huge leap forward with regards to this album. Blessed Be My Brothers is a journey into the hearts and minds of those caught the turmoil of religious warfare. A subject that is as relevant today as it was over a thousand years ago."
Blessed Be My Brothers Track Listing:
1. Komenos
2. By Virtuous Reclamation
3. Truth
4. Glorification Upon The Powdered Bones Of The Sundered Dead
5. Immortalised As Golden Spires
6. Thy Sermon Lies Forever Tarnished
7. I Defy For I Am Free
8. Homeland
9. Malek Al-Inkitar
10. Blessed Be My Brothers
Since forming in 2003, SARPANITUM has maintained a maniacal DIY ethos, crumbling stages throughout Europe supporting the likes of Insision, Visceral Bleeding, Desecration, The Monolith Death Cult and Macabre. Centered around Babolyanian folklore, the band's Galactic Records-released debut full-length, Despoilment Of Origin (2007) was an eloquently guttural performance of mythological blackened death metal that reaped the praise of underground listeners and media outlets in the proverbial "know." Ultimate Guitar championed its, "stellar… musicianship," naming it a, "fierce and confident death metal record," while the Metal Observer, in a 9/10 rating, added, "equal parts brutal and beautiful, SARPANITUM's debut is easily one of the best death metal albums to be released this year." The band's Fidelium EP, independently-released four years later, reaffirmed their inexorable brutality both sonically and conceptually. Crowned, "one of the most compelling death metal releases of the year," by Last Rites and guaranteed to, "tickle the taste buds of anyone into this kind of domineering metal in the vein of The Monolith Deathcult and Mithras," the EP established SARPANITUM's ability to cohesively meld audio savagery and epic, cinematic segments, centering itself on the ultimate perils of religious fanaticism using first person perspectives from genuine participants of the First Crusade.
Blessed Be My Brothers will be unleashed via Willowtip Records on February 17th, 2015 with preorders and teaser tracks to be posted shortly. Stay vigilant.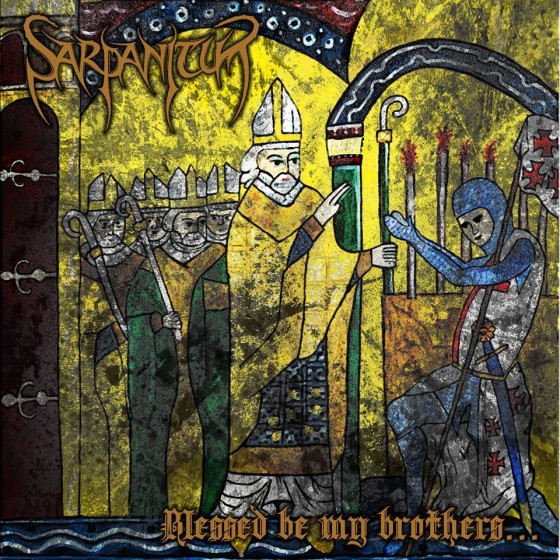 http://ww.facebook.com/sarpanitum
http://www.willowtip.com
http://www.facebook.com/willowtip
http://www.willowtip.bandcamp.com
http://www.twitter.com/Willowtip