Greyhaze Records is proud to announce that on the January issue of Decibel Magazine (currently available) the seminal black/death/thrash outfit SARCÓFAGO was inducted into the magazine's Hall of Fame for their infamous 1987 release INRI. The seven-page interview delves deeply into the band's blasphemous history and gives a rare glimpse into the inner workings of this immensely influential Brazilian extreme metal outfit. The Decibel Hall of Fame induction coincides with that album's 25th anniversary.
Conducted by Decibel scribe Chris Dick, the interview includes detailed accounts that actually were missing links into the whole fabric of the original aesthetics and sound of black and death metal including the origins of the blast-beat itself, explained by the band's drummer, DD Crazy. The interview also provides an inside look into one of the most legendary Metal scenes in the world: that of the Brazilian city of Belo Horizonte, which not only spawned this month's inductees, but also Metal titans Sepultura as well as a slew of bands that are today counted as integral parts in the beginnings of extreme Black and Death Metal.
All four original members of SARCÓFAGO (Wagner "Antichrist" Lamounier, Gerald "incubus" Minelli, Zeder "Butcher" and Eduardo "DD Crazy" give their point of view on all aspects surrounding the recording of INRI. There is no shortage of high alcohol consumption, total debauchery, fist-fights, and unrelenting anti-religious angst.
The story also features statements by Fenriz (Darkthrone), Phil Anselmo (Pantera, Down), Tomas Lindberg (At The Gates), and Matt Harvey (Exhumed) recounting their experience and praise for Sarcófago's INRI.
INRI was originally released by classic underground label Cogumelo Records in 1987 and is today available in North America via Greyhaze Records under official license. It can be picked up in the link below:
http://greyhazerecords.bigcartel.com/product/sarcofago-inri
To read the full interview, pick up a copy of Decibel magazine in the link below: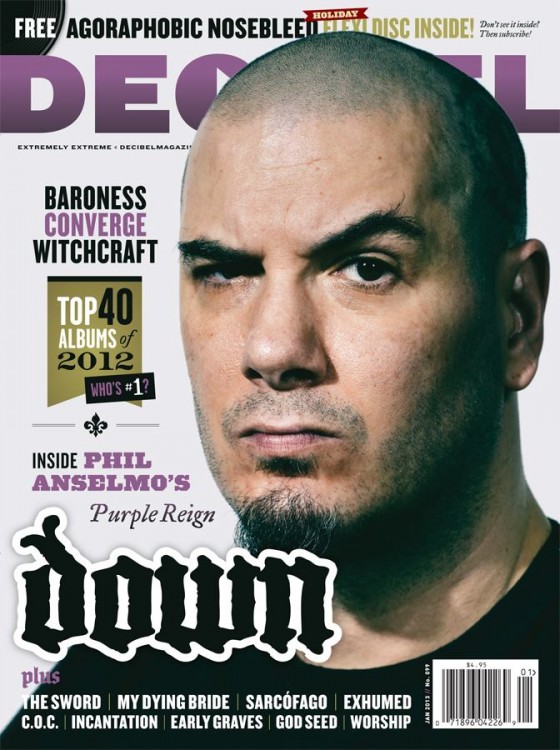 http://store.decibelmagazine.com/collections/back-issues/products/january-2013-099