Satanik Royalty Records will reissue Godhead, the sophomore full-length from Seattle grunge outfit SANDRIDER, on limited edition vinyl in March of 2023.
Initially released in 2013 via Good To Die Records, Godhead was recorded and mixed by Matt Bayles (KEN Mode, ISIS, Botch) and reaped critical accolades both stateside and abroad. Exclaim! declared, 'The undulating, grooving riffs evoke a vast bulk bending the desert landscape to its will; the looping, almost psychedelic song structures are expansive as any spirit quest. Each individual track is a stunner."
PopMatters wrote, "The playing on Godhead is intuitive and totally indicative of musicians who have worked together for long periods of time. The songwriting, the impact of the sturdy riffs and rhythms, and the vocal pairing of [guitarist, John] Weisnewski and [bassist/vocalist, Jesse] Roberts are much more accomplished than they were on Sandrider." Louder Sound hailed a "no-nonsense whirlwind of snarling grunge, cosmic grooves and punk rock fury.' Added Sputnik Music, "Godhead is a convincing collection of imperial drums, round bass tones, and precise guitar sounds, while the singing, chants, choirs, screams and melodies from Wiesnieski are one more proof that the band delivered a flawless studio performance and improved its songwriting."
SANDRIDER's Godhead reissue will see release on March 10th, 2023 and come in multiple color variants. Find preorders at the Satanik Royalty Records shop HERE or Bandcamp HERE  where the record can be streamed.
Godhead Track Listing:
Ruiner
Castle
Tides
Gorgon
Godhead
Overwatch
Champions
Scalpel
Beast
Traveler
In the mythology that is Frank Herbert's Dune books, a sandrider is a person who has managed to capture and ride one of the gigantic sandworms that live on the planet Arrakis. If you can imagine someone managing to wrangle a huge wriggling creature, you have some sense of the musical power that the Seattle hard rock titans SANDRIDER has managed to tame and keep control of.
That should come as no surprise to anyone who follows the Seattle rock and metal scene, as SANDRIDER features three of the city's most unstoppable forces: drummer Nat Damm and guitarist John Weisnewski of Akimbo, and bassist Jesse Roberts of The Ruby Doe
Said Weisnewski, "I decided to start putting SANDRIDER together when I got an itch to start playing guitar in a band again. [Weisnewski played bass in Akimbo.] Originally it was just me and Nat playing around, but it didn't really come together until we started talking to Jesse. I think we were bullshitting while he was tattooing me when I originally brought it up. He came down to our practice space and things clicked really well. After the first practice we were all pretty happy with how things were sounding."
Things only improved from there. The band would be touted as one of the best bands in Seattle by alt-weekly The Stranger and quickly found themselves sharing the stage with other Pacific Northwest rock luminaries as Brothers Of The Sonic Cloth, Lesbian, and Helms Alee. SANDRIDER has released a total of three full-length albums and a split EP with Kinski with new music to be announced in the months to come.
SANDRIDER:
Jon Weisnewski – guitar, vocals
Nat Damm – drums
Jesse Roberts – bass, vocals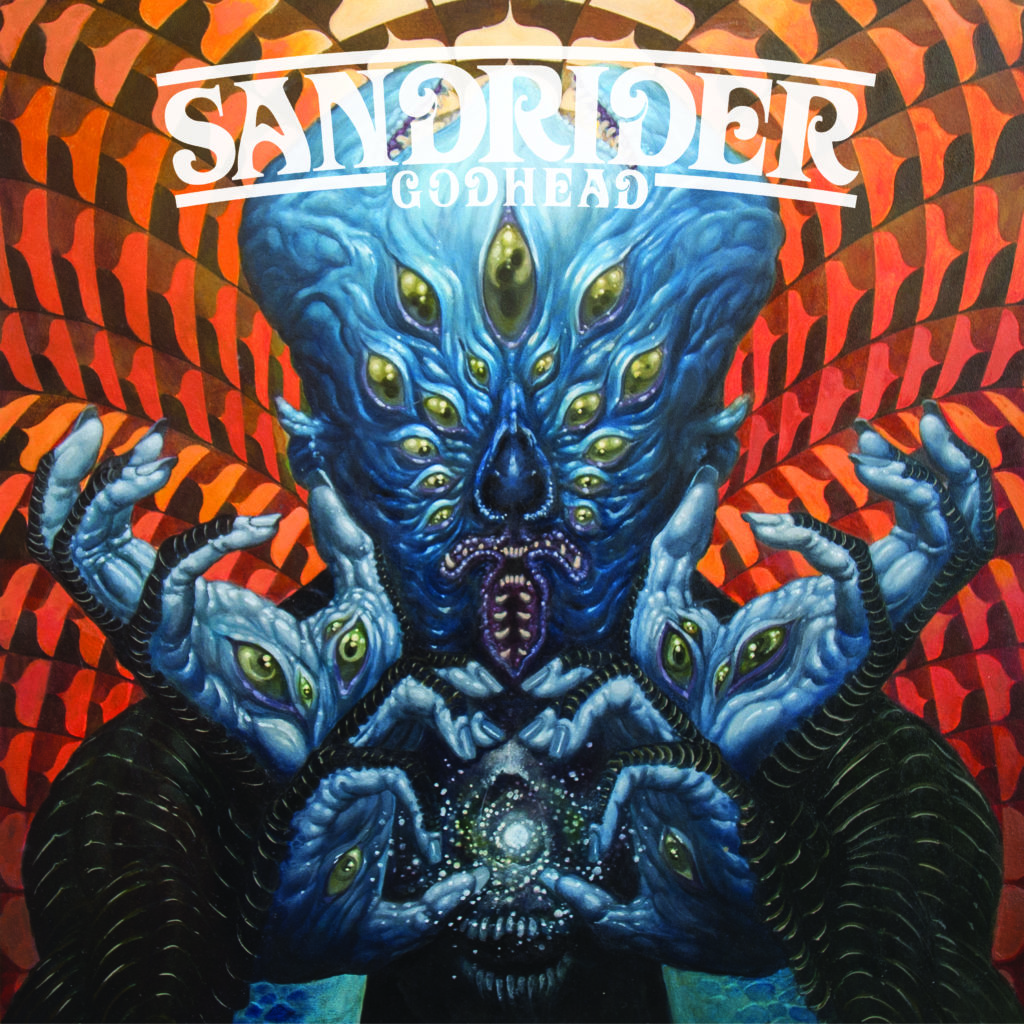 http://www.facebook.com/sandriderseattle
http://twitter.com/_sandrider_
http://sandrider.bandcamp.com/album/sandrider
http://www.satanikroyaltyrecords.com
http://www.facebook.com/satanikroyaltyrecords
http://www.twitter.com/recordssatanik
http://www.instagram.com/satanikroyaltyrecords