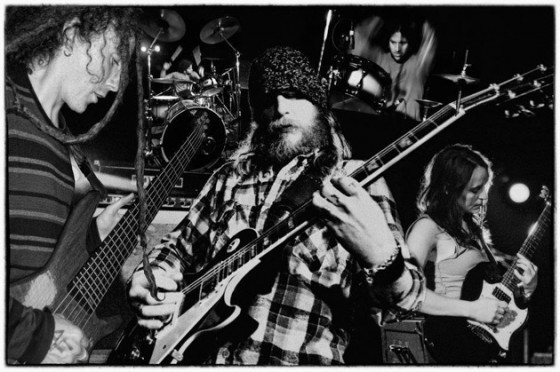 Seattle doom merchants SAMOTHRACE will embark on their eagerly anticipated U.S. Winter tour in support of their commended Reverence To Stone LP with a hometown show tomorrow, February 15th.
For the duration of the tour, SAMOTHRACE will be performing Reverence To Stone in its entirety as their set list each night. Joined by Metal Blade doom trio Pilgrim for the majority of the trek, the tour will make a mangled, counter-clockwise loop through the Midwest, Gulf Coast, Southeast and up the East Coast, with eighteen cities confirmed to endure their slow motion turmoil during the venture.
The tour is sponsored by Invisible Oranges who today posted a pre-tour feature on the band. On the creation of SAMOTHRACE's mammoth but infectious hymns, guitarist Brian Spinks states, "Our songs start with a set of riffs and we play it a couple different ways and play until it varies. We spend a lot of time making sure everything flows together and when we play the song over and over, the riffs then start to evolve and morph in and out of each other."
In a recent MetalSucks tour feature, SAMOTHRACE drummer Joe Axler commented, "When we perform these songs live most of the time we end up actually playing some parts slower and some parts faster depending on the mood we are in and the feeling we are getting in the room and from the people in attendance. We feed off of the people in the crowd greatly and (without sounding too hippy) the general aura at each show has a huge affect on how our set goes."
Additionally, Cvlt Nation posted an artist-to-artist feature with SAMOTHRACE and hometown heavyweights Black Breath to help kick off the tour.
Reverence To Stone continues to stream in its mesmerizing entirety at Pitchfork.
SAMOTHRACE U.S. Winter Tour:
2/15/2013 The Highline – Seattle, WA
2/17/2013 Rotture – Portland, OR
2/19/2013 Triple Nickle Tavern – Colorado Springs, CO
2/20/2013 Aqualung – Denver, CO
2/21/2013 The Conservatory – Oklahoma City, OK
2/22/2013 Rubber Gloves – Denton/Dallas, TX
2/23/2013 29th Street Ballroom – Austin, TX
2/24/2013 Siberia – New Orleans, LA w/ Pilgrim
2/25/2013 The Bottletree Cafe – Birmingham, AL w/ Pilgrim, Stoned Cobra, Black Hole Kids
2/26/2013 529 – Atlanta, GA w/ Pilgrim
2/27/2013 Slim's Downtown – Raleigh, NC w/ Pilgrim
2/28/2013 Strange Matter – Richmond, VA w/ Pilgrim
3/01/2013 Saint Vitus Bar – Brooklyn, NY w/ Pilgrim
3/02/2013 Beaumont Warehouse – Philadelphia, PA w/ Pilgrim
3/03/2013 Ottobar – Baltimore, MD w/ Pilgrim
3/04/2013 Howlers – Pittsburgh, PA w/ Pilgrim
3/05/2013 Now That's Class – Cleveland, OH w/ Pilgrim
3/06/2013 The Ultra Lounge – Chicago, IL
SAMOTHRACE will tour on European soil for the first time ever this Spring on a two-week tour of the continent, lead off performing at Heavy Days in Doomtown. The international DIY doom/stoner/sludge festival in Ungdomshuset, Copenhagen, Denmark runs from May 2nd through 5th, this year featuring Graves At Sea, Pagan Altar, Cough, Procession, Danava, Moss, Bell Witch, Dark Buddah Rising, Conan, Lecherous Gaze, labelmates Mournful Congregation and loads more. A confirmed tour itinerary for this trek will be announced shortly.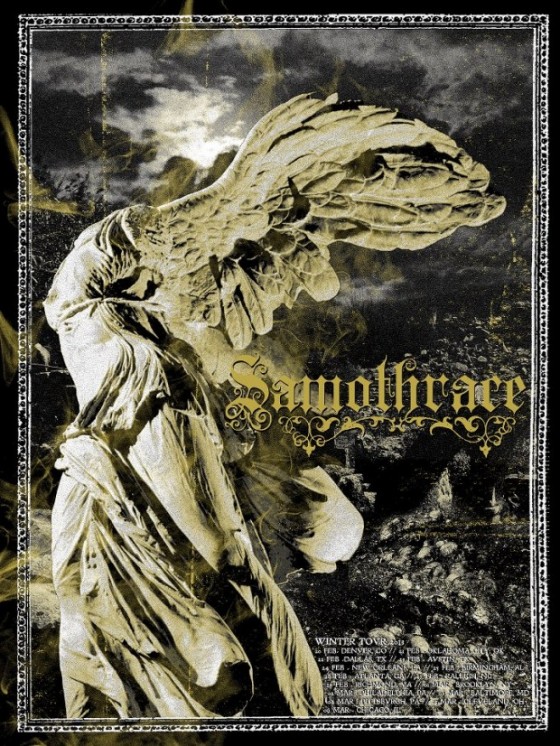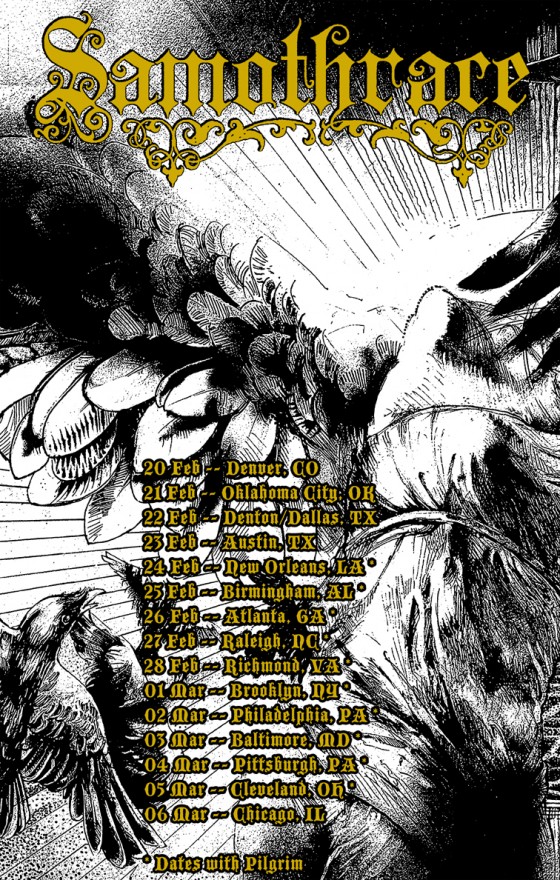 http://www.facebook.com/pages/Samothrace/67987779185
http://www.myspace.com/samothraceproject
http://www.20buckspin.com
http://www.facebook.com/20buckspin
http://twitter.com/20buckspinlabel