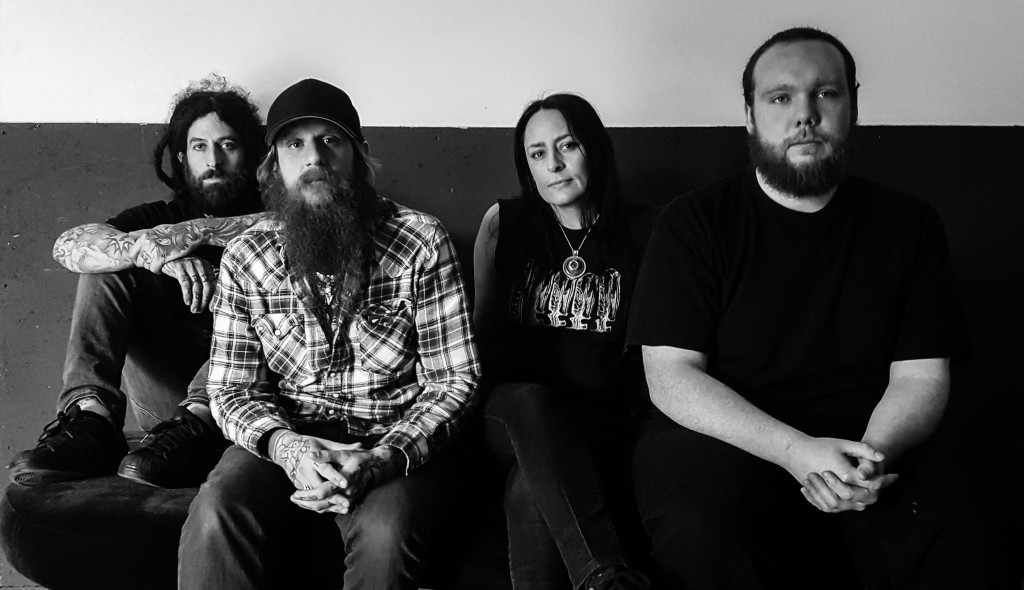 Seattle's SAMOTHRACE, while currently embarked on their Spring UK Tour including their performance at Desertfest over the weekend, has confirmed a string of European tour dates for later this month.
SAMOTHRACE will continue their ongoing UK tour through May 11th, before meeting up with their cohorts in Conan once again for the new run of European tour dates, which begins on May 14th at Incubate Festival in Tilburg, with a SAMOTHRACE set at Doomed Gatherings in Paris scheduled for the following night. From there, shows in Belgium, Germany, Holland, Switzerland, Italy, and France follow, with the tour's finals show taking place in Nantes on May 22nd.
SAMOTHRACE Tour Dates:
5/02/2016 Rainbow Cellars – Birmingham, UK
5/03/2016 Downstairs – Aberdeen, UK
5/04/2016 Bannerman's – Edinburgh, UK
5/05/2016 Gorilla Studio – Hull, UK
5/06/2016 Firebug – Leicester, UK
5/07/2016 Northumberland Arms – Newcastle, UK
5/08/2016 The Rigger – Stoke, UK
5/10/2016 Lady Luck – Canterbury, UK
5/11/2016 Temple Of Boom – Leeds, UK
5/14/2016 Incubate Festival – Tilburg, NL w/ Conan
5/15/2016 Doomed Gatherings – Paris, FR
5/16/2016 Music City – Antwerp, BE w/ Conan
5/17/2016 Bastard Club – Osnabrück, DE w/ Conan
5/18/2016 Gebr. De Nobel – Leiden, NL w/ Conan
5/19/2016 Gallerie Du Sauvage – Porrentruy, CH w/ Conan
5/20/2016 Wave – Misano Adriatico, IT w/ Conan
5/21/2016 La Peniche – Douai, FR w/ Conan
5/22/2016 Le Ferraillieur – Nantes, FR w/ Conan
SAMOTHRACE has been forging their style of heavy, ethereal and blues-tinged doom metal since their inception in 2006. Starting in Lawrence, Kansas with original members Bryan Spinks, Renata Castagna, and Dylan Desmond, the band soon began playing local shows and quickly hit the road in support of their 2007 demo. They entered the studio in the Spring of 2008 to record their freshmen effort, the monolithic Life's Trade. Released in October 2008 on 20 Buck Spin Records, the album was unanimously and universally hailed for its four heavy-as-lead tracks. The album saw SAMOTHRACE introduce their stylized trade off of heavy and lighter-weighted passages, characterized by interweaving guitar harmonies and powerful yet ethereal bass melodies with a matching feeling at the drum helm. Life's Trade received accolades from numerous publications and on-line resources, including landing on Decibel Magazine's Top 40 Metal Albums of 2008, as well as a slew of best-of year end lists.
After several tours in 2008 and 2009, including appearances at the final and coveted edition of the Emissions From the Monolith festival and LA's Murderfest, SAMOTHRACE packed up and moved their camp out to Seattle, Washington. Shortly thereafter, drummer Joe Axler (Skarp, Splatterhouse, Book Of Black Earth, Theories) joined on drum duties and SAMOTHRACE began the journey to write 2012's Reverence To Stone LP. Also released on 20 Buck Spin Records, the sophomore effort was also widely received with accolades and again found its way onto Decibel's Top 40 Metal Albums of 2012.
In addition to their two LPs, SAMOTHRACE was a feature at 2014's edition of Tilburg, Netherlands long-running and amazing Roadburn Festival. The live set the band performed at the festival was revered by festgoers and staff, alike, and subsequently saw the release of a live record on the promoter's own Roadburn Records, simply titled Samothrace Live At Roadburn 2014.
Now, 2016 sees SAMOTHRACE in another new phase, and following the departure of original member Dylan Desmond, the band has welcomed new full-time member Monte McCleery of Seattle's doom wizards Un to handle bass duties. Following a four-week tour of the UK and Europe, with appearances at Tilburg's Incubate Festival and Paris' Doomed Gatherings, upon returning home, the long overdue writing process will commence for the band's next release.
SAMOTHRACE has always been a part of the underground and DIY community with deep ties to both, firmly believing in heavy music for heavy times.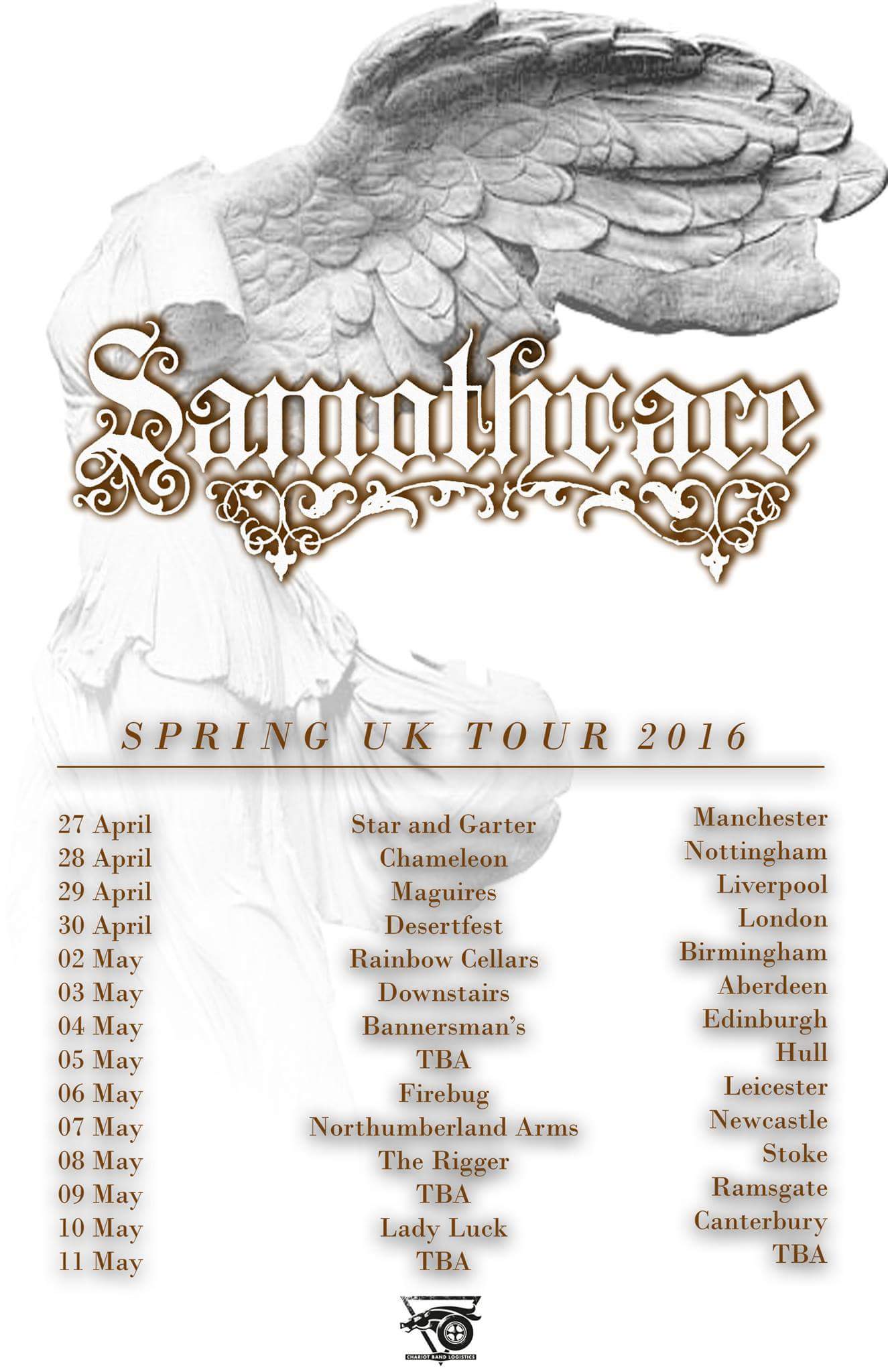 http://samothrace.bandcamp.com
http://www.facebook.com/samothracedoom
http://www.20buckspin.com
http://www.facebook.com/20buckspin
http://twitter.com/20buckspinlabel