Blackened death strategists, SAHHR, are pleased to wage auditory war today with "Miscreant." A raw, nihilistic slab of cynicism and sacrilege, the tune comes courtesy of the band's forthcoming self-titled three-track EP, set for release this Halloween via Domestic Genocide Records.
Written by vocalist Ryllyeh and guitarist Aarsoth and recorded at Lot 54 Studio in Huntington Beach, California by Dylan-James Ehren Brock (Ghost Of Abel, Skull And Bullets, Dowager, Intestinal Buffet), SAHHR combines all the primary rudiments of black metal, death metal and metalcore into an infernal mix of unrepentant sonic torment fit for fervent devotees of Watain, 1349, Goatwhore and Lamb Of God.
Comments frontman Ryllyeh of closing track, "Miscreant," "The song is a perfect representation of our sound and encompasses all the twists and turns of our particular brand of black metal. The 'Miscreant' of which I speak represents all the bloodsucking pieces of human waste who have plagued this planet for centuries and who mistakenly believe that their 'god' can save them from themselves."
Adds Metal Insider, "Blackened is the end, but in the case of California's SAHHR, that doesn't mean a narrow artistic vision in getting there. Their debut self-titled EP deftly blends an unlikely mix of influences; each track begins in a completely different place than where it ultimately ends. 'Miscreants' begins with a blast of frostbitten black metal fury, but before long has shifted gears into Testament-worship thrash and — shockingly — groove passages that wouldn't be out of place on a Lamb Of God record. What's really exciting here is that despite the eclectic nature of their sound, it's not disorganized, either. Groove and grimness come together in a very cohesive way here. 'Blackened' can allow for far more experimentation and exploration of influences than committing fully to the corpse-painted antics of full-on black metal, and SAHHR are throwing an exciting combination of sounds at the wall. Luckily, all of it sticks, and we're eager to hear where this band takes their sonic assault in the future."
Soil your ears to the foreboding sounds of "Miscreant" at THIS LOCATION.
Additionally, you can peep a new teaser of the outfit's blood-encrusted "Slay the Savior" video below.

Featuring past and current members of Skull And Bullets, Dowager, Scarecrow and Unwritten Law, SAHHR formed earlier this year by singer/songwriter Ryllyeh. A veteran of the New York City punk and metal scenes since the early 1980s, Ryllyeh's (AKA-Joe Truck, also a world renowned tattoo artist) past musical endeavors include time spent in '80s deathrock bands Scarecrow and Braineaters, the latter of which included ex-Samhain guitarist, Damien. He also plays bass and screams in doom heavyweights-Dowager. Ryllyeh united with guitarist Aarsoth earlier this year and instantly began composing what would become the trio of tracks occupying the EP.
Sahhr will be released via Domestic Genocide Records on October 31st, 2014. A host of special Halloween in Hell preorder packages are currently available at THIS LOCATION.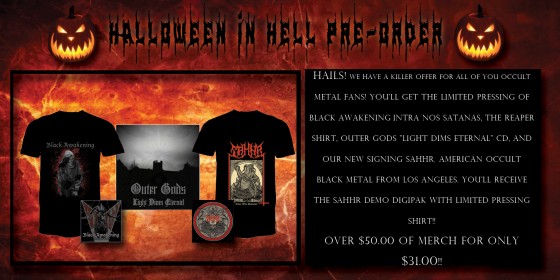 http://www.enjoygram.com/sahhrofficial
http://www.facebook.com/pages/Sahhr/778638288853628
http://www.domesticgenociderecords.com
http://www.facebook.com/domestic.genocide.records