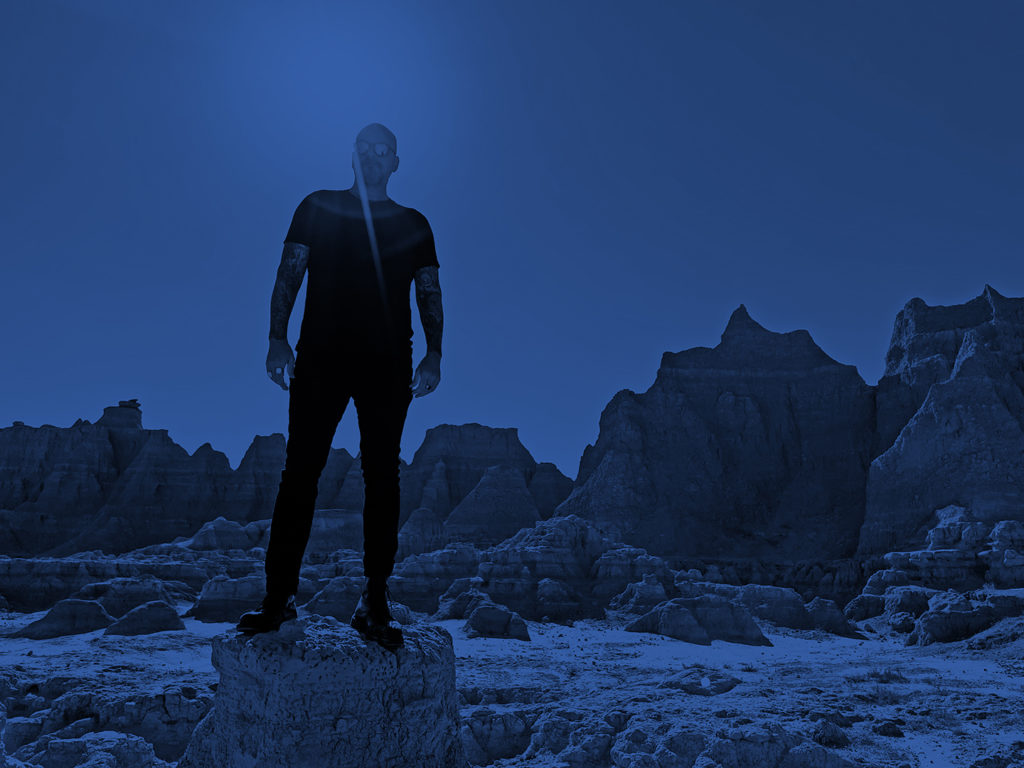 Treble is hosting a video premiere for "Kneel To The Queen," one of the songs found on Coliseum and Fotocrime founder RYAN MICHAEL PATTERSON's instrumental debut solo album Apocalypticism, out now through Pax Aeternum.
Apocalypticism is a bold and exciting new chapter in the storied career of RYAN MICHAEL PATTERSON — a musician respected around the globe for his boundless creativity, unique musical perspective, and tireless drive to reach ever-further in his artistic journey. This sonic concept album enables the listener to hear the soundtrack of a film playing in their own imagination.
Apocalypticism was written, performed, recorded, and mixed by RYAN MICHAEL PATTERSON at his own House Of Foto Recording Studio in Louisville, Kentucky between 2020 and 2022, with guest guitar contributions from J. Robbins (Jawbox, Government Issue) on "Melting Horizons." The album was mastered by Dan Coutant at Sun Room Audio and completed with photography and design by PATTERSON.
With the "Kneel To The Queen" video, PATTERSON reveals, "Apocalypticism is a concept album that follows a descent into a psychedelic, apocalyptic Earth. 'Kneel To The Queen' begins the album's third act, which I imagined reaching beyond the edges of civilization and into barren terrain populated by rising cults and prophets. It's a foreboding piece of electronic chamber music composed and performed on creaky forty-year-old Soviet synthesizers. The video's director is Joe Watson, a UK-based filmmaker and friend, who filmed footage in Snowdonia, Wales to create a visual companion for 'Kneel To The Queen.' Combined with Joe's visuals, the song's title and sounds take on new meaning, bowing to Mother Nature."
Treble describes "Kneel To The Queen" as, "a track that has a haunting, progressive electronic sound, pairing the synth minimalism of early industrial music with the epic, cinematic scope of a powerful film score and a touch of John Carpenter eeriness. The clip, directed by Joe Watson, features natural footage from Wales—majestic mountains, waterfalls and unspoiled scenery that provides a beautiful counterpart to Patterson's mesmerizing track."
Watch RYAN MICHAEL PATTERSON's "Kneel To The Queen" video first through Treble now at THIS LOCATION.
Apocalypticism is out now on Pax Aeternum, streaming in its entirety at Bandcamp RIGHT HERE and all other DSP's HERE.
Watch for additional videos from Apocalypticism and more to be issued over the weeks ahead.
Apocalypticism is the debut solo release from Louisville-based musician and visual artist RYAN MICHAEL PATTERSON. Best known for his work with Fotocrime, the post-punk group he currently fronts, and Coliseum, the trailblazing hardcore punk band he founded and led from 2003-2015, PATTERSON steps into thrilling new territory on Apocalypticism.
Inspired equally by the raw and iconic spaghetti western scores by Ennio Morricone and the fizzling crunch of early synth-punk like Suicide and DAF, PATTERSON wrote, performed, and recorded Apocalypticism on his own at his home studio. Created entirely with analog instruments and effects, the album stands apart from the omnipresent generic software synth sounds that pay homage to 1980s soundtracks. Oozing with analog warmth and grit, Apocalypticism presents a unique vision of punk-tinged instrumental songs, ranging from hook-laden themes to tense orchestrated movements. From the first notes of piano through an ancient tape delay, the listener hears the rotating edges of the loop and the crackles of the peeling magnetic tape crossing the echo heads. Throughout the album, jangling Fender Jaguar guitars twang through the pulsing vibrato of Twin Reverb amps while ancient Japanese drum machines throb into deep tube-driven spring reverb tanks.
https://ryanmichaelpatterson.bandcamp.com
https://www.instagram.com/fotocrime
https://www.facebook.com/paxaeternumdigital
https://www.instagram.com/paxaeternum
https://twitter.com/pax_aeternum
https://paxaeternum.bandcamp.com