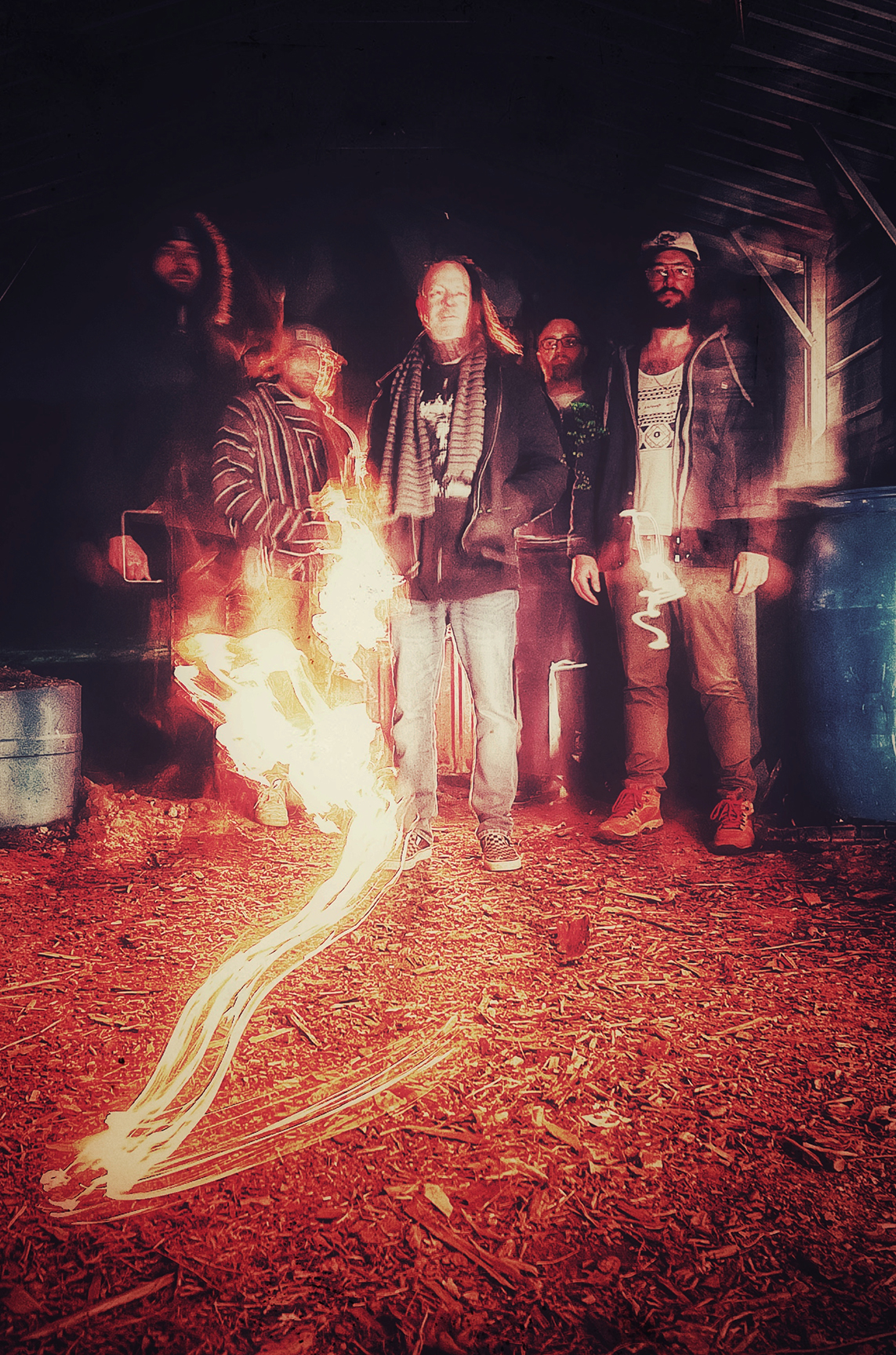 Hudson, New York crust/sludge outfit HUSH – formed by former members of From Ashes Rise, Self Defense Family, Aficionado, Endicott, and others – prepares for the release of their third full-length release, The Pornography Of Ruin, out next week. The Sleeping Shaman is hosting a premiere of the album's new single, "I Am Without Heaven And A Law Unto Myself."
The Pornography Of Ruin is HUSH's first release to be engineered at their newly constructed studio, HOVVL Audio Environment in Hudson, New York, by frequent collaborator Ryan Slowey. The album was mastered by Jack Shirley at Atomic Garden in Oakland, California and completed with cover photography by urban explorer Adrian Ledezma and design by vocalist Charles Cure.
With "I Am Without Heaven And A Law Unto Myself," Cure reveals, "I think this song is really interesting and beautiful in a lot of ways as far as the music itself is concerned. Although it is the opening of the record, it doesn't immediately smash the listener with some huge chunky riff or bombastic introduction. Instead, it begins quietly and grows into something huge and intense over time.
"Lyrically, it addresses loss of identity and personal transformation as well as feelings of otherness. It portrays the process of individual transformation as an ongoing tension between a need to exist within the boundaries and norms of the social construct and the inherent challenge to it that is posed to that construct when an individual pursues a unique and authentic self-concept. It is about the external forces that attempt to channel us all into one of a limited set of acceptable and anodyne archetypes rather than allowing for a profusion of idiosyncrasy and ambiguity. It is about making the choice to abandon expectation and fully become what you are.
"The song's title is an English translation of a statement made by Jiang Qing, wife of Mao Tse Dong at the time of his death, and a high-ranking minister in the Chinese Communist Party until the mid-1970s. She allegedly shouted this while being dragged from a courtroom during her trial for counter revolutionary activities in the power struggle that ensued after Mao's death. I was immediately drawn to it as a raw and intense defense of autonomy and individuality even in the face of overwhelming and contradictory authority."
The Sleeping Shaman writes of HUSH and the new album, "with a revamped lineup and a new album of what can only be described as a journey through face-melting sludge and hardcore ferocity that transcends through the ambient textures of post-metal and doom."
HUSH's "I Am Without Heaven And A Law Unto Myself" is now streaming first at The Sleeping Shaman HERE.
The Pornography Of Ruin will see release next Friday, June 24th, digitally and on CD by the band, on cassette via Sludgelord Records. Find current preorder options HERE and watch for info on a pending vinyl pressing. Also watch the video for "There Can Be No Forgiveness Without The Shedding Of Blood" HERE.
HUSH has booked their first live shows since 2018 in support of the LP. The day of the album's release, the band will head out on a five-city run of East Coast shows, June 24th through 28th, alongside their friends in Cowardice. They've also booked their first local show in several years, in Catskill, New York July 8th. Watch for additional dates to be posted throughout the months ahead.
HUSH Live:
6/24/2022 Riffhouse Pub – Chesapeake, VA w/ Cowardice, Knoll, Redundant Protoplasm
6/25/2022 Atlas Brew Works – Washington, DC w/ Foehammer, Cowardice, Et Mors
6/26/2022 Fotoclub – Philadelphia, PA w/ Cowardice, Quiet Man, Oldest Sea
6/27/2022 Saint Vitus Bar – Brooklyn, NY w/ Pharaoh, Cowardice
6/28/2022 Middle East Upstairs – Cambridge, MA w/ Cazador, Cowardice, Head In Hand
7/08/2022 The Avalon Lounge – Catskill, NY w/ Planning For Burial, Madeline Darby
After muscling their way onto the scene in 2014, HUSH has since issued albums through the likes of Dullest Records, Silent Pendulum Records, Fuzz Records, Sludgelord Records, as well as independent releases and more. In the years since their most recent album, Untitled II, the band has endured several lineup shifts that resulted in limited live outings, but the group remained focused on producing a follow-up record that would surpass their previous efforts on every front. To accomplish this, founding member Jordan Cozza built a recording studio in a barn in Hudson, New York and the group began shaping songs that would refine and encapsulate the ideas they had been pursuing since their inception.
The Pornography Of Ruin showcases a more expanded view of HUSH's established sound by embracing more melodic elements, intense dynamic shifts, and previously unexplored vocal and atmospheric textures within each composition. Thematically, the record focuses on the concept of personal destruction and transformation; drawing heavily from vocalist/lyricist Charles Cure's experiences in the aftermath of a 2016 car accident that left him hospitalized and unable to walk for several months.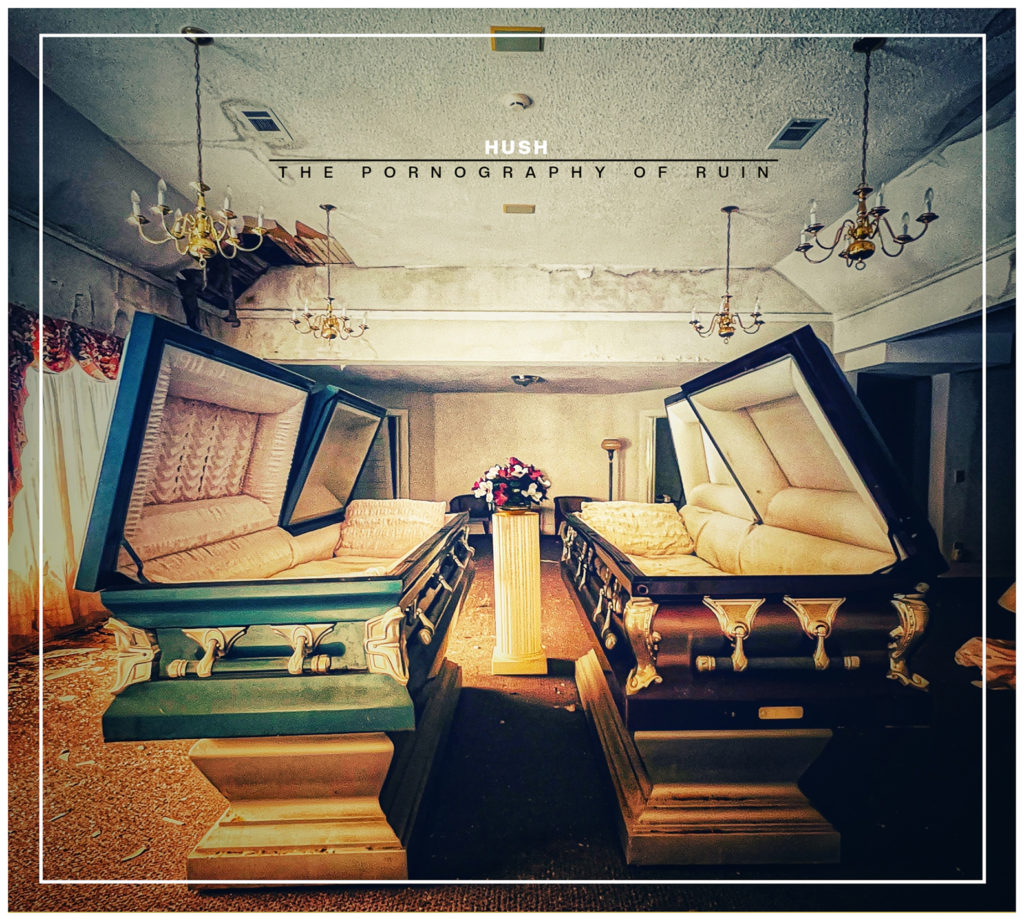 https://hushdoom.bandcamp.com
https://twitter.com/HUSHdoom
https://www.facebook.com/hushdoom
https://www.instagram.com/hushdoom
https://linktr.ee/hushdoom