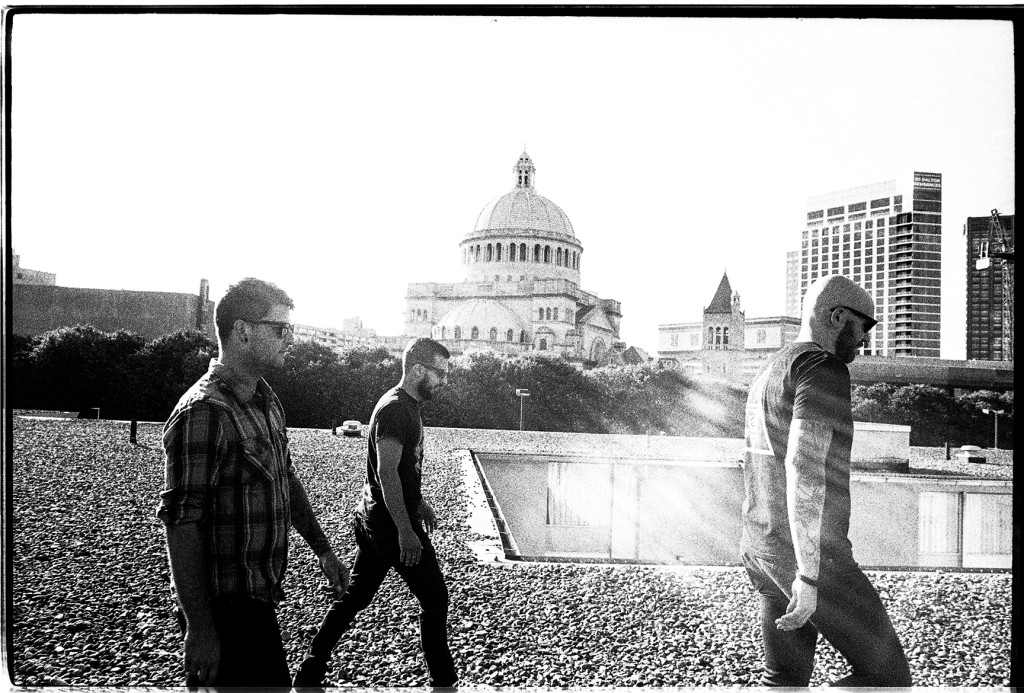 [photo by Reid Haithcock]
Boston doom metal quartet ROZAMOV will see their debut full-length, This Mortal Road, released tomorrow, a joint effort through Battleground Records and Dullest Records. As the record looms on its public unveiling, Decibel Magazine is now streaming the entire record early.
Issues ROZAMOV of the record, "All of our releases have been a snapshot of where we were as people and as a band at the time. This Mortal Road was written during a time of change for us and during the miserable winter of 2014/15. It is intentionally doom laden, reflecting the time and circumstances of its creation. We're in a very different place as people and as a band, now, more than a year since it's recording and with a new drummer. We're very proud of what we created and are so happy for it to finally see the light of day!"
Decibel offers, "Having already released two EPs and a split with Deathkings, ROZAMOV have grown a sound on This Mortal Road that connects the band's lengthy compositions with controlled but flattening heaviness. Though This Mortal Road is only five songs long, it stretches itself out over forty minutes, never dragging itself along, instead offering melody and progressive elements to contrast the album's heavy, punishing side."
Stream ROZAMOV's This Mortal Road at Decibel Magazine at THIS LOCATION.
ROZAMOV's This Mortal Road will see release this Friday, March 3rd on vinyl through Battleground Records, on CD and cassette through Dullest Records, and digitally through the band. Digital preorders are available HERE, and physical preorders a live t Battleground HERE and Dullest HERE.
ROZAMOV will begin a US tour at a record release show in Allston, Massachusetts the day This Mortal Road is issued, from there carving a clockwise path around the country through all of March. Hush will join ROZAMOV on first three shows in Brooklyn, Baltimore, and Richmond, and the tour also includes a set at Austin Terror Fest.
ROZAMOV Tour Dates:
3/03/2017 O'Briens – Allston, MA *record release show
3/08/2017 The Well – Brooklyn, NY w/ Hush
3/09/2017 The Depot – Baltimore, MD w/ Hush
3/10/2017 25 Watt – Richmond, VA w/ Hush
3/11/2017 Star Bar – Atlanta, GA
3/12/2017 The Nick – Birmingham, AL
3/13/2017 Shantytown Pub – Jacksonville, FL
3/15/2017 Siberia – New Orleans, LA w/ Weedeater
3/18/2017 The Lost Well – Austin, TX @ Austin Terror Fest
3/19/2017 Zombies – Amarillo, TX
3/20/2017 Moonlight Lounge – Albuquerque, NM
3/21/2017 Yucca Taproom – Tempe, AZ
3/22/2017 Complex – Los Angeles, CA
3/23/2017 Thee Parkside – San Francisco, CA
3/24/2017 The Alleyway – Portland, OR
3/25/2017 Funhouse – Seattle, WA
3/26/2017 Club X – Salt Lake City, UT
3/27/2017 Bar Bar – Denver, CO
3/28/2017 Riot Room – Kansas City, MO
3/29/2017 Livewire Lounge – Chicago, IL
3/30/2017 Buzzbin – Canton, OH
ROZAMOV recorded This Mortal Road at New Alliance Audio in Cambridge, Massachusetts during the bleak and historic winter of 2014-15, the album recorded and mixed by Jon Taft, mastered by Nick Z at New Alliance East Mastering, and the final product enshrouded with psychedelic photography by Andrew Weiss and layout by Matt Martinez. Through five monolithic passages, the band delivers over forty minutes of textured, melody-laced, doom metal, infusing a wide array of both devastating and entrancing elements, collectively unified in a sonic catharsis featuring the most expansive tracks ROZAMOV has created to date. Low-end tonal destruction merges with progressive/cerebral melodies, making This Mortal Road a must-hear for fans of Yob, Electric Wizard, Pallbearer, Graves At Sea, and Sourvein.
https://rozamov.bandcamp.com
https://www.facebook.com/Rozamov
http://www.facebook.com/battlegroundrecords
http://battlegroundrecords.bigcartel.com
https://dullestrecords.bandcamp.com
https://www.facebook.com/DullestRecords