"…it is spew most vile, noise most caustic and flesh-eating, and it kicks your goddamn ass…." — Invisible Oranges
Invisible Oranges is currently streaming Insufferable Cave Of Rotting Aspiration from Louisiana sludge/crust/death trio, ROMASA, in its entirety. The premiere comes in advance of the EP's release this Friday, October 30th, via Hand Of Death Records.
Disgorging three tracks of sonic nihilism, Insufferable Cave Of Rotting Aspiration was produced by James Whitten (Thou, The Body, Ossacrux) at High Tower Recording, mastered by Jack Control (Hot Graves, The Wraith, Cavity) at Enormous Door, and comes swathed in the cover renderings of Coffincrux.
Writes Invisible Oranges, "ROMASA bring a crusty death metal influence to their sludge framework, and here on this EP, the band is as lucid as they've ever been. Aside from upticks in production and overall songwriting, the 'claw' or bite of these three songs rests on hooks — big motherfucking juicy ones — that the band then utilizes to lead you into a swamp of knives. The Insufferable Cave Of Rotting Aspiration EP is by no means easy listening, but it doesn't venture into absolute abstraction where listening becomes more of a question rather than a desire."
Read more and stream ROMASA's Insufferable Cave Of Rotting Aspiration, exclusively via Invisible Oranges, at THIS LOCATION.
Insufferable Cave Of Rotting Aspiration will be released October 30th on cassette and digital formats via Hand Of Death Records. For preorders go to THIS LOCATION.
ROMASA – drummer Rob Lovell (Ossacrux, Witch Burial, Torture Garden, Minor Fret), bassist Samael White (Witch Burial), and guitarist/vocalist Matthew Moorin (Final Weapon) – took form in New Orleans, Louisiana in 2017. The band sets out to create a caricature of the world of excess, filth, and depravity in which we're all forced to inhabit. Eschewing tradition while still honoring their varied influences, they've concocted a truly vile brand of aggressive music that mixes OSDM, sludge, crust, crossover, and more into a seamless cocktail of audio depravity.
The band released their critically lauded debut, Cheering Death, in 2019. Wrote Decibel Magazine of the release, "ROMASA builds the crust-infected sludge, galloping d-beats, and rotten vocals into glorious crescendos and squalls of distortion and feedback." Invisible Oranges concurred noting, "Few aliases could be as fitting, as their name refers to the unlikely glitter that can be dissected from the grotesque. Indeed, performing the musical equivalent of street fights offset by carnivalesque wonder and an incoming rainstorm is a bit of an acquired taste, at least on paper. The experience of listening, however, makes for a treat for the senses as you feel yourself getting hypnotically pulled through the crowd in different directions." Added Collective 'Zine UK, "The clumpy, mire-dwelling riffs and clogged-pipe vocals are offset by stringier scrabbles and bouts of hollow-eyed ambience, keeping these five tracks interesting, engaging, and enjoyably non-standard every tortured step of the way."
Following Cheering Death, the band completed several short tours before recording Insufferable Cave Of Rotting Aspiration as a taste of things to come. Offers the band, "ROMASA has teamed up with Hand Of Death Records to deliver a short blast of two scorching, sludged-out, and death-soaked tracks, chained together by one mind-expanding synthesizer soundscape. The tape promises a figurative – or literal – cave dwelling foray into the nihilistic tendencies inherent in humanity and the planned obsolescence of the very world we inhabit."
"…they understand the simple magic of extreme metal…. Insufferable Cave Of Rotting Aspiration is a devastating listen and it will beat your skull in." – Two Guys Metal Reviews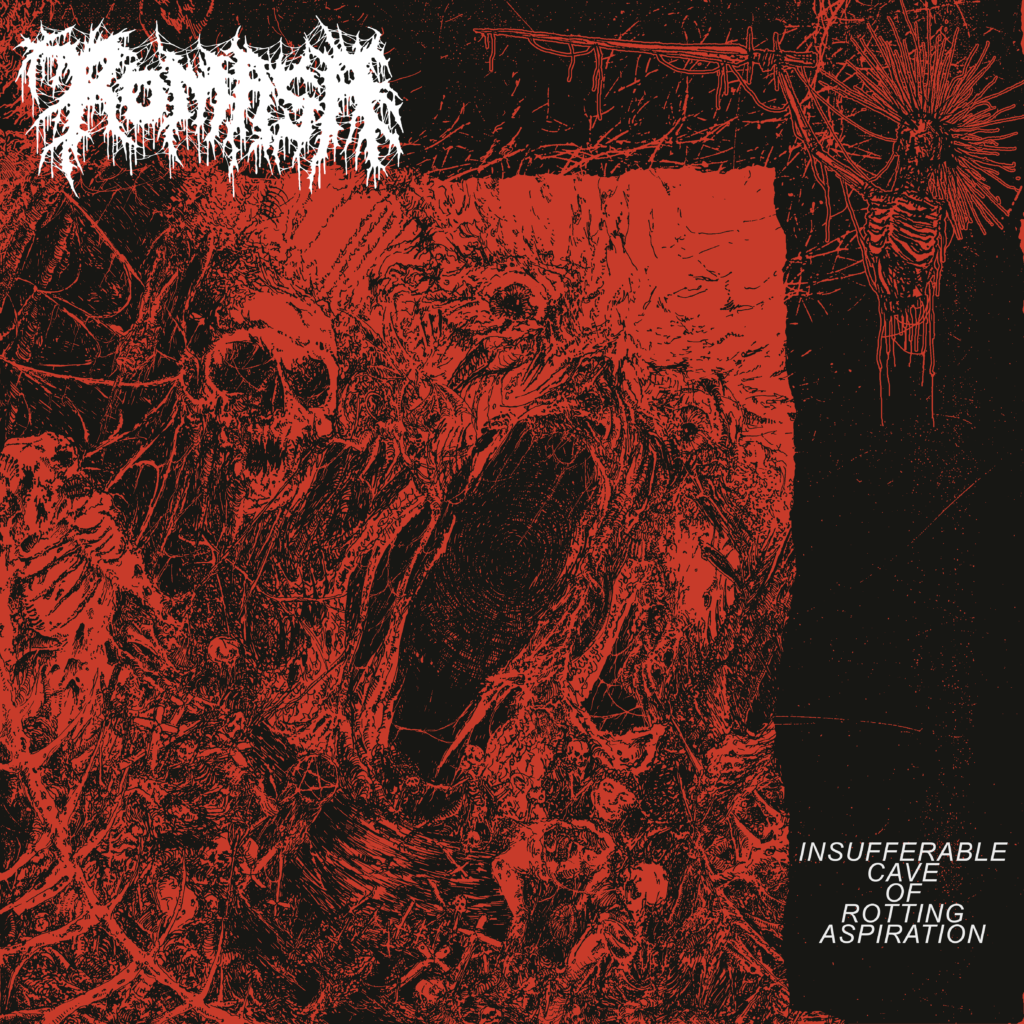 http://www.facebook.com/romasagang
http://www.instagram.com/romasagang
http://romasa.bandcamp.com
http://handofdeathrecords.storenvy.com
http://www.facebook.com/handofdeathrecords
http://twitter.com/handofdeathrecs
http://www.instagram.com/handofdeathrecords
http://www.handofdeathrecords.bandcamp.com