Pennsylvania progressive death metal unit RIVERS OF NIHIL will begin the Devastation On The Nation tour this Friday! The trek will commence on May 19th in Manchester, New Hampshire and ravage its way through twenty-three cities, coming to close on June 11th in Montreal, Quebec. The mega tour features headliners Cryptopsy and Decrepit Birth with additional support provided by The Zenith Passage, The Kennedy Veil, Visceral Disgorge, Seeker, and Gloom on select dates.
RIVERS OF NIHIL: Devastation On The Nation w/ Cryptopsy, Decrepit Birth, The Zenith Passage (5/19 – 6/4), The Kennedy Veil (5/19 – 5/29), Visceral Disgorge (5/30 – 6/11), Seeker (5/30 – 6/11), Gloom:
5/19/2017 Bungalow – Manchester, NH
5/20/2017 Webster Underground – Hartford, CT
5/21/2017 Saint Vitus Bar – Brooklyn, NY
5/22/2017 Trickshots – Clifton Park, NY
5/23/2017 Hard Luck – Toronto, ON
5/24/2017 Reverb – Reading, PA
5/26/2017 New Brookland Tavern – West Columbia, SC
5/27/2017 The Masquerade – Atlanta, GA
5/28/2017 The Rail Club – Fort Worth, TX
5/29/2017 The Cold Brew – Laredo, TX
5/30/2017 Scout Bar – Houston, TX
5/31/2017 Grizzly Hall – Austin, TX
6/01/2017 Rockhouse Bar – El Paso, TX
6/02/2017 Club Red – Mesa, AZ
6/03/2017 Gideon's Hall – Upland, CA
6/04/2017 The Catalyst – Santa Cruz, CA
6/05/2017 Studio Seven – Seattle, WA
6/06/2017 Metro Music Hall – Salt Lake City, UT
6/07/2017 The Roxy Theatre – Denver, CO
6/08/2017 The Riot Room – Kansas City, MO
6/09/2017 The Wire – Barwyn, IL
6/10/2017 Oddbody's – Dayton, OH
6/11/2017 Foufounes Électrique – Montreal, QC
RIVERS OF NIHIL continues to tour in support of their Monarchy full-length, released in 2015 via Metal Blade Records. Monarchy picks up where the seasonal concept that began with Spring on the band's debut, The Conscious Seed Of Light, left off, this time, welcoming the oppressive Summer heat. Said primary lyricist Adam Biggs, "The Earth has been transformed into a vast desert wasteland, where after aeons of lifelessness, new beings begin to take shape and begin their journey as shepherds of the planet. But after a while, a class system forms from a sun-worshiping religious dictatorship, and these beings start to lose their way. Only the guidance of an ancient earthly force can help them save themselves as well the planet."
"Monarchy is not only their darkest record to date," said Outburn of the release, "but their most dynamic, atmospheric, and powerful." Metal Injection concurred calling it an, "excellent slice of technical death metal… With Monarchy, RIVERS OF NIHIL have evolved into a monster." Heavy Blog Is Heavy gushed, "Monarchy is the gold standard for extreme, technical, progressive, and passionate death metal right now, and it probably won't change any time soon," while No Clean Singing crowned Monarchy, "a pinnacle of the band's union of atmospheric and progressive aims." Added The Sludgelord, "It has everything which makes tech death great and offers a total listening experience to the casual or dedicated fan. A musical tour de force.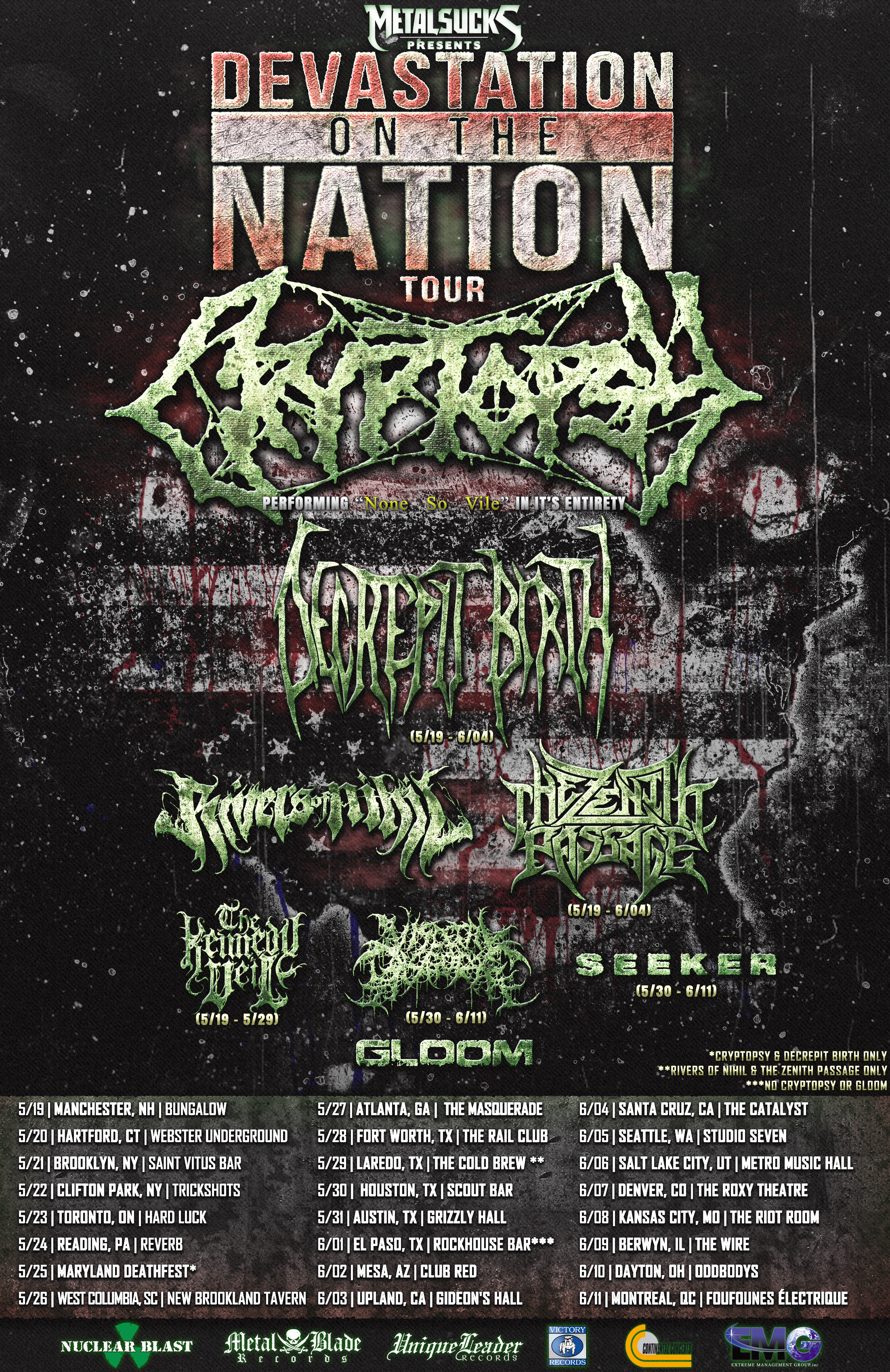 http://www.facebook.com/riversofnihil
http://www.twitter.com/riversofnihil