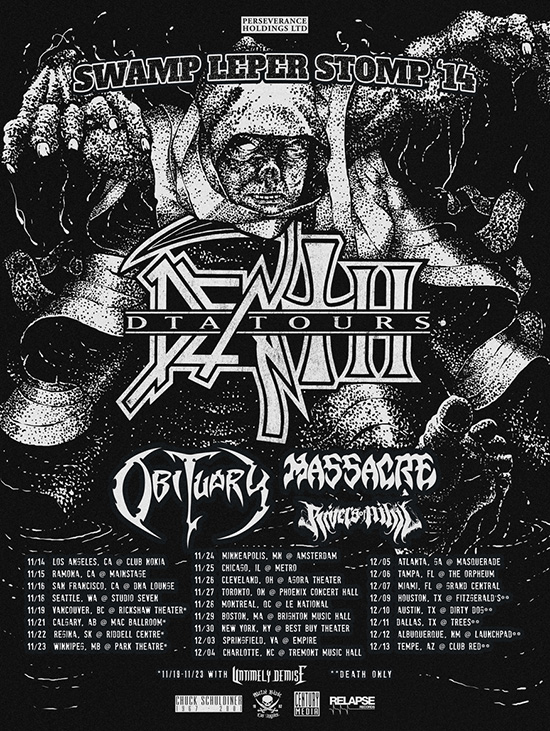 This November, Pennsylvania's RIVERS OF NIHIL will embark on the biggest tour of their career thus far as openers on Death (DTA Tours)'s Swamp Leper Stomp '14 tour! Additional support will come from death metal legends Obituary and Massacre. The trek will commence on November 14th at Club Nokia in Los Angeles, California and wraps up on December 7th in Miami, Florida at Grand Central.
Comments guitarist Jon Kunz: "We're incredibly stoked to a part of this year's North American Death (DTA Tours)! Death are one of our biggest influences, with the incredible Human album being a constant source of inspiration. Throw in the nasty Tampa savagery of Obituary and Massacre, and you have the best death metal tour of the year. Long live Chuck [Schuldiner]. Florida death metal is supreme!"
Earlier this year, RIVERS OF NIHIL released a video for "Birth Of The Omnisavior," a sleek and dark clip that captures visually what this band does so well sonically: play emboldened, deftly-executed death metal at a level far beyond their years. Watch "Birth Of The Omnisavior" from their The Conscious Seed Of Light full length now at THIS LOCATION.
Formed in 2009, the modern progressive death metal quintet's music is as dark and heavy as the coal and iron on which their home city was built upon, taking influences from some of death metal's heaviest, most abrasive hitters like Morbid Angel, Gojira, Spawn of Possession, and Decapitated. RIVERS OF NIHIL's debut album, The Conscious Seed Of Light, was recorded in March of 2013 at Mana Recording Studios in Florida with famed metal producer/musician Erik Rutan. While The Conscious Seed Of Light is not necessarily a concept album traditionally speaking, RIVERS OF NIHIL began their project with the idea that they would release four separate albums tied together with one common theme: each reflecting a particular season of a year. Bassist Adam Biggs elaborates; "The Conscious Seed Of Light is intended to be representative of Spring and explores various themes concerning new beginnings, growth, and an attachment to the natural world in a post-human Earth. Unlike some concept records however, we wanted to allow each song to work on its own terms. Rather than have the songs rely on each other to move a specific story structure forward; they work within their own separate narratives, but ultimately serve the album's broader concept."
RIVES OF NIHIL on Death's (DTA Tours) Swamp Leper Stomp '14
w/ Obituary, Massacre:
11/14/2014 Club Nokia Los Angeles, CA
11/15/2014 Ramona Mainstage – Ramona, CA
11/16/2014 DNA Lounge – San Francisco, CA
11/18/2014 Studio Seven – Seattle, WA
11/19/2014 The Rickshaw Theatre – Vancouver, BC w/ Untimely Demise
11/21/2014 MacEwan Ballroom – Calgary, AB w/ Untimely Demise
11/22/2014 Riddell Centre – Regina, SK w/ Untimely Demise
11/23/2014 Park Theatre – Winnipeg, MB w/ Untimely Demise
11/24/2014 Amsterdam Bar & Hall – St. Paul, MN w/ Untimely Demise
11/25/2014 The Metro – Chicago, IL
11/26/2014 Agora Theatre and Ballroom – Cleveland, OH
11/27/2014 The Opera House – Toronto, ON
11/28/2014 Club Soda – Montreal, QC
11/29/2014 Brighton Music Hall – Allston, MA
11/30/2014 Best Buy Theatre – New York, NY
12/03/2014 Empire – North Springfield, VA
12/04/2014 Tremont Music Hall – Charlotte, NC
12/05/2014 The Masquerade – Atlanta, GA
12/06/2014 Orpheum – Tampa, FL
12/07/2014 Grand Central – Miami, FL
http://www.facebook.com/riversofnihil
http://www.riversofnihilpa.bandcamp.com
http://soundcloud.com/rivers-of-nihil