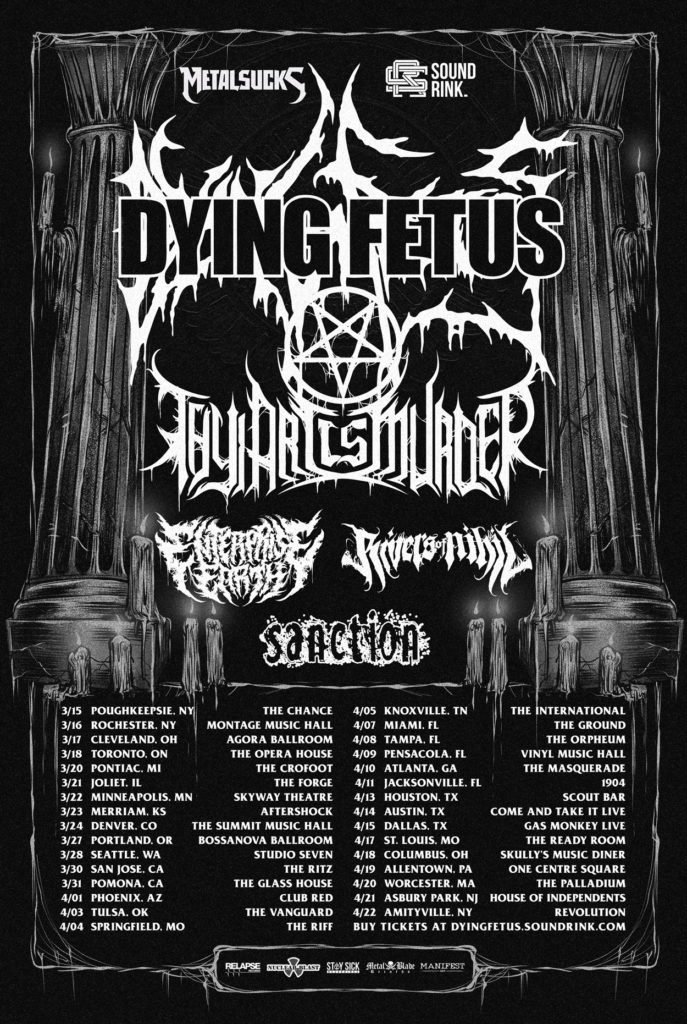 RIVERS OF NIHIL will take on a North American tour this March and April with Dying Fetus, Thy Art Is Murder, Enterprise Earth, and Sanction. The journey will commence March 15th in Poughkeepsie, New York and make its way through nearly three-dozen cities, drawing to a close on April 22nd in Amityville, New York.
The band will be touring in support of their third full-length, Where Owls Know My Name, set for release on March 16th — just one day after tour kick off — via Metal Blade Records. Whereas 2013's The Conscious Seed Of Light and 2015's Monarchy were thematically centered around spring and summer, respectively, Where Owls Know My Name represents the fall. And although that season is usually associated with death, for RIVERS OF NIHIL, the autumn serves as a rebirth.
Where Owls Know My Name reunites RIVERS OF NIHIL with Monarchy producer Carson Slovak (August Burns Red, The Last Ten Seconds Of Life) and Dan Seagrave, the storied artist behind such celebrated album covers as Entombed's Left Hand Path and Suffocation's Effigy Of The Forgotten. Where Owls Know My Name is often just as punishing as its predecessors while assimilating ingredients from musical genres as varied as electronica, jazz, alternative, folk, and the golden age of Shrapnel Records. The resulting music is indescribably progressive, a multifaceted soundscape that goes beyond the wildest dreams of even the group's most ardent admirers.
Sample Where Owls Know My Name's "The Silent Life," below. Where Owls Know My Name can be preordered in various formats at: metalblade.com/riversofnihil.
RIVERS OF NIHIL w/ Dying Fetus, Thy Art Is Murder, Enterprise Earth, Sanction:
3/15/2018 The Chance – Poughkeepsie, NY
3/16/2018 Montage Music Hall – Rochester, NY
3/17/2018 Agora – Cleveland, OH
3/18/2018 Opera House – Toronto, ON
3/20/2018 Crofoot – Pontiac, MI
3/21/2018 The Forge – Joliet, IL
3/22/2018 Skyway – Minneapolis, MN
3/23/2018 Aftershock – Merriam, KS
3/24/2018 Summit – Denver, CO
3/27/2018 Bossanov – Portland, OR
3/28/2018 Studio Seven – Seattle, WA
3/30/2018 The Ritz – San Jose, CA
3/31/2018 Glasshouse – Pomona, CA
4/01/2018 Club Red – Phoenix, AZ
4/03/2018 The Vanguard – Tulsa, OK
4/04/2018 The Riff – Springfield, MO
4/06/2018 International – Knoxville, TN
4/07/2018 The Ground – Miami, FL
4/08/2018 Orpheum – Tampa, FL
4/09/2018 Zydeco – Birmingham, AL
4/10/2018 Masquerade – Atlanta, GA
4/11/2018 1904 – Jacksonville, FL
4/13/2018 Come And Take It Live – Houston, TX
4/14/2018 Texas Independence Fest – Austin, TX
4/15/2018 Gas Monkey Live – Dallas, TX
4/17/2018 Ready Room – St. Louis, MO
4/18/2018 Skully's Music Diner – Columbus, OH
4/19/2018 One Centre Square – Allentown, PA
4/20/2018 New England Metal & Hardcore Fest – Worcester, MA
4/21/2018 House Of Independence – Asbury Park, NJ
4/22/2018 Revolution – Amityville, NY
http://www.facebook.com/riversofnihil
http://twitter.com/riversofnihil
http://www.youtube.com/user/Riversofnihilpa
http://www.metalblade.com/riversofnihil