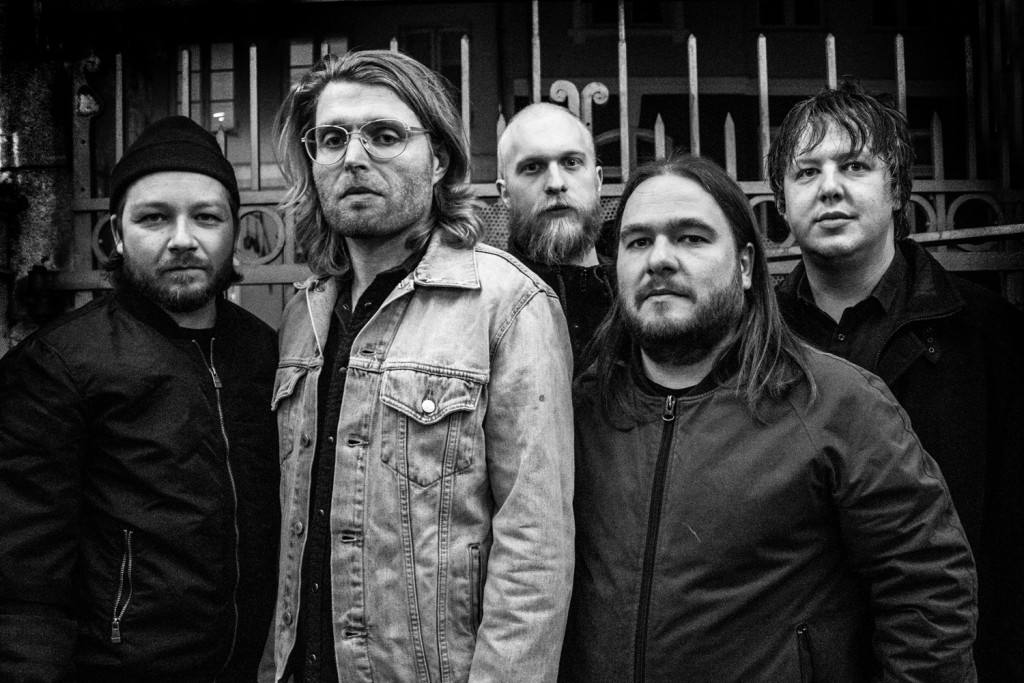 [photo by Lasse Høgh]
Copenhagen-based RISING has just issued a new trailer documenting the recording of their impending third LP, Oceans Into Their Graves, as the album nears release in late April.
Since its genesis in 2008, RISING has displayed relentless, crushing tones, fierce musicianship, and a strong sense for melody and songwriting, their sound slickly melding straightforward classic metal elements with the mammoth amplification and persuasion of upbeat sludge/doom metal. Those traits follow through on Oceans Into Their Graves — the first album since the band's revamping process following their 2013 Abominor LP — yet Oceans Into Their Graves also sees this new incarnation of the beast hungrier than ever, while the melodies soar with even more invigoration, their delivery greased to perfection and operating at full steam, resulting in the band's undeniably strongest album yet. Boasting nearly forty-five minutes of mega-infectious riff domination, the album was recorded by producer Jacob Bredahl (By The Patient, The Kandidate) at Dead Rat Studios in Aarhus, Denmark, mastered by Brad Boatright at Audiosiege (Sleep, Black Breath, Old Man Gloom), and bears cover artwork created by vocalist Morten Grønnegaard. The new studio video was filmed and edited by Per Silkjær.
See the members of RISING in the studio laying down the album RIGHT HERE.
An animated cover artwork video set to the track "Old Jealousy" is also playing HERE.
Indisciplinarian, the label created by RISING guitarist Jacob Krogholt, will release Oceans Into Their Graves digitally and on 180-gram black virgin vinyl on April 29th, with Earsplit Distro exclusively handling the vinyl for North America. Stand by for preorder info, as well as additional audio and video previews of the album, tour dates and more to be released in the days ahead. Prior RISING titles are available HERE and HERE.
http://www.rising.bandcamp.com
http://www.facebook.com/risingdk
http://www.indisciplinarian.com
http://www.facebook.com/indisciplinarian
http://www.indisciplinarian.bandcamp.com
http://www.earsplitdistro.com