Today, FEAR FACTORY will kick off their US headlining tour in Gallup, New Mexico. The latest excursion, which will see the band perform its classic second album Demanufacture in its crushing entirety will run through May 7th. Support will be provided by Swedish metal unit, Soilwork. With their April 6th show at the Gramercy Theatre in New York City now sold out, a second NYC date has been added on April 11th (also at Gramercy Theater). Additional support will be provided by Spade & Blades, Martyrd, and Omnikage on select dates. See all confirmed dates below.
FEAR FACTORY w/ Soilwork:
3/21/2016 The Juggernaut – Gallup, NM (No Soilwork)
3/22/2016 Sunshine Theatre – Albuquerque, NM (No Soilwork)
3/24/2016 Korova – San Antonio, TX
3/25/2016 Trees – Dallas, TX
3/26/2016 Scout Bar – Houston, TX
3/28/2016 House of Rock – Corpus Christi, TX
3/29/2016 Majestic Lounge – Fayetteville, AR
3/30/2016 Warehouse Live – Clarksville, TN
4/01/2016 Masquerade – Atlanta, GA
4/02/2016 Rock Shop – Fayetteville, NC
4/03/2016 Norva – Norfolk, VA
4/05/2016 Rams Head Live – Baltimore, MD
4/06/2016 Gramercy Theatre – New York, NY * Sold Out
4/08/2016 Reverb – Reading, PA
4/09/2016 Palladium – Worcester, MA
4/10/2016 The Chance – Poughkeepsie, NY
4/11/2016 Gramercy Theatre – New York, NY * Just Added
4/12/2016 Altar Bar- Pittsburgh, PA
4/14/2016 Agora Ballroom – Cleveland, OH
4/1/52016 Machine Shop – Flint, MI
4/16/2016 Piere's Entertainment Center – Fort Wayne, IN
4/17/2016 Big Shots – Valparaiso, IN
4/19/2016 Concord Music Hall – Chicago, IL
4/20/2016 Q and Z Expo Center- Ringle, WI
4/21/2016 The Rave – Milwaukee, WI
4/22/2016 Pop's – Sauget, IL
4/23/2016 Aftershock – Merriam, KS
4/24/2016 Summit Music Hall – Denver, CO
4/26/2016 In The Venue – Salt Lake City, UT
4/27/2016 Hitt Event Center – Idaho Falls, ID
4/29/2016 Revolution Concert House – Boise, ID
4/30/2016 El Corazon – Seattle, WA
5/01/2016 Hawthorne Theatre – Portland, OR
5/03/2016 Slims – San Francisco, CA
5/04/2016 LVCS – Las Vegas, NV
5/05/2016 Brick By Brick – San Diego, CA
5/06/2016 Marquee Theatre – Tempe, AZ
5/07/2016 Fonda – Theatre Los Angeles, CA
FEAR FACTORY released their latest offering, Genexus, worldwide via Nuclear Blast Entertainment. The album charted in several countries around the globe, coming in at #13 on the World Top 40 Chart, once again solidifying the band's stature as an international force. In addition, Genexus has surpassed the band's last two releases, Mechanize (2010) and The Industrialist (2012), in terms of first-week sales and chart numbers in the United States.
Genexus was produced by vocalist Burton C. Bell and guitarist Dino Cazares, and co-produced by long-time collaborator Rhys Fulber. The album was mixed by famed British producer and engineer, Andy Sneap (Arch Enemy, Testament, Exodus et al). Artwork was once again handled by artist Anthony Clarkson. Drums on Genexus were performed by Mike Heller (Malignancy).
Formed in Los Angeles, California in 1990, FEAR FACTORY changed the world of metal and have become an immense influence on the genre ever since their inception. The band's unique sound helped bridge the gap between death metal, grindcore, thrash, and industrial on landmark releases like Soul Of A New Machine, Demanufacture, and the gold-selling release, Obsolete.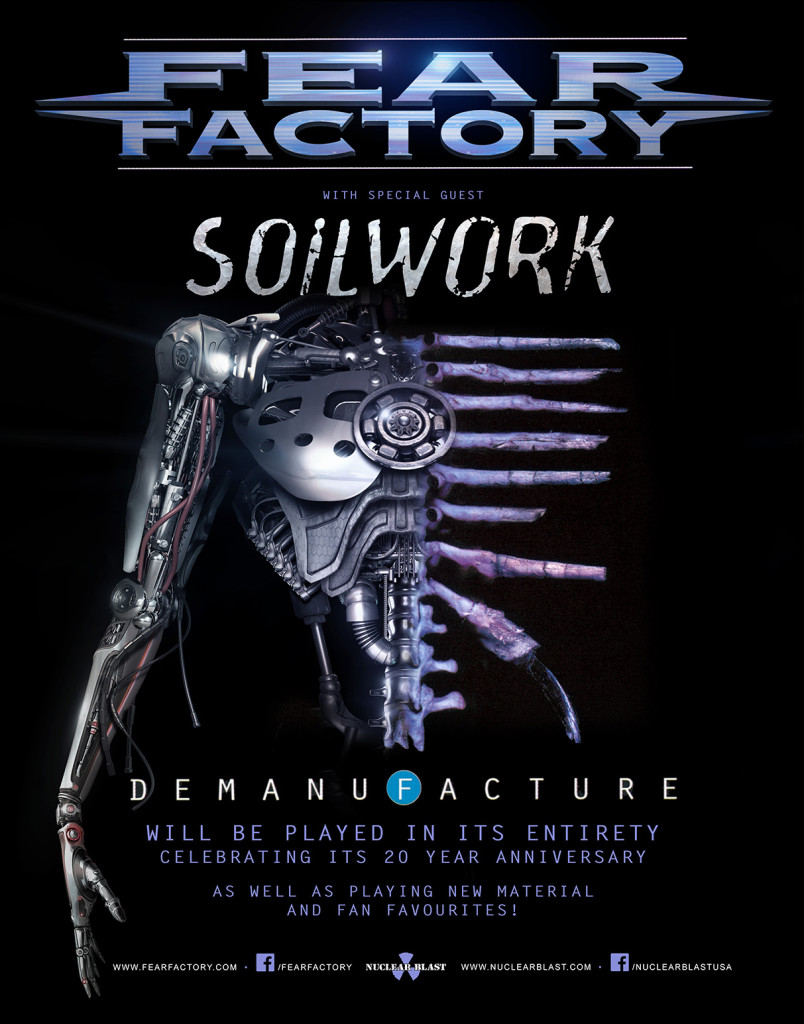 For all live coverage inquiries contact liz@earsplitcompound.com.
http://www.fearfactory.com
http://www.facebook.com/fearfactory
http://www.twitter.com/fear_factory
http://www.nuclearblast.com
https://www.facebook.com/nuclearblastusa/?fref=ts