As RINGS OF SATURN's disparaging Lugal Ki En encroaches inundating the human population, this week preorders for the album via iTunes are made apparent, following the disbursal of links to the physical manifestation of the album in recent weeks.
RINGS OF SATURN recently dominated stages across the Americas on the month-long The Face Implosion Tour, immediately followed by the Summer Slaugher The Canada Club Tour, and with immense further tour plans imminent in conjunction with Lugal Ki En's mid-October release, the outfit's obvious focused on mass consumption of the human race becomes ever more apparent. A cataclysmic nearly forty-five-minute display of the most vicious, sci-fi obliteration from the band to date, Lugal Ki En fuses cosmic elements into a forward-thinking form of malevolent death metal/deathcore, through a lyrical concept in which the Aliens wage war on the angels and demons of the universe after having conquered humanity — the album title translated from ancient Sumerian cuneiform to mean "King Of The Earthlings, Lord Of The Cosmic World."
The first single from Lugal Ki En to strike, "Senseless Massacre" was recently broadcast through a conceptual 3-D video, filmed and produced by Brooke Brennan and directed and edited by Alex T Reinhard, both of Brutal Productions, and featuring visual effects courtesy of Harsh Wayne Enterprises. The video was also constructed with 3-D viewing enabled via Youtube player settings, though 3-D glasses are required to delve into the other dimension full-on. The video was revealed to the public through Metal Injection who is broadcasting the evidence RIGHT HERE.
The vinyl edition of Lugal Ki En comes in two limited edition color varieties — purple and four-color splatter — all bound in gatefold packaging with a full-color insert and free download card. The vinyl deluxe and collectors bundle packages come with a ROS turntable slip mat.
Lugal Ki En will see worldwide impact via Unique Leader Records in North America October 14th and in Europe on the 17th. iTunes preorders have been posted, which includes an instant download of the album's opening track, "Senseless Massacre," at THIS LOCATION. CD and LP bundles are available for preorder HERE.
Bay Area tech-death outfit, RINGS OF SATURN, returns with their latest slab of musical mayhem. The newest effort from the quartet entitled Lugal Ki En once again pushes the envelope on all fronts of musicianship from start to finish. The drum work which was performed by Aaron Kitcher (Black Tongue, Infant Annihilator) is mind blowing in creativity and sets the backbone for this monster of a release. The guitar work by Lucas Mann and Joel Omans is absolutely flawless in execution and has that classic distinct RINGS OF SATURN sound that only they can achieve and are known for and also includes a guest appearance from Rusty Cooley (Day of Reckoning). Ian Bearer's vocal delivery is extremely powerful and compliments the music perfectly with many different pitches and ranges, never becoming monotonous. Lugal Ki En also features a cover of Suicide Silence "No Pity for a Coward." Finish all this off with a top notch sounding production captured by Brette Ciamarra of Studio 344 and numerous conceptual art pieces created by famed artist Mark Cooper and you have what is easily one of the most anticipated extreme albums of 2014.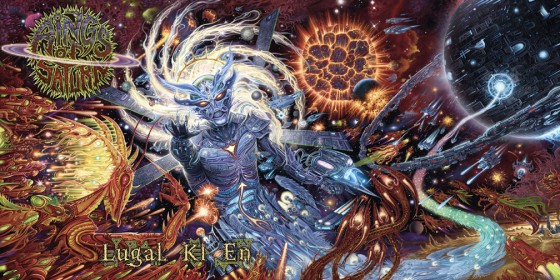 http://www.facebook.com/RingsofSaturnband
http://www.uniqueleader.com
http://www.facebook.com/UniqueLeaderRecords