As WAR Records prepares to release the new Limitless EP by Portuguese hardcore outfit REALITY SLAP this week, the entire record is now streaming exclusively at Lambgoat.
Tune in an unload Limitless at Lambgoat via THIS LOCATION.
Also see the band's "Haymaker" video at Revolver Magazine HERE.
Combining the best of old-school aggression with a modern hardcore vibe, REALITY SLAP's songs are full of tight riffs, heavy grooves, and they always pack a massive punch. Refining their sound, they recorded their strongest material to date, Limitless, at Eyeball Studios in Portugal. Limitless bridges the gap between the old and the new, merging the enduring influence of DMIZE, Outburst, Breakdown, Cro-Mags, and Bad Brains mixed with modern bands like Turnstile, Backtrack, Down To Nothing, and Terror.
WAR Records release Limitless on vinyl, CD, and digital formats this Friday; iTunes preorders include an immediate download of the song "Limitless." Find iTunes preorders HERE and see colored vinyl and bundles at WAR Records HERE.
European fans can catch REALITY SLAP on tour in support of Limitless in the months ahead, including three release shows for the EP in Lisbon, Faro, and Porto, with For The Glory. REALITY SLAP will also join You Are Part Of This Tour 2017 across Europe in February with Deez Nuts, Comeback Kid, First Blood, Hellions, Risk It, and Get The Shot. The band will support Parkway Drive in late April, and is confirmed for Resurrection Fest in Spain with the likes of Rammstein, Rancid, Agnostic Front, Snapcase, Terror, and many more.
REALITY SLAP Tour Dates:
1/26/2017 Poular Alvalade – Lisbon, PT +
1/27/2017 Arc Musicos – Faro, PT +
1/28/2017 Cave 45 – Porto, PT +
2/03/2017 Posthalle – Würzburg, DE * [tickets]
2/04/2017 Felsenkeller – Leipzig, DE * [tickets]
2/05/2017 Arena – Wien, AT * [tickets]
2/06/2017 Dürer Kert – Budapest, HU # [tickets]
2/07/2017 Backstage Werk – München, DE # [tickets]
2/08/2017 SO 36 – Berlin, DE # [tickets]
2/09/2017 Dynamo – Zürich, CH # [tickets]
2/10/2017 NCO Club – Karlsruhe, DE # [tickets]
2/11/2017 Day Of Hardcore Festival – Angouleme, FR # [tickets]
2/12/2017 Muziekodroom – Hasselt, DE # [tickets]
2/13/2017 Mama Roux's – Birmingham, UK # [tickets]
2/14/2017 Sound Control – Manchester, UK # [tickets]
2/15/2017 Islington Academy – London, UK # [tickets]
2/16/2017 Dyanmo – Eindhoven, NL # [tickets]
2/17/2017 Grünspann – Hamburg, DE # [tickets]
2/18/2017 Essigfabrik – Köln, DE # [tickets]
4/28/2017 Lisboa Ao Vivo – Lisbon, PT !
7/05-08/2017 Resurrection Fest – Viviero, ES ^
+ Limitless record release shows w/ For The Glory
* w/ Deez Nuts, Comeback Kid, First Blood, Get The Shot
# w/ Deez Nuts, Comeback Kid, First Blood, Hellions, Risk It, Get The Shot
! w/ Parkway Drive, Hills Have Eyes
^ w/ Rammstein, Rancid, Agnostic Front, Snapcase, Terror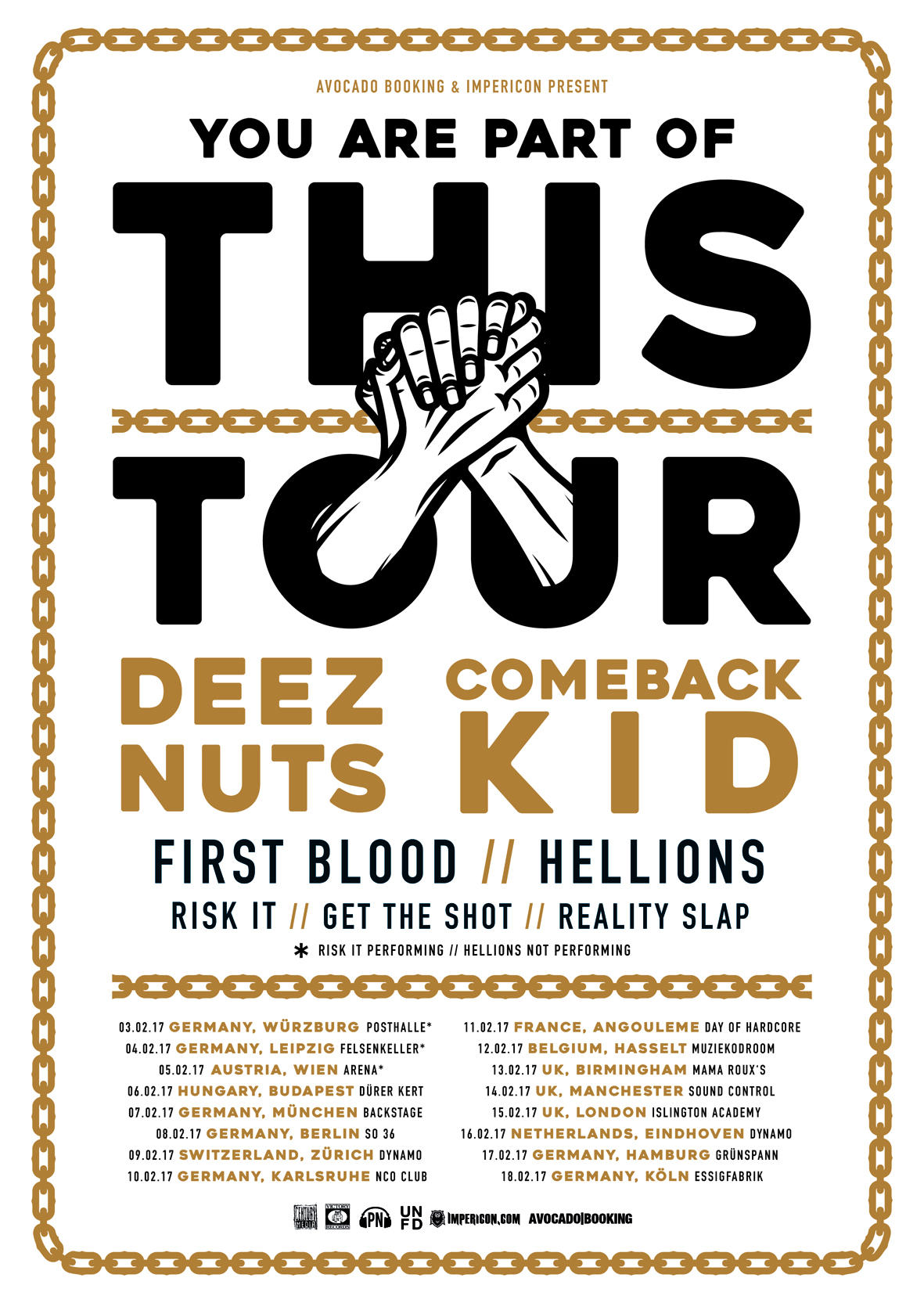 http://www.facebook.com/realityslap
http://www.bandcamp.com/realityslaphc
http://www.war-rec.com
http://www.facebook.com/WARRECORDS.HC
http://www.instagram.com/WARRECORDS
http://www.twitter.com/WARRECORDS1