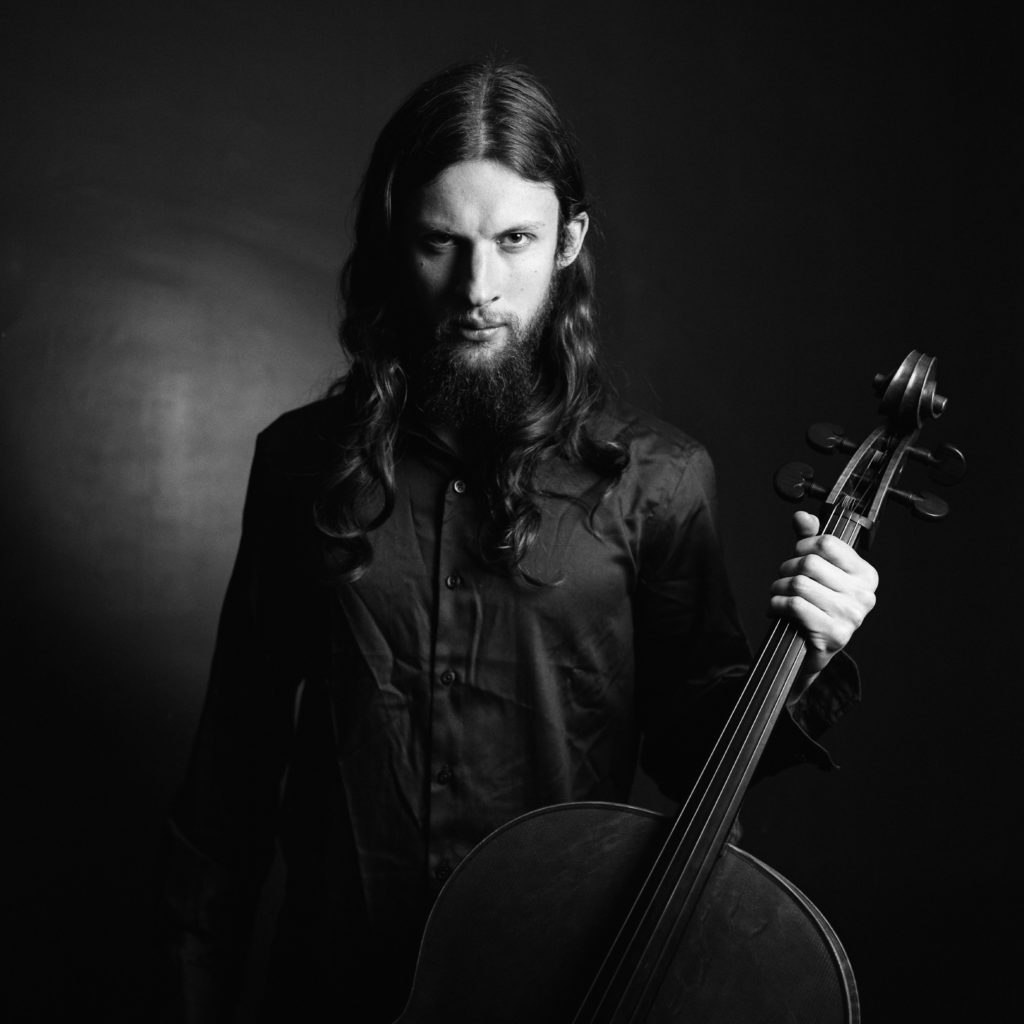 Metal Injection is currently streaming Worlds Within, the epic debut solo album from Canadian cellist and composer RAPHAEL WEINROTH-BROWNE. The premiere comes on the eve of the record's official release.
Worlds Within is a single composition divided into ten tracks which play out like movements in a classical variation set. The music itself, however, ranges from ethereal and atmospheric to aggressive and intense during the album's forty-minute run time, combining elements reminiscent of contemporary classical minimalism, metal, post-rock, and even electronic music while retaining its own distinct sonic language. It is a cinematic sound painting that plays on the listener's perception of time, evolving gradually and fluidly, but always in motion, much like the mesmerizing cover artwork by Heather Sita Black (The Visit).
Stream Worlds Within, exclusively at Metal Injection, at THIS LOCATION.
Find WEINROTH-BROWNE's previously released videos for "From Within" and "Tumult" below.
Having been an integral creative force in groups such as The Visit, Musk Ox, and Kamancello, as well as having recorded and toured extensively with Norwegian progressive rock/metal band Leprous, Worlds Within sees WEINROTH-BROWNE exploring his cellistic voice even further. The record takes full advantage of the possibilities of the instrument; all of the sounds on the album – melodies, harmonies, riffs, textures, and even percussion – were created on cello with amplification and effects pedals.
Worlds Within – produced by WEINROTH-BROWNE, recorded and mixed by Dean Watson, and mastered by Alan Douches – will be released on January 24th on CD, vinyl, and digital formats.
For preorders, visit Bandcamp at THIS LOCATION and all other digital platforms HERE. Additionally, copies of the record will be available at the merch table throughout Leprous' upcoming European tour next month. Find upcoming dates HERE.
RAPHAEL WEINROTH-BROWNE has announced a trio of solo shows in the coming months with more to be confirmed in the weeks to come.
RAPHAEL WEINROTH-BROWNE Live:
1/31/2020 The Garrison – Toronto, ON w/ Völur, Robin Hatch
3/19/2020 Casa Del Popolo – Montreal, QC
3/20/2020 Saint Brigid's Centre For The Arts – Ottawa, ON
"His music is an impasto painting, building upon itself with his bow (and fingers) serving as the brush…" – Decibel
"…mesmerizing and masterful, forty minutes of pure sonic poetry exploring the limits of the human psyche." – Two Guys Metal Reviews
"RAPHAEL WEINROTH-BROWNE opens up new mind spheres for you as a listener that you will gladly explore, as everything in there is fully captivating and diverting… a sonic diamond." – The Black Planet
"Worlds Within combines elements of contemporary classical music, post-rock and electronics, although every one of its vast array of sounds is created by the cello." – Ottawa Citizen
"…a perfect example of how a classical instrument can sway and hypnotize, cleverly attaching itself to conjuring up visions and images." – At The Barrier
"Those with even a passing interest in modern classical, or the use of classical instruments in rock and metal, should pay attention to RAPHAEL WEINROTH-BROWNE and Worlds Within… though formally classical, Worlds Within is the sound of a classical instrumentalist and composer who loves the aesthetics of metal so offers more than you may assume." – Angry Metal Guy
"The upcoming release by RAPHAEL WEINROTH-BROWNE is quite simply, beautiful… The album is awash with emotion and color." – Echoes And Dust
"WEINROTH-BROWNE has crafted something masterful with his newest work. Any fan of post-classical owes it to themselves to hear this out." — Music Tap
"RAPHAEL WEINROTH-BROWNE deserves more attention for what he is bringing to the table. Worlds Within truly does feel like an entire universe of deep personal inquiry and emotional turmoil." — The Prog Mind
"[Worlds Within] balances post-rock, contemporary classical music, and the most tasteful aspects of metal. It would have never occurred to me to blend such aspects together, but RAPHAEL weaves things together masterfully. – A Miscellany Of Tasteful Music
"Worlds Within is incredibly special and delicate and is an album that is truly an expression of being human." — Astral Noize UK
http://www.facebook.com/raphcello
http://twitter.com/raphcello
http://www.instagram.com/raphcello