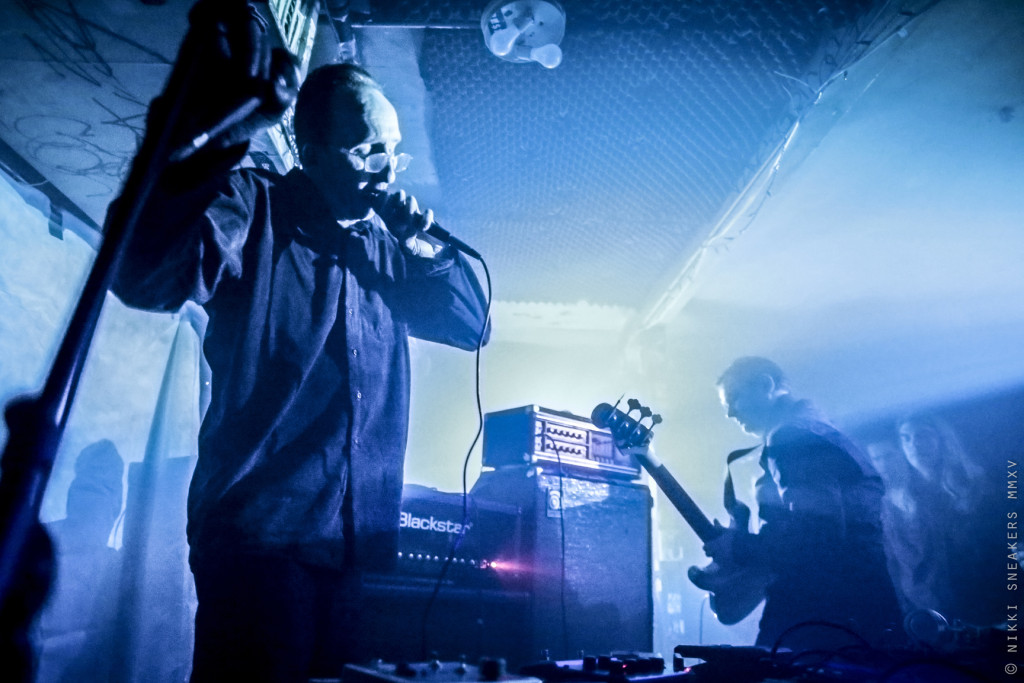 [photo by Nikki Sneakers]
As Crucial Blast prepares to release the expansive new Circular Time double-album from legendary UK-based noise rock outfit, RAMLEH, in early December, Invisible Oranges has exclusively issued the first new audio from the record through a premiere of the track "Never Returner."
While cacophonies of blissed-out guitar squall and violent drumming come tumbling out of the speakers in a rush of freeform psychnoise, and vast, rumbling dronescapes unfurl in the abyss, enfolding majestic but brutally distorted melodies in waves of shadowy low-frequency synth overrun much of Circular Time, the record is shot through with moments of sweeping, apocalyptic beauty, building to the powerful back-to-back finale of "Weird Tyranny" and "Never Returner" that are as utterly blasted and majestic as anything we've heard from RAMLEH in the band's thirty-some year existence. The song now sees release through an Invisible Oranges premiere, its' corresponding review including, "With Circular Time, RAMLEH's near two-hour krautrock-inspired expanse of a double album due out later this month on Crucial Blast Records, Mundy's meditations on atmosphere are taken to their absolute extremes, with the epic ten-minute closer 'Never Returner' acting as the album's drugged-out apex. An unrelenting wall of psychedelic delirium, 'Never Returner' is a thematic culmination of the vast sound array with which Ramleh has bombarded the listener for the past ninety-five minutes or so. The layered, effected-to-mush haze, The Fall-inspired post-punk minimalism, raw noise rock brutality, and wave upon wave of glorious, harsh, beautiful sound all masterfully jumbled together in a way which is both chaotic and soothing."
Hear RAMLEH's "Never Returner" through Invisible Oranges now at THIS LOCATION.
RAMLEH's Circular Time will be available from Crucial Blast as a six-panel gatefold jacket double-CD and via digital outlets on December 4th, having been shifted back two weeks since prior announcements. Preorders have gone live via the Crucial Blast Bandcamp where another new track, "Weird Tyranny," is also playing and available for instant download with any preorder. View options HERE.
RAMLEH will be performing a series of rare live dates in California in early 2016; stand by for details on the band's forthcoming live actions as well as additional audio samples from Circular Time in the days ahead.
It's been nearly twenty years since we last had a full-length album from RAMLEH operating in "rock" mode, but the sprawling new double album Circular Time sees the British outfit returning with their most intense work since re-emerging in recent years. One of the key bands to emerge from the British post-industrial underground of the early 1980s alongside their Broken Flag label-mates, Skullflower, RAMLEH continually shifted between the extreme, confrontational power electronics of their early material and their later forays into searing, lysergic noise rock, right up until the band went on an extended hiatus in the late 1990s. The group would return later the following decade with a number of reissues and new releases, but up until now, almost all of the new material from the re-activated RAMLEH leaned more towards their power electronics and harsh noise tendencies. But with this massive new album, these distortion masters (now comprised of founding member Gary Mundy, longtime member Anthony Di Franco, and new drummer Martyn Watts) have returned with nearly two hours of speaker-shredding, void-gazing psychedelia, pushing the pummeling, Hawkwindian meltdowns heard on classic 90s-era albums like Be Careful What You Wish For and Shooters Hill into realms of total obliteration.
http://www.facebook.com/Ramleh-245880515463532
http://www.crucialblast.net
http://www.facebook.com/CrucialBlast
http://www.crucialblast.bandcamp.com