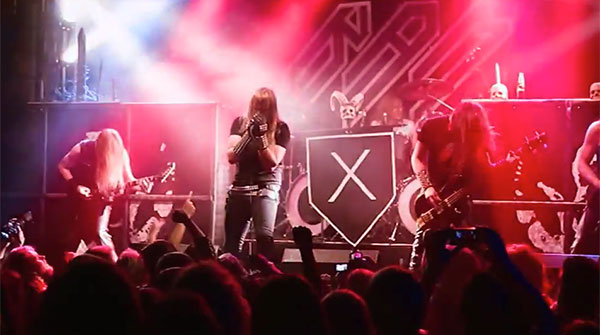 Svbversvm
is the impending new full-length from Sweden's classic heavy metal stalwarts,
RAM
. Boasting ten
raging hymns of death, post-apocalyptic dominance and total devastation through iron that recall the power and prestige of some of metal's most revered acts (think Judas Priest, Mercyful Fate et al) without replicating them, RAM's fourth studio offering was self-produced at Black Path Studios, mixed at Welfare Sounds by Olle Björk, Per Stälberg, and RAM, mastered by Daniel Johansson and will be unleashed on October 30th worldwide via Metal Blade Records. In Europe,
Svbversvm
will come available as a limited CD/DVD digipak, as well as on CD and vinyl.
In collaboration with Germany's Rock Hard Magazine, today RAM offers up a clip of "Awakening The Chimaera." Taken from the bonus DVD, X Anniversary, A Decade Of Heavy Metal Tyranny Concert, which comes free with the limited edition digipak of Svbversvm, the performance was filmed on Friday the 13th of September 2013 at a hometown show in Gothenburg, Sweden.
Surf on over to THIS LOCATION to check it out and raise your horns.
Additionally,
you can still listen to first single, "Eyes Of The Night," at metalblade.com/ram where you can also find various preorder bundles as well as second single,
"The Usurper," courtesy Of Heavy Blog Is Heavy RIGHT HERE.
"We are very pleased with the album that is the product of four months of being locked up in the studio and offering our very last drop of sweat and blood for it to become the most massive RAM production ever," shares the band of their latest offering. "This is our latest assault upon the rotting world, may it be a dagger in the heart of the powers that may be! Svbversvm is at hand!"