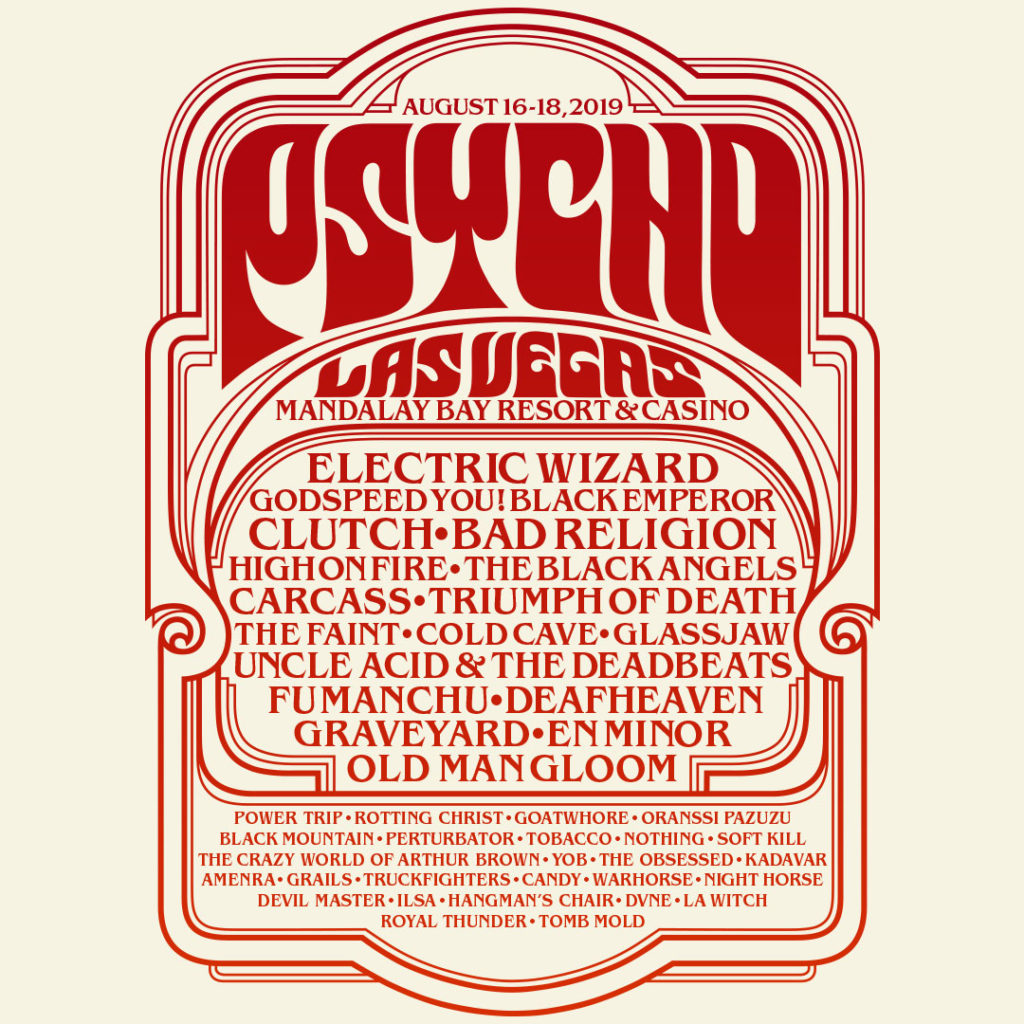 PSYCHO LAS VEGAS, America's annual rock 'n' roll bacchanal, will take over Mandalay Bay Resort And Casino August 16th through August 18th. Notorious for its consistently stacked lineups, the curators of the event have announced artist additions over the last few weeks, the latest of which includes American rock institution Clutch, doom metal icons Electric Wizard, punk rock legends Bad Religion, post-metal sensations Deafheaven, extreme metal progenitors Carcass, avant sludge metal luminaries Old Man Gloom, experimental veterans, Godspeed You! Black Emperor, the worldwide debut of Philip H. Anselmo's En Minor, Tom Gabriel Warrior's tribute to Hellhammer, Triumph Of Death, blackened death/thrash heroes Goatwhore, and others. The final lineup has yet to be revealed and fans can expect additional band announcements over the next few months. See confirmed bands thus far below.
PSYCHO LAS VEGAS remains unmatched in its level of presentation and 2019 promises not only a bigger and better festival but the experience of a lifetime. The event will feature four stages, including the newly renovated Mandalay Bay Events Center, the iconic House of Blues, Mandalay Bay Beach, featuring a wave pool and lazy river, and Rhythm & Riffs – a Vegas-style lounge in the middle of the
casino floor. Attendees will have access to discounted room rates at both Mandalay Bay and various MGM Resorts hotels, at THIS LOCATION.
Though the highly coveted "Psycho Special" passes sold out instantly, "Tier 1 Weekender General Admission" passes are still available at $249 but will increase to $299 once the first tier sells out
Single-day tickets priced at $109 will be available in the coming weeks.
Additionally, a limited number of "High Roller VIP" passes are still available for $499. High Roller Pass Benefits include:
– VIP access for all three days of the festival + entry to the Thursday pre-party at Daylight Beach Club
– VIP hotel and festival check-in at Mandalay Bay
– Expedited entry to all stages of the festival
– Private viewing areas, seating, restrooms and bars at three stages of the festival
– Limited edition and exclusive merch item exclusively to 2019 High Rollers
– Perks from select festival sponsors throughout the year
While the festival format will remain largely the same as previous years, the Thursday pre-party at Daylight Beach Club will be a more intimate event for attendees and will require a separate ticket from the festival pass.
All ticket prices are exclusive of taxes and fees. Tickets and more information are available at VivaPsycho.com and MandalayBay.com.
PSYCHO LAS VEGAS 2019 Lineup (alphabetical; more to be announced):
Amenra
Bad Religion
Beach House
Black Mountain
Candy
Carcass
Clutch
Cold Cave
Deafheaven
Devil Master
Dvne
Electric Wizard
En Minor
Fu Manchu
Glassjaw
Goatwhore
Godspeed You! Black Emperor
Grails
Graveyard
Hangman's Chair
High On Fire
Ilsa
Kadavar
L.A. Witch
Mark Lanegan
Night Horse
Nothing
Old Man Gloom
Oranssi Pazuzu
Perturbator
Power Trip
Rotting Christ
Royal Thunder
Soft Kill
The Black Angels
The Crazy World Of Arthur Brown
The Faint
The Obsessed
Tobacco
Tomb Mold
Triumph Of Death
Truckfighters
Uncle Acid & The Deadbeats
Warhorse
YOB
PSYCHO LAS VEGAS is the premier vacation-destination music festival in the US for those who worship all that is rock 'n' roll. After three award-winning years housed under the confines of the Hard Rock, the event is moving to the Mandalay Bay Resort & Casino through an exclusive partnership with MGM Entertainment, and will usher in a new era of spectacle, performance, and production. Meticulously curated, the annual gala has become notorious for delivering diverse and eclectic lineups — from rock and metal to world music and electronic — the likes of which have never been seen in North America. In 2019, PSYCHO LAS VEGAS is rebooting America's conception of what a festival can be, on its own terms and with its signature mix of grit and grandeur.
http://www.vivapsycho.com
http://www.facebook.com/psychoLasVegas
http://www.instagram.com/psycholasvegas
http://www.mandalaybay.com
http://twitter.com/MandalayBay
http://www.facebook.com/mandalaybay