NPR has debuted the new PSALM ZERO single "Return To Stone" – which features vocals by Kristin Hayter of Lingua Ignota – found on the band's third LP, Sparta. The album sees release next week in direct conjunction with an Eastern US tour supporting Kayo Dot.
Having garnered respect in the metal underground over the past seven years for their intense blend of disparate styles and genres, NYC-borne art metal outfit PSALM ZERO is led by Charlie Looker. After nearly four years of writing, rehearsing, and solo project excursions, the outfit now returns with its most expressionist album yet; Sparta.
Sparta is PSALM ZERO's first album with Looker handling all vocals, guitars, synth, and programming, with Keith Abrams (Kayo Dot) on drums and additional synth, and Ron Varod (Kayo Dot, Zvi) on bass. Additionally, the record features guest lead vocals on "Return To Stone" by Kristin Hayter (Lingua Ignota) and backing vocals on "Open Wound" and "A Pill" by Daisy Press. Sparta was recorded, mixed, and mastered by Seth Manchester at Machines With Magnets (The Body, Daughters, Marissa Nadler), and features art and design by video artist Zev Deans (Ghost, Behemoth, Chelsea Wolfe). While the band's first two albums were released via Profound Lore, Sparta will be issued through Looker's own Last Things Records.
Of the new single "Return To Stone," Charlie Looker offers, "First, Ron, Keith, and I laid down the instrumental parts. We took riffs from 'No Victim' – the song right before this on the record – and we slowed the materials way down, into the doom realm. I gave Kristin some very solemn lyrics, and what she came up with was just unreal levels of beauty."
Kristin Hayter adds, "It was a great pleasure to add vocals to this idiosyncratic monster of a song, tinged with the themes of Kristeva, and the cold space of medieval vocal music. I wanted to stack dissonant, questionable layers into the darkness."
NPR writes, "This slow, doomy and gorgeous incantation casts the kind of spell that unearths monuments from lost civilizations. Charlie Looker – who sculpts oblong concretions out of heavy metal – cedes most of the vocal spotlight to Lingua Ignota's Kristin Hayter; she takes this spacious, metallic hymn and awakens something ancient."
Stream PSALM ZERO's "Return To Stone" through NPR early only at THIS LOCATION.
Sparta will see release through Last Things Records on LP and digital platforms this Monday, February 24th. Find preorders for Sparta on vinyl HERE and digital HERE.
As Sparta sees release, PSALM ZERO will embark on an Eastern US tour in support of the album. Beginning February 29th, the trek sees the band supporting Kayo Dot on a winding route through Detroit, Columbus, Indianapolis, Chicago, Madison, St. Louis, Nashville, Little Rock, Atlanta, Jacksonville, Orlando, Miami, Columbia, Charlotte, Falls Church, Philadelphia, ending in New York City on March 22nd.
PSALM ZERO w/ Kayo Dot:
2/28/2020 Galaxy Brewing Company – Binghamton, NY
2/29/2020 The Sanctuary – Detroit, MI
3/01/2020 Ace Of Cups – Columbus, OH
3/02/2020 Black Circle Brewing – Indianapolis, IN
3/04/2020 Cobra Lounge – Chicago, IL w/ Blktxxth
3/05/2020 Communications – Madison, WI
3/06/2020 Fubar – St. Louis, MO
3/07/2020 Little Harpeth Brewing – Nashville, TN
3/08/2020 Vino's – Little Rock, AR
3/10/2020 The Bakery – Atlanta, GA
3/11/2020 Nighthawks – Jacksonville, FL
3/12/2020 Will's Pub – Orlando, FL
3/13/2020 Las Rosas – Miami, FL
3/15/2020 New Brookland Tavern – Columbia, SC
3/17/2020 The Milestone – Charlotte, NC
3/18/2020 VFW 9274 – Falls Church, VA
3/19/2020 1984 – Wilmington, DE
3/20/2020 Century – Philadelphia, PA
3/22/2020 Mercury Lounge – New York, NY [info]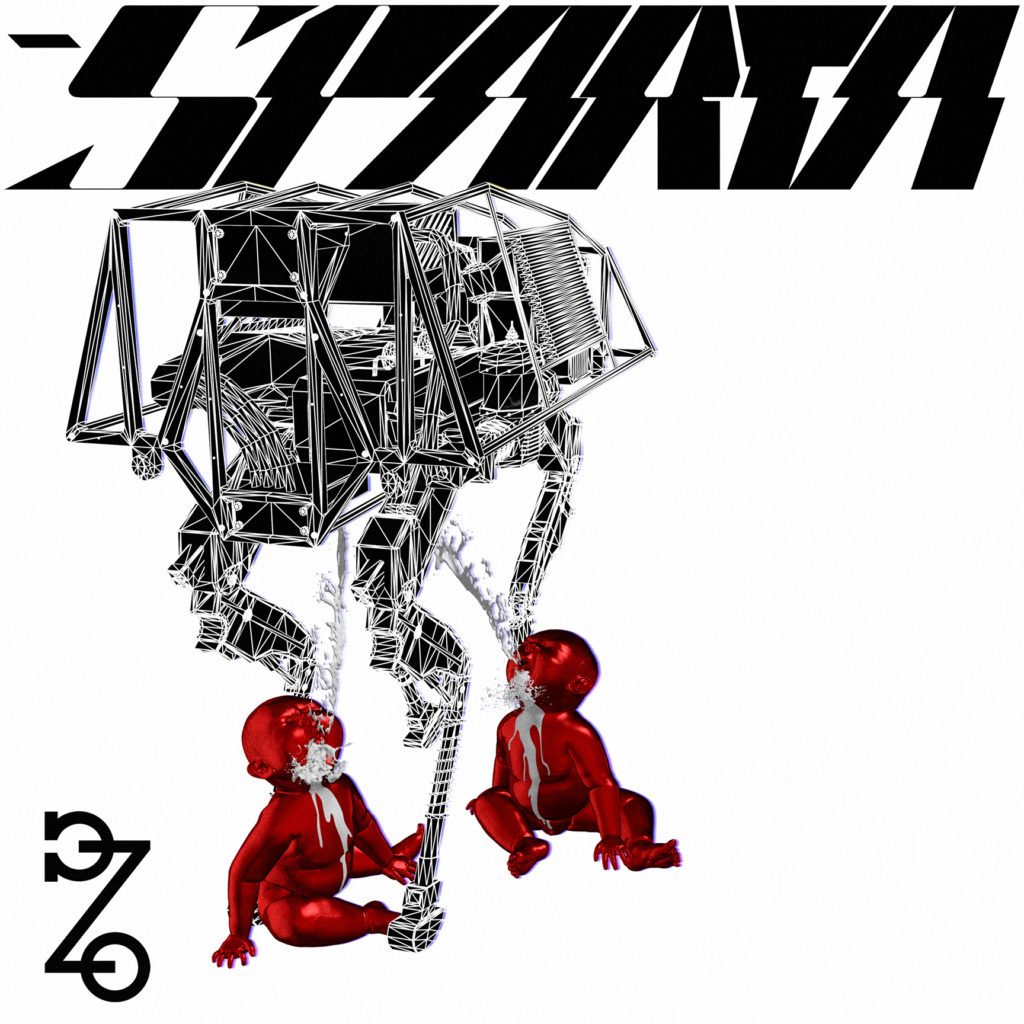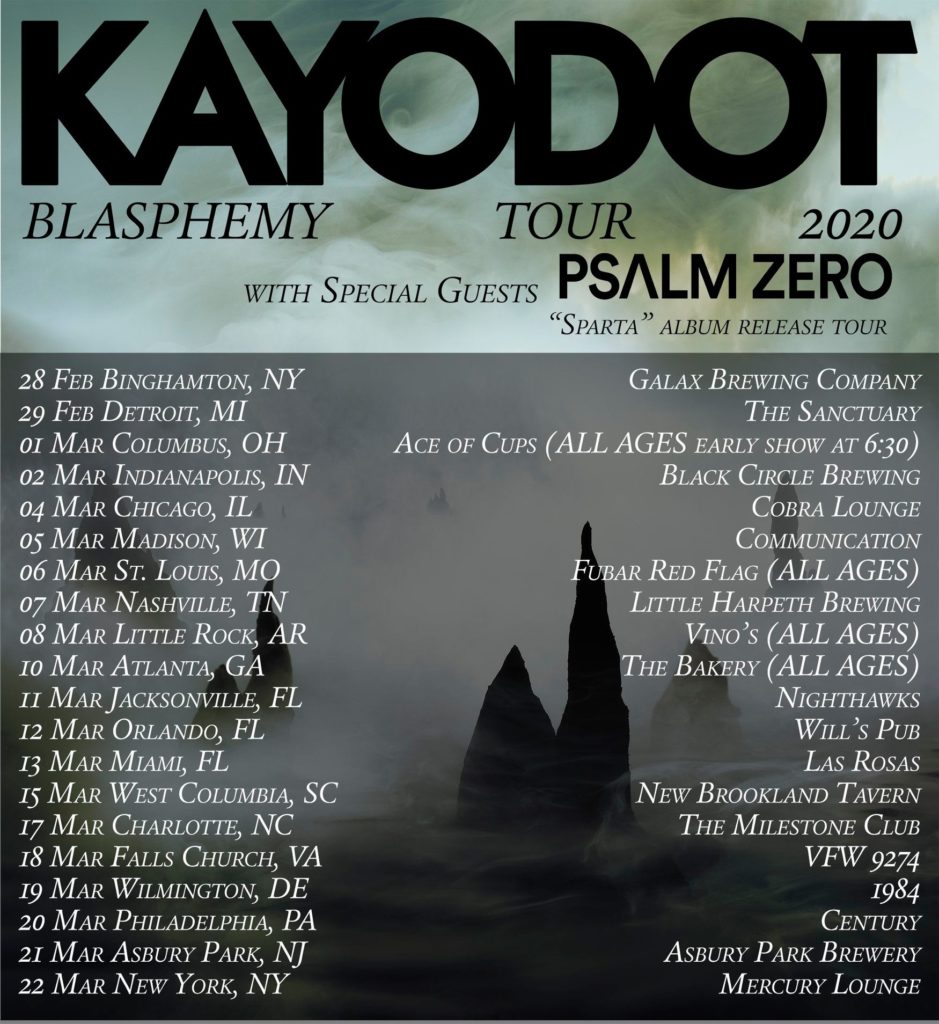 http://www.facebook/psalmzeronyc
http://twitter.com/charlielooker
https://www.instagram.com/charredlurker