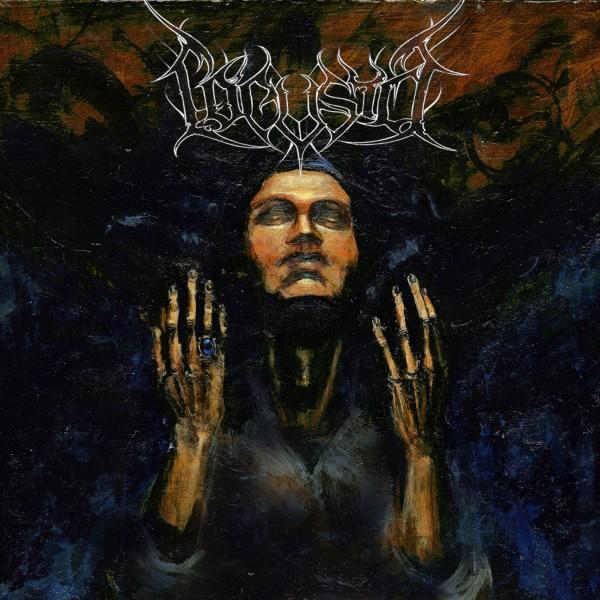 Columbus, Ohio progressive blackened death metal hellions LOCUSTA released their debut full-length via Kentucky-based Pragmatic Records upon an unsuspecting underground earlier this year. The 10-track, self-titled offering was recorded/engineered by Brian Simakis at Capital City Studios, mastered by Dan Randall at Mammoth Sound Mastering and features strikingly stark cover art by local artist Stefan Hoza.
Formed in the fall of 2006, LOCUSTA take their name from a female chemist from Ancient Rome regarded as the first documented serial killer. It was rumored that in A.D. 54, she may have been hired by Agrippina The Younger to kill the Emperor Claudius, possibly with a poisoned dish of mushrooms [Check out all the dark fascinating particulars here http://tinyurl.com/y8462km and http://tinyurl.com/y5m34xs], a fitting moniker for the band's relentless aural battery. Currently comprised of vocalist Brad Deerhake, guitarists Peter Hughes and Dru Silver, bassist Scott Hyatt and drummer Simon Tracy, the band's painstaking DIY sensibility has found them sharing stages with the likes of Coliseum, Skeletonwitch, Finntroll, Demiricous, The Gates of Slumber, Thou and local Columbus metal veterans Deadsea. Said The Athens News in a live review: "LOCUSTA. Why isn't this band huge? Serious death metal from Columbus who… smote their victims with ease."
The long player is currently available on CD with release dates for limited edition cassette and vinyl releases to be announced shortly. Commented Dru Silver: "We weren't sure how the album was going to turn out at first, as our eagerness and inexperience seemed to be showing a lot during the initial tracking. Looking back now there are definitely things we would've done differently in the studio as we have grown a lot as a band in the past two years since it was recorded. However the final product has far exceeded our initial expectations, and we are very proud of the album and grateful to the people that helped make it happen. Thank you to all our brothers and sisters in the underground music scene for their love and support."
Check out the tracks "War Of Knaves," "Into The Tomb," "Death Or Devotion" and "Masters Ethereal" at the band's official MySpace page: http://www.myspace.com/locusta614
LOCUSTA have several special live appearances on the horizon including a local show with Deadsea and Holy Grail on April 30, 2010 at Carabar in Columbus, a show with Fuck The Facts in Cleveland on May 16th at Now That's Class and a spot on Ogrefest 2010 [http://www.myspace.com/ogrefest] in Lansing, Michigan on May 1st with Deadsea, Stonecutters, Satyrasis and Dagon among others. In addition, the band is currently booking their first pilgrimage across the country with Tennessee blackened doom metallers Argentinum Astrum this summer. Tentative routing is below. If anyone has any info/interest in booking shows for the tour, drop a line to: locusta614@yahoo.com; most of these cities are uncharted territory!
7/10/2010 Columbus, OH
7/11/2010 Lansing, MI
7/12/2010 Fort Wayne, IN
7/13/2010 Chicago, IL
7/14/2010 Madison, WI
7/15/2010 Des Moines, IA
7/16/2010 Kansas City, MO
7/17/2010 Denver, CO
7/18/2010 Cheyenne, WY
7/19/2010 Salt Lake City, UT
7/20/2010 Boise, ID
7/21/2010 Seattle, WA
7/22/2010 Portland, OR
7/23/2010 Redding, CA
7/24/2010 Reno, NV
7/25/2010 San Francisco, CA
7/26/2010 Los Angeles, CA
7/27/2010 San Diego, CA
7/28/2010 Phoenix, AZ
7/29/2010 Albuquerque, NM
7/30/2010 Amarillo, TX
7/31/2010 Dallas, TX
8/01/2010 San Antonio, TX
8/02/2010 Houston, TX
8/03/2010 New Orleans, LA
8/04/2010 Tallahassee, FL
8/05/2010 Savannah, GA
8/06/2010 Atlanta, GA
8/07/2010 Knoxville, TN

"The band matches melancholy black metal growling with surprisingly palatable riffs that occasionally rise out of the chaos (check out '2012'…)" — Metromix Columbus
"From the depths of Columbus, Ohio true black metal thrashers unleash the energy of sin within their souls to make some of the most evil, gut wrenching contemporary metal possible. " — Last.FM
http://www.myspace.com/locusta614
http://www.myspace.com/pragmaticreleases