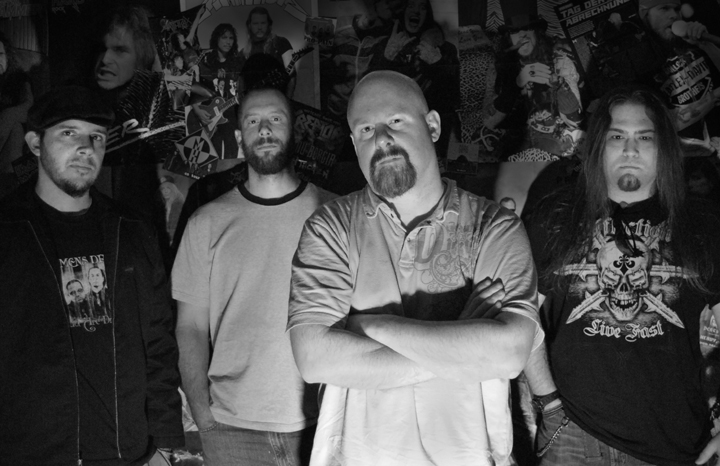 A new North American release date for the new full-length from PRO-PAIN has been set for September 28th, via Regain Records. The powerful new album, entitled Absolute Power, is the thirteenth studio full-length from these American crossover champions.
Absolute Power explores several sides to the tried-and-true American unit's patented sound. While a vast chunk of the album immediately recalls standard NYC-style PRO-PAIN metal/hardcore crossover attacks, many elements at play on Absolute Power infiltrate totally new ground for the band. Recorded at Little Creek Studio in Gelterkinden, Switzerland, the record features ten thunderous anthems that bridge the gap between the hardcore club and the rock arena.

Absolute Power Track Listing:
01. Unrestrained
02. Destroy The Enemy
03. Stand My Ground [featuring Schmier from Destruction]
04. Road To Nowhere
05. AWOL
06. Hell On Earth
07. Divided We Stand
08. Gone Rogue (I Apologize)
09. Rise Of The Antichrist
10. Hate Coalition
Formed by vocalist/bassist Gary Meskil (ex-Crumbsuckers), PRO-PAIN have over the years benefited from substantial support from an ever-growing and loyal fanbase as well as metal media and radio. Today, now joined by long term guitarist Tom Klimchuck, as well as newer members Marshall Stephens on rhythm guitar and Ricky Halverson (ex-Narcotic Self, Cellador, Stephen Pearcy's RATT) on drums, the band's worldwide catalog sales approaches one million units.
Promos of Absolute Power are available now, as well as interviews with PRO-PAIN. In North America, contact an Earsplit rep with all promo and requests of the band…. you'll find us in the circle pit.
– – – – –
"Musically, the band is well into its second decade but their high energy attack still hits like a runaway freight train… This is everything that you would want from a NYHC album…" – Brooklyn Rocks
"If metal were a dependability contest, then no one would be more popular than Pro-Pain." – Blistering
"…the band knows how to dish out one tasty-meaty riff after another and the catchiness lies mostly in the songs' choruses." – Slug Magazine
"Let us not neglect our forefathers but honor those that deserving honoring. Pro-Pain broke the chains shackling me to generic, current music by showing that older can definitely be superior." – The New Review

"…what we have here is Pro-Pain. Plain, simple, to the point and powerful." – Pitriff
http://www.pro-pain.com
http://www.myspace.com/propainspace
http://regainrecords.com
http://www.myspace.com/regainrecords