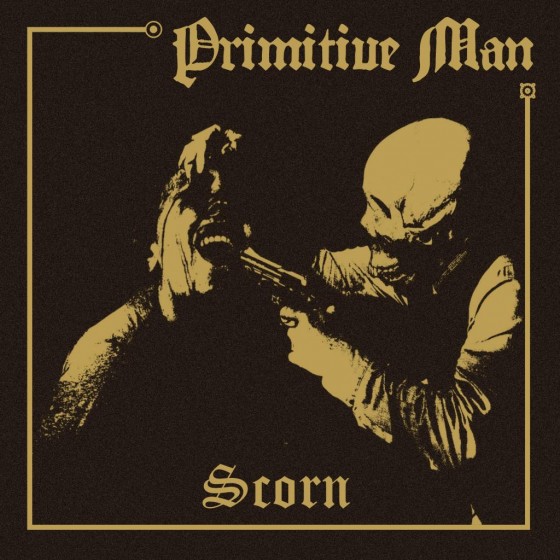 Denver blackened doom misanthropes PRIMITIVE MAN recently unleashed a video clip for "Rags," from their bludgeoning Scorn debut. Recorded by Dave Otero at Flatline Audio (Cephalic Carnage, Catheter, Cobalt etc), Scorn finds PRIMITIVE MAN commemorating a slow-roasted apocalypse through seven asphyxiating hymns of hatred, disease, despair and hurt feelings.
View the filth-laden, seizure-inducing visual escapade — currently hosted by Cvlt Nation — at THIS LOCATION.
PRIMITIVE MAN features within their ranks current and formers members of Clinging To The Trees Of A Forest Fire, Reproacher and Death Of Self. In a 4.5/5 review About.com writes: "Scorn drips with depravity and disgust throughout. Their strings-falling-off-the-guitar down tuned filth could cause earthquakes or crumble mountains. When in high(er) gear, the punishing riffs pound with the power of a ten ton battering ram, knocking the wind from your lungs. Scorn is no doubt one of the most brutal, unsettling and uncompromising albums you will hear all year." American Aftermath calls Scorn "one of the heaviest debuts by any band I have ever heard in all of my days," noting that the offering, "isn't your run of the mill bong-ripping doom metal that has been done a million times. This is the actual feeling of 'doom' in audio form. Scorn will instill feelings of dread and fear in you and you will love every freaking minute of it." Cvlt Nation champions band's "devastatingly crushing and austere slab of blackened, sludgy doom," while Metal Insider boasts, "PRIMITIVE MAN deliver the kind of doom metal reminiscent of a vast, apocalyptic wasteland where the only inhabitants left are too busy committing acts of lethal brutality against one another to care about things as trivial as beauty or art. This band has created the musical equivalent of survival for survival's sake. There is nothing pretty here. There are no moments of peacefulness or lucidity."
Scorn is currently available on 12″ vinyl via Throatruiner/Mordgrimm Records. The record is streaming is all its glorious filth at THIS LOCATION.
http://primitivemandoom.bandcamp.com
http://www.primitivemandoom.com
http://www.throatruinerrecords.com