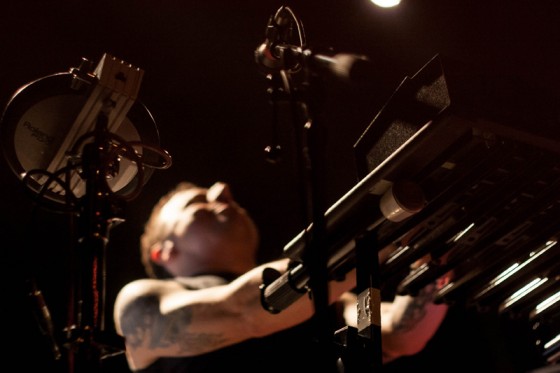 As NEUROSIS continues to dominate audiences across the US in support of their commended tenth studio LP, Honor Found In Decay, the band's impending performances in Denver, Colorado and Austin, Texas are now just days away.
Opening support for NEUROSIS' show at Denver's Summit Music Hall this Saturday, February 16th will be provided by locally-based instrumental heavy rock quintet Native Daughters, as well as folk//gospel-inspired Americana of Munly & The Lupercalians, featuring Jay Munly of Slim Cessna's Auto Club.
NEUROSIS' Emo's East show in Austin Sunday, February 17th will feature opening support from Little Rock, Arkansas' apocalyptic sludge harbingers Rwake. Direct support will be provided by legendary Houston-based noise/industrial punks The Pain Teens! Having only reunited for a Trance Syndicate label reunion in late 2012, the eclectic act's special performance will significantly enhance the evening, as The Pain Teens and NEUROSIS have not shared the stage since 1991.
On the Summer solstice, NEUROSIS is confirmed to take part in 2013's installment of the massive Hellfest festival in Clisson, France. The gathering runs from June 21st through 23rd, and will see NEUROSIS sharing the stage with Kiss, ZZ Top, Down, Bad Religion, At The Gates, Kreator and hundreds more.
Incredible footage from NEUROSIS' recent live offensives in January has surfaced. View "At The Well" and "Locust Star" from Brooklyn's Masonic Temple, "The Tide" at Philadelphia's Union Transfer, as well as incredible multi-camera footage of "At The Well" from the Oakland Metro on New Year's Eve as captured by Kenneth Thomas (Given To The Rising documentary, etc.) and more below.
NEUROSIS Honor Found In Decay Live Actions:
2/16/2013 Summit Music Hall – Denver, CO w/ Native Daughters, Munly & The Lupercalians [info]
2/17/2013 Emo's East – Austin, TX w/ The Pain Teens, Rwake [info]
6/21/2013 Hellfest – Clisson, France w/ Kiss, ZZ Top, Down, Bad Religion, etc. [info]
The anticipated deluxe vinyl version of Honor Found In Decay is out now! Released via Relapse/Neurot the massive 2xLP edition is packaged in a Stoughton tip-on gatefold jacket and accompanied by a 16-page LP-sized booklet. The audio was cut directly from the original studio master tapes and pressed on 180-gram vinyl, available in five different colors: 2000 on black, 1000 on translucent smoke grey, 500 on translucent yellow, 500 on translucent orange, and 100 on clear, not available to the public.
http://www.neurosis.com
http://www.facebook.com/officialneurosis
http://www.neurotrecordings.com
http://www.facebook.com/neurotrecordings
http://www.relapse.com