With the release of POISON IDEA's impending Confuse & Conquer LP ready to make its massive inundation through Southern Lord in less than two weeks, Vice Magazine's music channel, Noisey, has just dropped the newest single from the album in the form of the riotous "Rhythms Of Insanity," alongside an exclusive interview with the band's Jerry A.
Leaving you dazed, like a punch caught in the throat from a rabid stagediver twice your size so fast you never saw it coming, the track pumps monolithic energy into a circle-pit-ready frenzy, as roaring leads and searing solos back its slamming drive, this is one of those Confuse & Conquer movements which are immediately reminiscent of classic POISON IDEA albums like Fear The Darkness and Blank, Blackout, Vacant. An instant, unstoppable classic… Joined by an interrogation of the band's founding vocalist, Jerry A, Noisey now let's the rapid "Rhythms Of Insanity" off the chain early, through multiple international channels of the magazine.
Ingest POISON IDEA's "Rhythms Of Insanity" and the interrogation of Jerry A at Noisey US right HERE and Brazil HERE.
The LP-opener "Bog" was also released via New Noise Magazine at THIS LOCATION.
POISON IDEA's first new album since 2006's Latest Will And Testament, and first since the passing of their great friend and guitarist, the iconic Tom "Pig Champion" Roberts, the band's seminal drive and cynicism thrives on Confuse & Conquer. Eleven brand new anthems for the degenerate masses surge with thirty-five minutes of nonstop action on the new LP, its recording handled in their hometown by Joel Grind (Toxic Holocaust) and mastered by Brad Boatright (From Ashes Rise) at Audiosiege in late 2014. Confuse & Conquer not only sets everything in its path ablaze with the nonstop energetic pummeling punk assault the band has infamously assaulted the planet with for three-and-a-half decades, it also draws in some old-school rock and roll tracks, integrates the band's use of epic piano segues, making it both instantly familiar yet still brand new, and nothing short of exciting. Confuse & Conquer proves that absolutely nothing can stop this legendary act and all attempts are a futile waste of time.
Southern Lord will issue the brand new Confuse & Conquer LP from these longtime Portland, Oregon hardcore punk heroes on April 7th on CD, LP and digital formats. US preorders for the album have now been activated, via Bandcamp HERE and via the Southern Lord store including shirt and vinyl bundles HERE.
With a massive European tour kicking off just days following the release of Confuse & Conquer, POISON IDEA has booked a hometown record release show for May 23rd, as well as a two-week June run through the West Coast US, Mexico and Texas, with a second European tour for the Summer being booked as well as an East Coast tour in September. View the full current live itinerary below and be prepared for more tour dates to be announced in the coming days.
POISON IDEA Tour Dates:
4/17/2015 Schaubude – Kiel DE
4/18/2015 1000Fyrd – Aalborg DE
4/19/2015 Hafenklang – Hamburg DE
4/20/2015 Little Devil – Tilburg NL
4/21/2015 Willemeen – Arnhem NL
4/22/2015 AU – Frankfurt DE
4/23/2015 Chez Heinz – Hannover DE
4/24/2015 Wild At Heart – Berlin DE
4/25/2015 Luka – Lodz PL
4/27/2015 Alte Malzerei – Regensburg DE
4/28/2015 Exit Us – Prague CZ
4/29/2015 Explosiv – Graz AU
4/30/2015 Arena – Vienna AU
5/01/2015 Unterhund – Ormoz SL
5/02/2015 Kaleidos – Poviglio IT
5/03/2015 Traffic Club – Rome IT
5/04/2015 Border – Torino IT
5/05/2015 Between – Bregenz AT
5/06/2015 Mecanique Ondulatoire – Paris FR
5/07/2015 Borderline – London UK
5/08/2015 The Doghouse – Nottingham UK
5/09/2015 The Black Bull – Gateshead UK
5/10/2015 Audio – Glasgow UK
5/11/2015 Star & Garter – Manchester UK
5/12/2015 Adam And Eve Pub – Birmingham UK
5/13/2015 The Exchange – Bristol UK
5/14/2015 The Owl Sanctuary – Norwich UK
5/15/2015 Het Bos – Antwerp BE
5/16/2015 MTC – Cologne DE
5/23/2015 Dante's – Portland, OR *Record Release Show w/ The Derelicts, Exacerbators
6/12/2015 924 Gilman – Berkeley, CA
6/13/2015 Los Globos – Los Angeles, CA
6/14/2015 You Revolution – Tijuana, MX
6/16/2015 TBA – Long Beach, CA
6/17/2015 Jerrys Pizza – Bakersfield, CA
6/18/2015 TBA – Fresno, CA
6/19/2015 The Blue Lamp – Sacramento, CA
6/20/2015 755 After Dark – Petaluma, CA
6/25/2015 Dadas – Dallas, TX
6/26/2015 Fitzgeralds – Houston, TX
6/27/2015 Red 7 – Austin, TX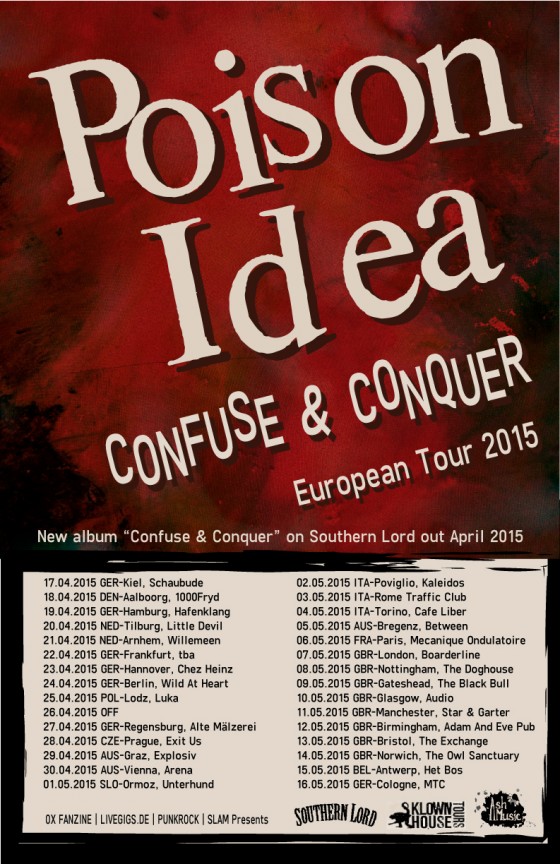 http://www.facebook.com/pages/Poison-Idea-Official-/366089496806858
http://www.southernlord.com
http://southernlord.bandcamp.com
http://twitter.com/twatterlord