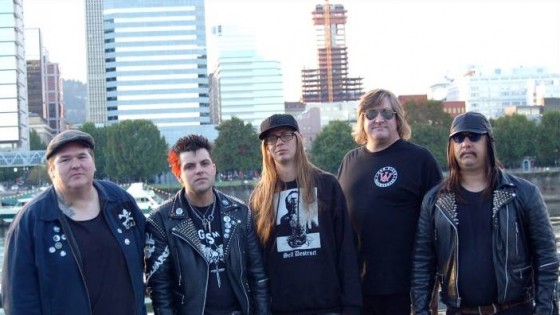 POISON IDEA, one of the most infamous and instantly recognizable names in the legacy of hardcore punk, is preparing to release their first new album since 2006's Latest Will and Testament. Southern Lord Recordings, responsible for reissuing the band's back-catalog in recent years, are the ones irresponsible enough to bring to you Confuse & Conquer, now confirmed for US release on April 7th, 2015.
Soaking up respect from generations of hardcore punks and dishing none out, the dastardly denizens of mid-paced punk shred are in trademark form on Confuse & Conquer. With longstanding members Jerry A (vocals), Eric "The Vegetable" Olsen (guitar) and Chris "Spider" Carey (bass) alloyed by the fresh faces of Nathan "Skinny" Richardson (drums) and Brandon Bentley (guitar), POISON IDEA's brand new full-length proves itself both identifiable and rewarding to listeners who have encountered them at any point from their 1980 birth onwards. Inventive beyond its steadfast roots, yet altogether as blunt as a stagediver's knee hurtling towards your face, Confuse & Conquer sees the band wasting not a single second on non-music activities, riding high on this wave of creativity. Their forceful hardcore pummel is underwritten with dark humor, rage, disdain, and moments of real melancholy well beyond the usual remit of the genre, but it's to be expected of Portland's nihilistic champions, proudly unaligned with any other sound out there. They were there at the beginning and they'll be there at the end, and in the meantime they have a lot more punk rock left to produce.
Confuse & Conquer was recorded in their hometown by Joel Grind (Toxic Holocaust) and mastered by Brad Boatright (From Ashes Rise) at Audiosiege over the closing few months of 2014, and will see release via Southern Lord on the 7th of April on CD, LP and digital formats. Additionally, expanded reissues of seminal POISON IDEA titles War All The Time, Feel The Darkness and more are also in the works for the coming years.
Meanwhile, POISON IDEA has tours planned on both sides of the Atlantic including a main slot at the four-day Berserker Fest II in Detroit, Michigan, running from March 11th through 14th, with Incantation, Iron Reagan, Coliseum, Full Of Hell, In Defence and countless more, a massive European Spring tour in April and May, as well as a whole host of other happenings yet to be announced.
POISON IDEA Tour Dates:
3/11-14/2015 The Loving Touch – Ferndale, MI @ Berserker Fest II
4/17/2015 Schaubude – Kiel DE
4/18/2015 1000Fyrd – Aalborg DE
4/19/2015 Hafenklang – Hamburg DE
5/20/2015 Little Devil – Tilburg NL
4/21/2015 Willemeen – Arnhem NL
4/22/2015 TBA – Frankfurt DE
4/23/2015 Chez Heinz – Hannover DE
4/24/2015 Wild At Heart – Berlin DE
4/25/2015 Luka – Lodz PL
4/27/2015 Alte Malzerei – Regensburg DE
4/28/2015 Exit Us – Prague CZ
4/29/2015 Explosiv – Graz AU
4/30/2015 Arena – Vienna AU
5/01/2015 Unterhund – Ormoz SL
5/02/2015 Kaleidos – Poviglio IT
5/03/2015 Traffic Club – Rome IT
5/04/2015 Border – Torino IT
5/05/2015 Between – Bregenz AT
5/06/2015 Ondulatoire – Paris FR
5/07/2015 Borderline – London UK
5/08/2015 The Doghouse – Nottingham UK
5/09/2015 The Black Bull – Gateshead UK
5/10/2015 Audio – Glasgow UK
5/12/2015 Adam And Eve Pub – Birmingham UK
5/13/2015 The Exchange – Bristol UK
5/14/2015 The Owl Sanctuary – Norwich UK
5/15/2015 Het Bos – Antwerp BE
5/16/2015 MTC – Cologne DE
"What can I say? We're all happy with the record," reported Jerry A., on the completion of Confuse & Conquer. "It's a group effort; we all had a part in writing the songs. We've been screwing around for too long. We had to hang back and see whose heart was really in this thing we've been doing for thirty years and who was bullshitting. We have a lot of touring to do next year, to make up for the last one being cancelled due to people with the wrong priorities. Everybody in the band now lives to play and make music; that comes first. It always has, it just took a long time to filter out the flakes, and keep the diehards. So these guys know how to make this ship float. As far as I'm concerned, it feels like being reborn, having a second wind, a hardcore revival, and just discovering meaning, all at the same time. To put it mildly, we're happy, I'm happy, and this is just the start. No stopping from here out."
Southern Lord Recordings owner Greg Anderson issued on the signing and upcoming album, "I've been a rabid POISON IDEA fiend ever since seeing them decimate the legendary Gorilla Gardens in Seattle in 1985. Having the opportunity to work with this legendary band all these years later is an inexplicable honor."
Formed in 1980, POISON IDEA became a household name in the hardcore/punk scenes early in their career, and are known as one of the most notoriously in-your-face acts in the American musical underworld, with an enraged, high-energy live set even more rambunctious than the massive roster of singles, EPs, full-length studio and live releases and more, across a realm of labels including Pusmort, Alchemy, American Leather, Bitzcore, Tim/Kerr, Taang!, Farewell, TKO, Southern Lord, Candlelight, and their own Fatal Erection. They've been an incredibly influential act to major performers including Nirvana, Pantera, Napalm Death, Machine Head, Eyehategod, Emperor, Turbonegro and an endless list of others.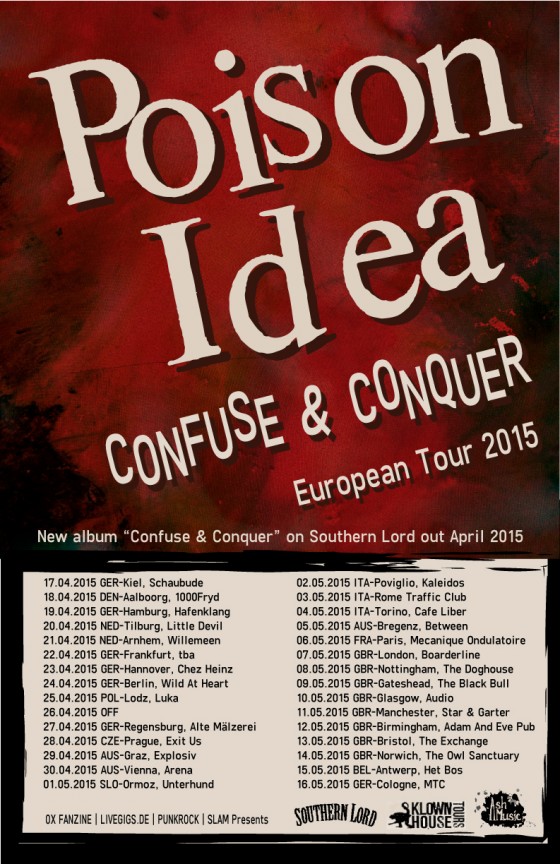 http://www.facebook.com/pages/Poison-Idea-Official-/366089496806858
http://www.southernlord.com
http://southernlord.bandcamp.com
http://twitter.com/twatterlord