Detroit-based crossover death thrashers PLAGUE YEARS will appear on eOne Heavy Live, an exclusive livestream showcasing some of Entertainment One's (eOne) most volatile talents. Presented by Down Right Merch and MetalSucks and hosted by Ethan Harrison of Great American Ghost, the show kicks off this Saturday, April 3rd at 3:00pm ET / 12:00pm PT, and will feature a headlining performance by progressive metal collective The Contortionist with support from PLAGUE YEARS as well as Within The Ruins, Enterprise Earth, and Bodysnatcher.
Tickets and exclusive merch bundles are available now at THIS LOCATION.
Like an icepick to the face, PLAGUE YEARS arrives with an electric surge of sudden pain. An unrelenting end of the world assault of the cataclysmic convergence of thrash and hardcore, with bits of blackened death and midtempo madness to spare, the Detroit master blasters unapologetically crash the crossover party. Summoning the primitive spirit of the singular moment when the heaviest of metal first smashed into a circle pit, PLAGUE YEARS reignites the flame with sharp fury.
The band released their crushing Circle Of Darkness full-length last Fall via eOne. Mining the subterranean depths once unearthed on classic Sepultura albums like Beneath The Remains and Arise, with the vicious bite of Germanic slabs like In The Sign Of Evil by Sodom and the Hall of Fame '80s output of Slayer, the devilish and down-tuned death worship within PLAGUE YEARS serves as a demonic calling card for the foursome; a brutal counterbalance to their otherwise likeminded thrash revivalists. On Circle Of Darkness, PLAGUE YEARS reunites with engineer Arthur Rizk, whose work with Power Trip, Tomb Mold, Candy, and Cavalera Conspiracy has propelled him to the front of the horde amidst the resurgence of crossover thrash.
Find PLAGUE YEARS' previously released videos for "Paradox Of Death" "Incantation," and "Play The Victim" HERE.
PLAGUE YEARS' Circle Of Darkness is out now on CD, digital, and vinyl formats. Find ordering options at THIS LOCATION.
"…PLAGUE YEARS turn chugging into an art form, making simple stomps feel like genuine riffs." – Decibel Magazine
"…a death thrash rager…" – Revolver
"…nothing short of a modern thrash classic…" – Metal Injection
"Thrash has always been a diverse genre, with equal room for goofy party vibes and infernal paeans to the abyss. In 2020, it's the latter approach that seems most fitting and timely, and PLAGUE YEARS have absolutely nailed the desolate spirit of the age via some truly ripping thrash fucking metal." – Blabbermouth
"…the quartet just freaking rages on songs such as the sledgehammer opener 'Play The Victim' or surgical strike of the title track. Somewhere, there is a skate park where someone has this cranked to 11 and is carving the bowl to bits to Incantation." – Vancouver Sun
"Nonstop, unrelenting crossover death metal that can knock you on your ass even at its slowest moments. The intermixing of tempos and pacing is precisely calibrated for pure pit-destroying, headbanging-ready potential." – Invisible Oranges
"When this band lays down a groove, the walls shake." – New Noise Magazine
"…gnarly death metal and skull-bashing crossover in the same record… Need something to kick your ass in gear today? Getcha some PLAGUE YEARS." – Heavy Blog Is Heavy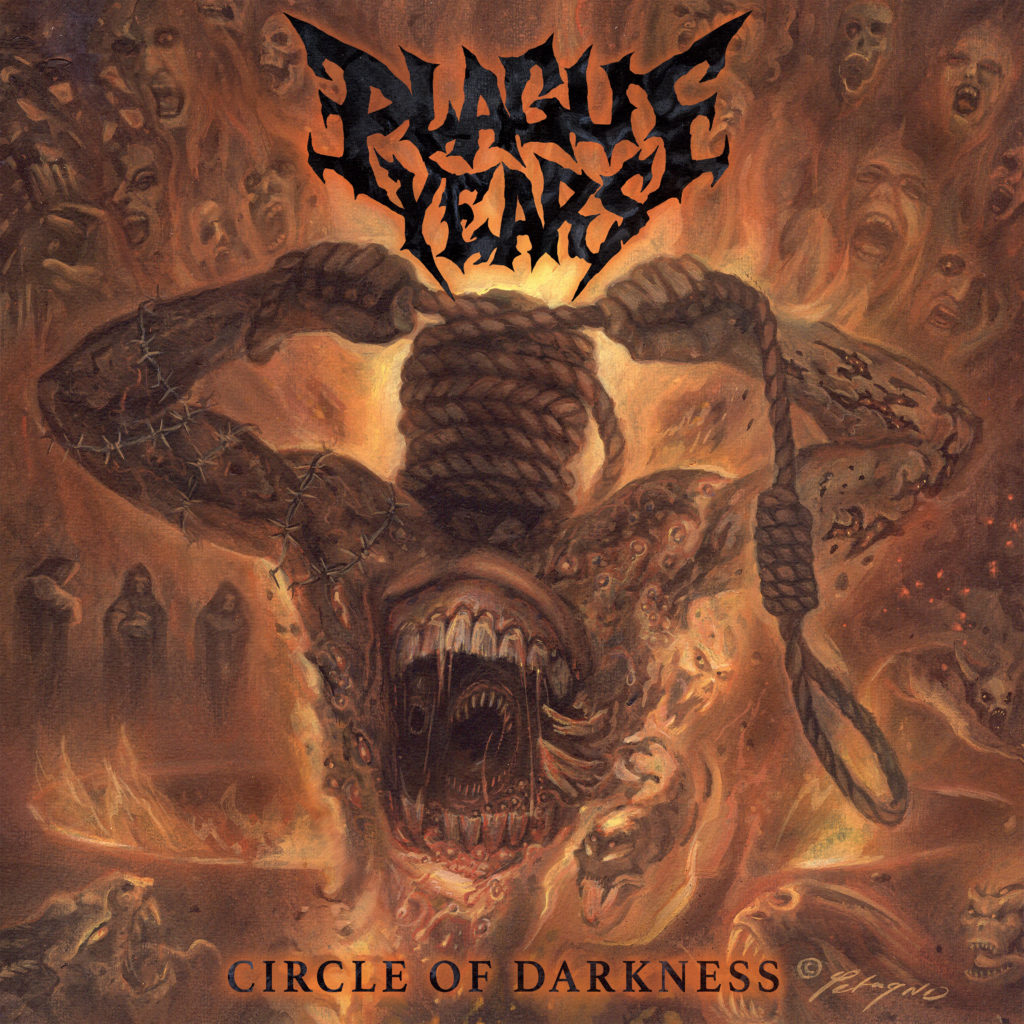 http://www.facebook.com/plagueyearsdet
http://twitter.com/plagueyearsmi
http://www.instagram.com/plagueyearsmi
http://www.entertainmentone.com
http://www.facebook.com/eOneMusicUS
http://twitter.com/eonemusicus
http://www.instagram.com/eone_music