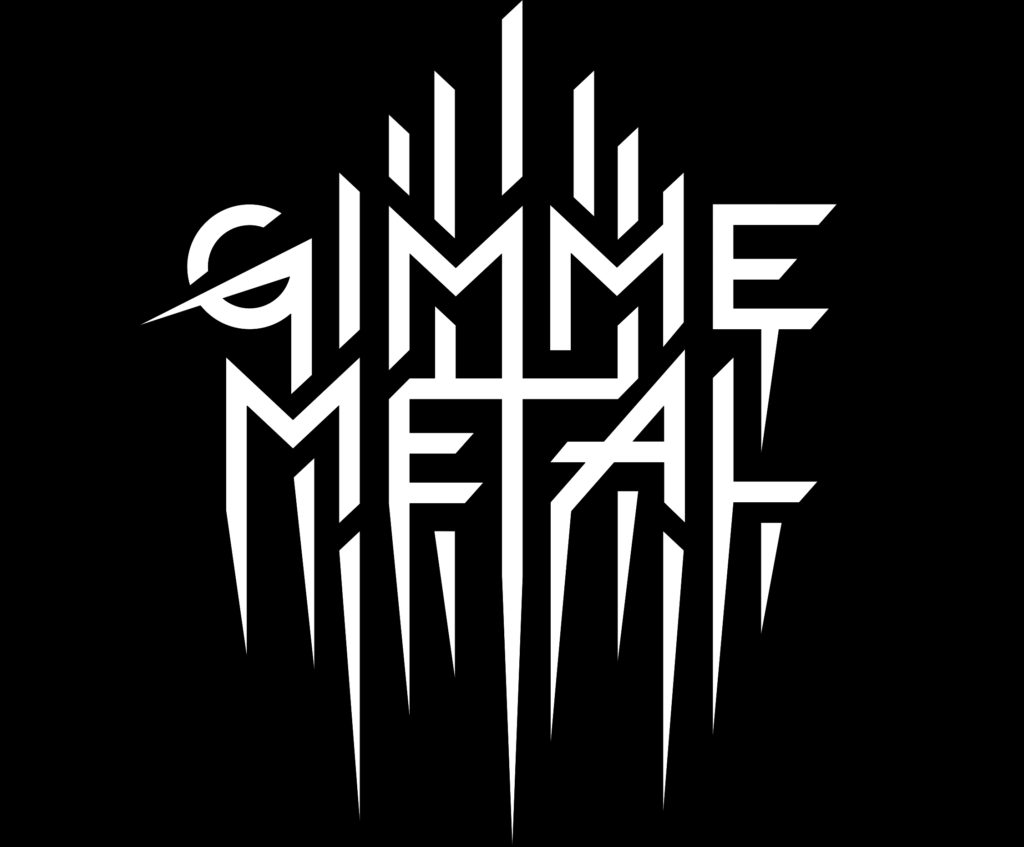 Each week, GIMME METAL publishes its radio chart listing the top 40 tracks played on the station. Already the best metal discovery service online, the GIMME METAL chart is a powerful tool for listeners, labels, and artists for staying up to date on the best new metal released by established greats and up-and-coming underdogs, all handpicked by GIMME's knowledgeable DJ roster and editorial team.
GIMME METAL Chart – March 29th, 2021:
1. Haunt – "In Our Dreams"
2. Cannibal Corpse – "Inhumane Harvest"
3. Domkraft – "Dawn Of Man"
4. Wode – "Lunar Madness"
5. Fuath – "Into The Forest Of Shadows"
6. Paysage D'Hiver – "Äschä"
7. Zouo – "No Power"
8. The Crown – "We Drift On"
9. Genghis Tron – "Pyrocene"
10. Bongzilla – "Free Weed"
Click HERE for the full Top 40 List.
This week on GIMME METAL: Screamin' For Spring Week – The sun's out longer! The weather's warming up! To celebrate the change of seasons GIMME METAL is Screamin' For Spring! This is one of the most jam-packed weeks on GIMME METAL yet! Here is what's coming up next: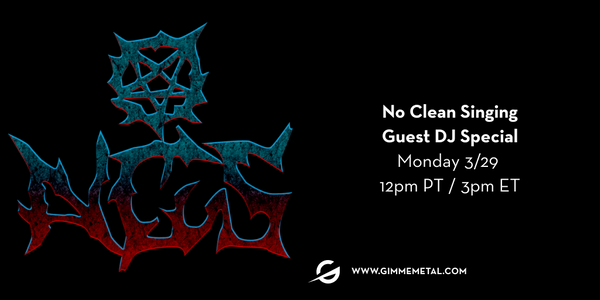 No Clean Singing Guest DJ Special – New episode! Since 2009, the No Clean Singing website has been an invaluable source for all your extreme metal needs. Ad-free, focused on positive reviews with a special ear towards the international scenes, the site brings together the extreme metal community with vanguard taste and style. GIMME METAL welcomes founder Islander plus staffers Andy Synn and DGR for a show jam packed with all things heavy. Check the GIMME calendar for reruns and visit nocleansinging.com.
GIMME 5 with DJ Jet – Tuesday March 30th at 5:00pm ET/2:00pm PT it's March Metal Madness with DJ Jet who whips up five new top notch album spotlights and interviews with members of The Crown (Royal Destroyer), Cannibal Corpse (Violence Unimagined), Empyrium (Ãœber den Sternen), Memoriam (To The End), and Enforcer (Live By Fire II)! Don't miss these wicked interviews and in-depth looks at these killer albums!
My Dying Bride Guest DJ Special – No rest for one of Britain's most melancholic exports: Just half a year after My Dying Bride returned from their break with their haunting and successful masterpiece The Ghost Of Orion, the kindred of Yorkshire raise the curtains to the Macabre Cabaret, out now on Nuclear Blast. The EP offers three new psalms (plus a hidden gem on the physical editions) – dark luscious death doom ear candies that will thrust listeners into a sensual world of darkness and temptation and conceal the borders between sweet pain and destructive illusion. GIMME METAL welcomes vocalist Aaron Stainthorpe, who will be in the live chat for the first airing of his second guest DJ special.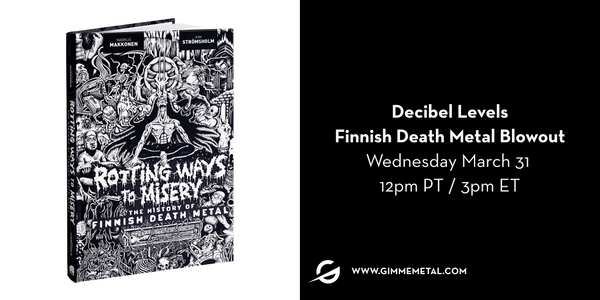 Decibel Levels: Finnish Death Metal Special with Decibel Magazine's Albert Mudrian – Don't miss the GIMME METAL all-Finnish death blast to celebrate the upcoming release of Rotting Ways To Misery: The History Of Finnish Death Metal via Decibel Books late next month and available for preorder at store.decibelmagazine.com. The definitive guide to the magical and morbid world of Finnish death metal, has been completely redesigned and edited for a North American release! Authors Markus Makkonen and Kim Strömsholm explore the extreme metal and thrash scenes of the late '80s, the short-lived but explosive scene of the early '90s, and the eventual devastating resurgence of death metal within the country. Rotting Ways To Misery… is 364 pages, hardcover, and limited to 1000 copies. The book includes previously unpublished photos and exclusive interviews with artists including: Amorphis, Sentenced, Phlegethon, Xysma, Thergothon, Funebre, Demilich, Demigod, Purtenance, Mordicus, Disgrace, Necropsy, Rotten Sound, Abhorrence, National Napalm Syndicate, Festerday, Faff Bey, Mengele, Maple Cross, A.R.G., Putrid, Convulse, Cartilage, Inferia, Coffin, Mythos, Lubricant, and more. Last but not least, get in on the live chat and you could WIN your own copy of this killer tome.
Genghis Tron Guest DJ Special – Genghis Tron have marked their return with their highly anticipated new album, Dream Weapon, the band's first new studio outing in over a decade! Out now on Relapse Records, Hamilton Jordan (guitars) and Michael Sochynsky (keyboards, programming) are now joined by two new collaborators: vocalist Tony Wolski and Sumac/Baptists drummer Nick Yacyshyn. Together, the lineup perfects the unique mix of extreme rock and electronic music they've pioneered over their storied career. Join Jordan and Sochynsky for a tag team GIMME guest DJ special of some killer selections, and don't forget to hit the tipjar if you can.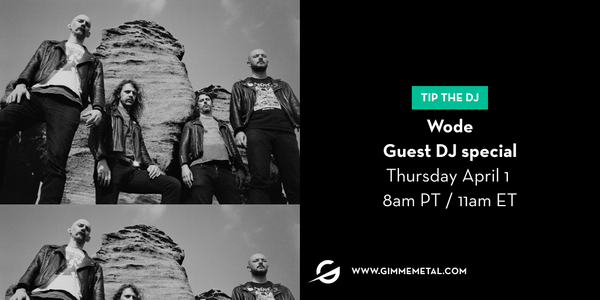 Wode Guest DJ Special – Now into their second decade, English black/death combo Wode release Burn In Many Mirrors (20 Buck Spin), the followup to their lauded Servants Of The Countercosmos. Here, Wode presents the band's most potently wild and predatory work to date. Featuring six new tracks spanning forty minutes of meticulously summoned infernal ferocity, the band scorches the landscape and drapes it in the foul reek of death's fog. One may hear the ancient voice of obscure and revered gods reflected through WODE's sulphuric incantations, the raging fire of the most blasphemous legends of the past called upon by the spirit of chaos and death. Shrouded in sepulchral black metal atmosphere and freezing cold melodies, Burn In Many Mirrors displays a studied regard for songcraft and motive well beyond mere convention, transforming into a concentrated dark chorus of ruin and abomination. GIMME welcomes the band for their first ever guest DJ special which promises to be a ripper of a radio event for us all.
Coming soon to GIMME METAL TV:
Blöod Düster: The Shape Of Death To Come – From the Season Of Mist library, witness Australia's most outrageous and shocking band's first ever DVD! Get ready for the best… and the worst! The bad guys of Blöod Düster strike again with their patented self deprecating sense of humor and this time you can see it with your own eye ! Creating and implementing both musical and social havoc with their very own mix of influences ranging from early grindcore bands like Napaml Death and Carcass to elements from '70s rock bands, Blöod Düster are responsible for some of the most infamous album releases of all time. But Blöod Düster's strength truly lies in their live show, because that's exactly what it is – a show. Catch all 100 minutes of this chaotic movie!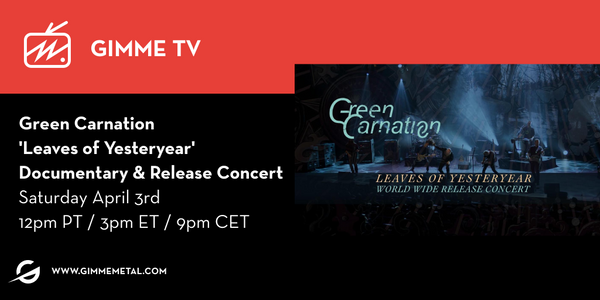 Green Carnation: Leaves Of Yesteryear Documentary And Concert – Norwegian prog/death metal vets Green Carnation bring Leaves Of Yesteryear, initially released last year, to GIMME TV! That release was their first studio album in over fifteen years and highlights the crafted progression of the band's sound since their early '90s beginnings! Start off with the riveting documentary portion that centres around tGreen Carnation's preparation for the concert and then strap in for an entrancing, well-shot live performance!
GIMME METAL TV runs 24/7 giving you unlimited music videos, interviews, live performances, and other amazing clips and shows from Metal Injection as well as your favorite metal bands and artists! With Apple Airplay and Google Chromecast features, you can cast it to your TV or laptop! Tune into GIMME METAL TV HERE!
Upcoming on GIMME METAL:
4/06 Memoriam
4/07 Horndal
4/09 The Lion's Daughter
4/14 Small Stone Label Special
4/16 Exciter
4/20 Bongzilla 420 Special
4/23 Tank Crimes Label Special
4/26 Celestial Sanctuary
4/27 Vreid
4/28 Carbonized Label Special
4/30 Unique Leader Label Special
4/30 King Fowley
5/01 Capra
5/05 Evile
5/05 eOne Heavy Label Special
5/06 Domkraft
5/07 Molten
5/10 Akiavel
5/11 Metal Sydney
5/12 Funeral Leech
5/24 Possessed
5/28 Autumn For Crippled Children
Don't miss it! Visit GIMME METAL: http://gimmemetal.com.
About GIMME METAL:
Founded by digital music veterans from Apple Music, Google Play, Beats Music, and Napster, parent company GIMME Radio builds highly engaged communities for the passionate fan on a genre-by-genre basis. The company launched its first community in June of 2017: the world's first 24/7 metal-focused service. Fans tune in to hear world class DJs playing metal they can't hear anywhere else – for free. The GIMME METAL app and streaming radio service allows the fans and the DJs/artists to communicate directly with one another in a live feed, in real-time, while they listen. Its roster of 70-plus DJs includes Dave Mustaine of Megadeth, Jessica Pimentel, star of Orange Is The New Black, Brian Posehn, and Randy Blythe of Lamb Of God, among many others.
http://gimmemetal.com
http://www.facebook.com/gimmemetal
http://twitter.com/gimmeradio