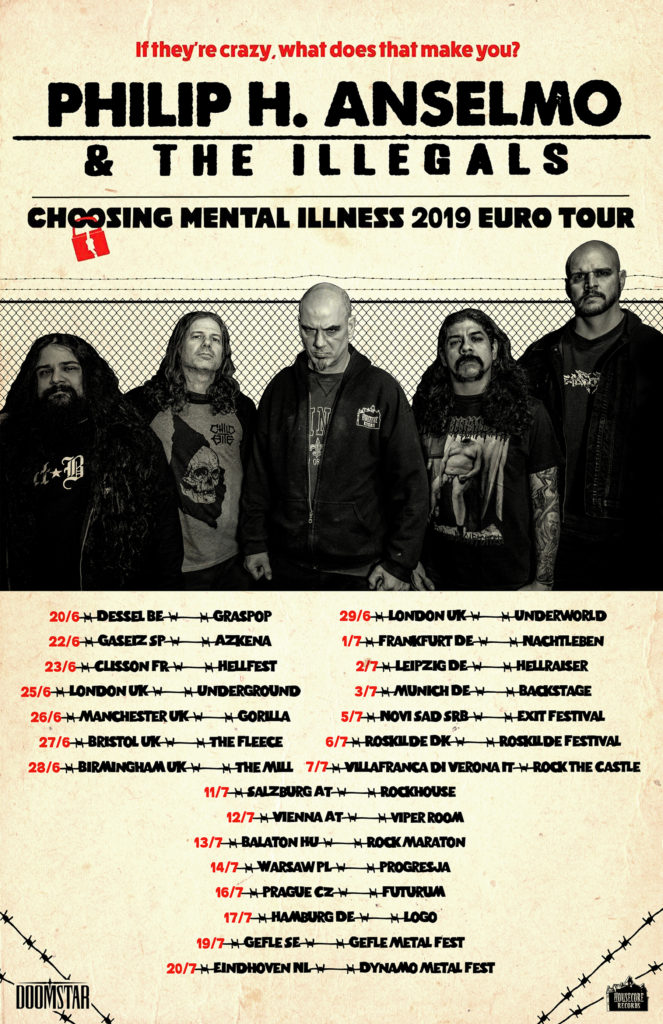 PHILIP H. ANSELMO & THE ILLEGALS will continue their 2019 worldwide live takeover with a month-long European tour. Set to commence on June 20th and run through July 20th, the journey includes a host of prestigious festival appearances including Graspop Metal Meeting, Hellfest, Roskilde Festival, and Dynamo Metal Fest. The band's latest journey follows their recent Australian tour with Housecore labelmates King Parrot. See all confirmed dates below.
PHILIP H. ANSELMO & THE ILLEGALS — now featuring Anselmo with guitarists Stephen Taylor (Superjoint) and Mike DeLeon (Flesh Horder, Being Killed, ex-MOD et al), drummer Jose Manuel "Blue" Gonzalez (Superjoint, Warbeast), and newest recruit Derek Engemann (Scour, ex-Cattle Decapitation) — released the critically-acclaimed Choosing Mental Illness As A Virtue full-length last year via Anselmo's own Housecore Records. Championed for delivering, "fifty minutes of gnarly, vicious extreme metal…," by Revolver Magazine, and called, "one of the angriest and heaviest albums of ANSELMO's career," by Exclaim!, Choosing Mental Illness As A Virtue is extreme, abrasive, aggressive, and anthemic.
View a recent ILLEGALS jam session, filmed by Mike Holderbeast at Anselmo's Nodferatu's Lair below.

And if you missed it, check out the official video for the track "Choosing Mental Illness" [also below). Directed by Katherine Richardson-Anselmo with director of photography Mike Holderbeast and starring Michael St. Michaels (The Greasy Strangler), the six-plus-minute clip pays tribute to Miloš Forman's 1975 drama, One Flew Over The Cuckoo's Nest and finds Anselmo playing the character of R. P. McMurphy.
PHILIP H. ANSELMO & THE ILLEGALS:
6/20/2019 Graspop Metal Meeting 2019 – Dessel, BE
6/22/2019 Azkena – Gaseiz, ES
6/23/2019 Hellfest 2019 – Clisson, FR
6/25/2019 Underworld – London, UK
6/26/2019 Gorilla – Manchester, UK
6/27/2019 The Fleece – Bristol, UK
6/28/2019 The Mill – Birmingham, UK
6/29/2019 Underworld – London, UK
7/01/2019 Nachtleben – Frankfurt, DE
7/02/2019 Hellraiser – Leipzig, DE
7/03/2019 Backstage – Munich, DE
7/05/2019 Exit Festival – Novi Sad, RS
7/06/2019 Roskilde Festival – Roskilde, DK
7/07/2019 Rock The Castle – Villafranca di Verona, IT
7/11/2019 Rockhouse – Salzburg, AT
7/12/2019 Viper Room – Vienna, AT
7/13/2019 Rock Maraton – Balaton, HU
7/14/2019 Progresja – Warsaw, PL
7/16/2019 Futurum – Prague, CZ
7/17/2019 Logo – Hamburg, DE
7/19/2019 Gelfe Metal Fest – Gefle, SE
7/20/2019 Dynamo Metal Fest – Eindhoven, NL
Choosing Mental Illness As A Virtue is out now on CD, vinyl, and digital formats in North America via Housecore Records. Order bundles are currently available via the Housecore Store at THIS LOCATION. For digital orders, go HERE.
http://www.facebook.com/philipanselmo
http://www.facebook.com/Philipillegals/
http://www.thehousecorerecords.com
http://www.thehousecorestore.com
http://www.facebook.com/housecorerecords