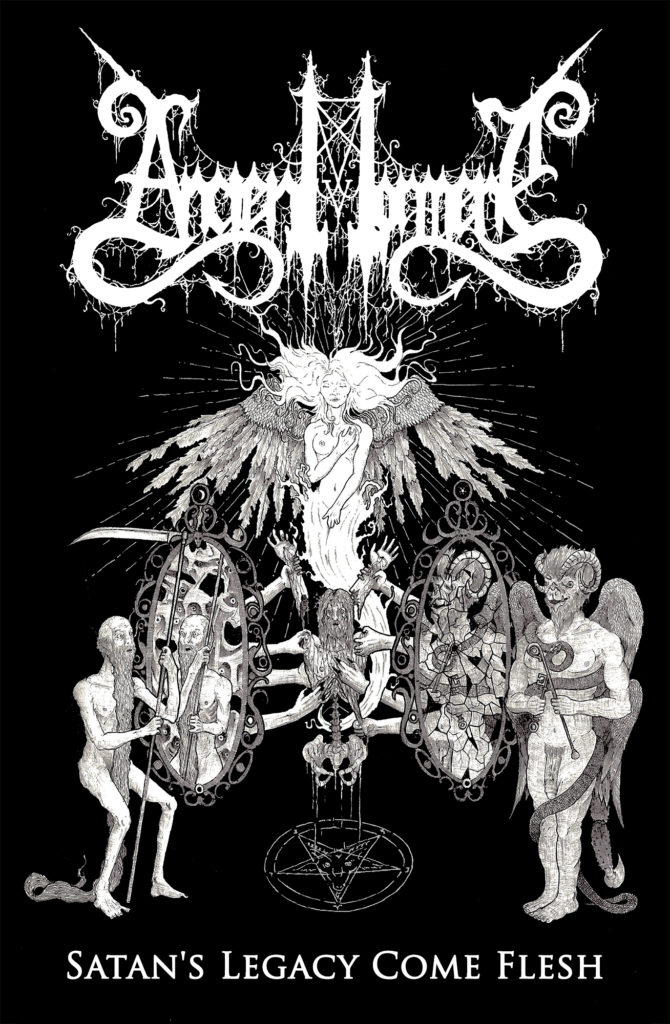 Distorted Sound Magazine is currently streaming Satan's Legacy Come Flesh, the impending debut EP from Providence, Rhode Island black metal cult ANCIENT TORMENT. The stream comes on the eve of its release via Eternal Death.
Writes Distorted Sound in a 9/10 review of the record, "The meticulous work and attention to detail ANCIENT TORMENT have shown in the creation of Satan's Legacy Come Flesh has certainly paid off… It has just the right balance between a dirty sound and catchy, memorable compositions to make it stand out significantly from many of their underground contemporaries. ANCIENT TORMENT are clearly well versed in old school black metal, but at no point does this strike the listener as contrived or stray into the realms of cheap parody…"
Adds the band, "Satan's Legacy Come Flesh comprises four songs of raw, Satanic black metal, bursting with dark energy and a hellish urgency. We take a no-frills approach to our songs, keeping the content pure and powerful and never skimping on quality or content. Each song was crafted with equal attention to detail to maximize the effect of the music. Sinister melodies over walls of rapid riffing and blasting drums, with plenty of moments of pure headbanging bliss all topped off with lyrics dedicated to sex, drugs, alcohol, heavy metal, and Satan and delivered with unflinching sincerity. This is black metal for fans of black metal. Fancy lads and curiosity seekers can fuck off."
Stream Satan's Legacy Come Flesh courtesy of Distorted Sound Magazine at THIS LOCATION.
For Satan's Legacy Come Flesh was recorded and mixed by Lykos (Malacath, Hiss) and mastered by Joshua Freemon (Hellgoat). For preorders visit the Eternal Death Bandcamp page at THIS LOCATION.
Under the malevolent glow of an Autumn moon emerges ANCIENT TORMENT. Forged in 2016 by guitarist Tormentum (Witch King), three years of careful planning were taken to ensure the triumphant unveiling of the debut EP Satan's Legacy Come Flesh.
Tormentum forges his riffs in the black fires of tradition, which are then hammered into form by drummer Zealot (Witch King). Ceremonial adornments are inlaid by guitarist Taíno Sangre (Sanguine Moon) and bassist The Corpse (Cemetery Lights), while vocalist Satanist (Bog Of The Infidel) consecrates the steel for the rites of violence and sex in allegiance to Satan. Four impious declarations spew forth from the shadows, comprising thirty minutes of infernal black metal.
"'Satan's Legacy Come Flesh' kicks some already buzzing guitars into rapid overdrive with blistering percussion and a coarse atmosphere to roughen it up. Doesn't sound too atypical of black metal, but damn if this shit doesn't feel like an open wound being dipped in lemonade!" – Indy Metal Vault
"The meticulous work and attention to detail ANCIENT TORMENT have shown in the creation of Satan's Legacy Come Flesh has certainly paid off… It has just the right balance between a dirty sound and catchy, memorable compositions to make it stand out significantly from many of their underground contemporaries. ANCIENT TORMENT are clearly well versed in old school black metal, but at no point does this strike the listener as contrived or stray into the realms of cheap parody…" — Distorted Sound Magazine
"Rewriting no rule books, their take on the genre is of the raw and filthy kind, taking a keep it simple approach that relies on two guitars, bass, drums, and a tortured larynx to get their point across. The production is, of course, free of bells and whistles, too… a decent collective worth keeping an eye on." — Outburn
https://www.facebook.com/ancienttorment/
https://www.facebook.com/eternaldeathUSA