PHILIP H. ANSELMO & THE ILLEGALS will unite with Housecore labelmates/Australian grind legion KING PARROT next week for their long-awaited US live takeover! The tour, previously scheduled for the spring but postponed following Anselmo's recent back surgery, will commence September 6th in New Orleans, Louisiana and includes a stop at this year's edition of Berserker Fest September 28th in Pontiac, Michigan. See all confirmed dates below.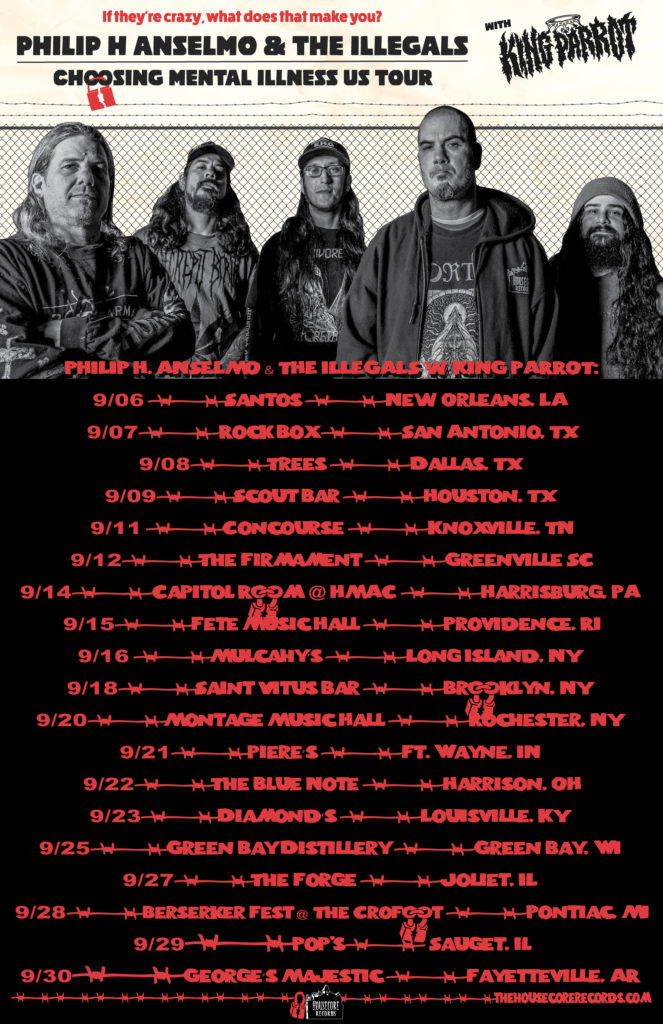 PHILIP H. ANSELMO & THE ILLEGALS + KING PARROT:
9/06/2018 Santos – New Orleans, LA [tickets]
9/07/2018 Rock Box – San Antonio, TX [tickets]
9/08/2018 Trees – Dallas, TX [tickets]
9/09/2018 Scout Bar – Houston, TX [tickets]
9/11/2018 The Concourse – Knoxville, TN [tickets]
9/12/2018 The Firmament – Greenville SC [tickets]
9/14/2018 The Capitol Room @ HMAC – Harrisburg, PA [tickets]
9/15/2018 Fete Music Hall – Providence, RI [tickets]
9/16/2018 Mulcahy's – Wantagh, NY [tickets]
9/18/2018 Saint Vitus Bar – Brooklyn, NY [tickets]
9/20/2018 Montage Music Hall – Rochester, NY [tickets]
9/21/2018 Piere's – Ft. Wayne, IN [tickets]
9/22/2018 The Blue Note – Harrison, OH [tickets]
9/23/2018 Diamond's Pub Concert Hall – Louisville, KY [tickets]
9/25/2018 Green Bay Distillery – Green Bay, WI [tickets]
9/27/2018 The Forge – Joliet, IL [tickets]
9/28/2018 Berserker Fest @ The Crofoot – Pontiac, MI [tickets]
9/29/2018 Pop's – Sauget, IL [tickets]
9/30/2018 George's Majestic – Fayetteville, AR [tickets]
PHILIP H. ANSELMO & THE ILLEGALS will be touring in support of their critically-lauded Choosing Mental Illness As A Virtue full-length, released earlier this year via Anselmo's own Housecore Records. Crowned, "fifty minutes of gnarly, vicious extreme metal…," by Revolver Magazine, "an ever-shifting fusillade of extreme groove prog…," by Decibel Magazine, and, "unquestionably one of the angriest and heaviest albums of ANSELMO's career," by Exclaim!, Choosing Mental Illness As A Virtue is extreme, abrasive, aggressive, and anthemic.
The band recently unveiled the official video for the track "Choosing Mental Illness." Directed by Katherine Richardson-Anselmo with director of photography Mike Holderbeast and starring Michael St. Michaels (The Greasy Strangler), the six-plus-minute clip pays tribute to Miloš Forman's 1975 comedy-drama, One Flew Over The Cuckoo's Nest and finds Anselmo playing the character of R. P. McMurphy.
Check it out below:
Choosing Mental Illness As A Virtue is out now on CD, vinyl, and digital formats in North America via Housecore Records. Order bundles are currently available via the Housecore Store at THIS LOCATION. For digital orders, go HERE.
KING PARROT dropped their blistering Ugly Produce full-length in North America last fall via Housecore Records. Captured at the infamous Goatsound Studios in Melbourne, Australia and produced by Blood Duster's Jason Fuller, the record continues to reap critical accolades for its deliciously repugnant fusion of raw, gnarled and nasty grind, death, thrash, and punk.
Decibel Magazine calls Ugly Produce, "…deranged and exceptionally catchy…," Rolling Stone Australia hailed a, "visceral ball of fury wrapped in sarcasm and grime that's both terrifying and hilarious at the same time," while New Noise writes in a 4.5/5 review, "At the core of the record is a pure mosh pit mentality, each track demonstrating a blistering combination of heavy and fast instrumentation, along with aggressive vocal work. All of this comes together to present a ride of anger and rage that will cleanse one's body of all fluids."
Watch KING PARROT's videos for "Ten Pounds Of Shit In A Five Pound Bag," and "Piss Wreck" below.
Stream KING PARROT's Ugly Produce via Spotify HERE.
Ugly Produce is out now on CD, digital, and vinyl formats. Nab yours today at the official KING PARROT website HERE.
http://www.facebook.com/philipanselmo
http://www.facebook.com/Philipillegals/?ref=br_rs
http://www.kingparrot.net
http://www.facebook.com/kingparrotband
http://www.thehousecorerecords.com
http://www.thehousecorestore.com
http://www.facebook.com/housecorerecords