PHILIP H. ANSELMO & THE ILLEGALS, in cooperation with Loudwire, are pleased to unveil the official new video for "Choosing Mental Illness" from their Choosing Mental Illness As A Virtue full-length released earlier this year via Anselmo's own Housecore Records. Directed by Katherine Richardson-Anselmo with director of photography Mike Holderbeast and starring Michael St. Michaels (The Greasy Strangler), the six-plus-minute clip pays tribute to Miloš Forman's 1975 comedy-drama, One Flew Over The Cuckoo's Nest.
Issues Anselmo, "This video is based on one of my favorite films about the harshness of mental illness. Being up close and personal with the struggle, I often feel like R.P. McMurphy, who I play in the clip. I've had a lot of questions about the LP title, Choosing Mental Illness As A Virtue and song title, 'Choosing Mental Illness,'" he continues, "but make no mistake, I take mental illness very seriously, especially because it often goes untreated. We've taken some extra steps at the end of the video with information that you, or someone close to you might need.
"On a lighter note, it's always a blast to do creative things like the video with my band, crew, and family. Bringing Michael St. Michaels into the fold was like having your favorite wacky uncle over for the holidays! He did a great job as our version of Nurse Ratched and he's an absolutely lovable and talented guy…go see The Greasy Strangler!"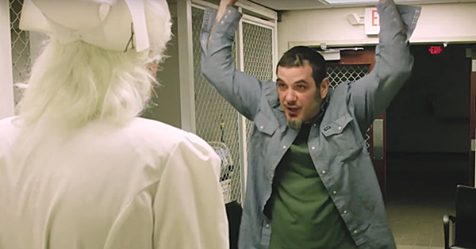 View "Choosing Mental Illness," courtesy of Loudwire, at THIS LOCATION.
The video includes a slate of information from Crisis Text Line. The non-profit organization provides free, 24/7, confidential crisis support. Text HOME to 741741 anywhere in the United State to be connected with a trained Crisis Counselor now. You can also learn more here at https://www.crisistextline.org/faq/.
Information on the Suicide Prevention Lifeline is also included immediately following the video. The National Suicide Prevention Lifeline provides free and confidential emotional support to people in suicidal crisis or emotional distress 24 hours a day, 7 days a week, across the United States and includes options in Spanish, and for the deaf and hard of hearing. Dial 1-800-273-8255 to speak with someone now.
In related news, PHILIP H. ANSELMO & THE ILLEGALS will unite with Housecore labelmates King Parrot this fall for their long-awaited US live takeover. Set to commence September 6th in New Orleans, Louisiana, the trek includes a headlining slot at this year's edition of Berserker Fest September 28th in Pontiac, Michigan. VIP meet and greet packages are currently available via the Housecore Store at THIS LOCATION. See all confirmed dates below.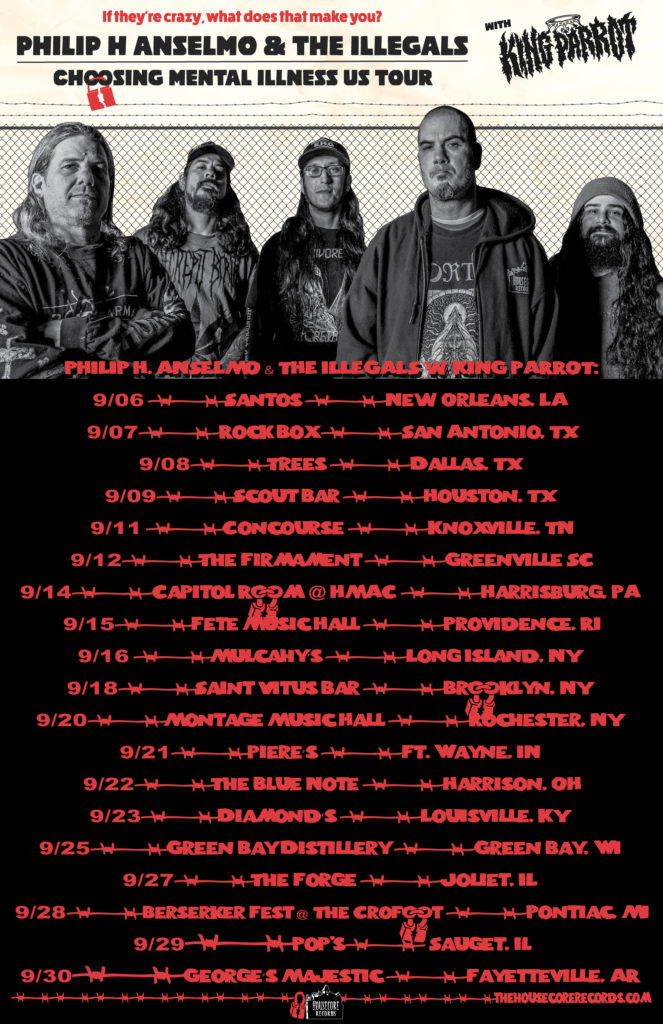 PHILIP H. ANSELMO & THE ILLEGALS w/ King Parrot:
9/06/2018 Santos – New Orleans, LA [tickets]
9/07/2018 Rock Box – San Antonio, TX [tickets]
9/08/2018 Trees – Dallas, TX [tickets]
9/09/2018 Scout Bar – Houston, TX [tickets]
9/11/2018 The Concourse – Knoxville, TN [tickets]
9/12/2018 The Firmament – Greenville SC [tickets]
9/14/2018 The Capitol Room @ HMAC – Harrisburg, PA [tickets]
9/15/2018 Fete Music Hall – Providence, RI [tickets]
9/16/2018 Mulcahy's – Wantagh, NY [tickets]
9/18/2018 Saint Vitus Bar – Brooklyn, NY [tickets]
9/20/2018 Montage Music Hall – Rochester, NY [tickets]
9/21/2018 Piere's – Ft. Wayne, IN [tickets]
9/22/2018 The Blue Note – Harrison, OH
9/23/2018 Diamond's Pub Concert Hall – Louisville, KY [tickets]
9/25/2018 Green Bay Distillery – Green Bay, WI [tickets]
9/27/2018 The Forge – Joliet, IL [tickets]
9/28/2018 Berserker Fest @ The Crofoot – Pontiac, MI [tickets]
9/29/2018 Pop's – Sauget, IL [tickets]
9/30/2018 George's Majestic – Fayetteville, AR [tickets]
Select tour stops will include onsite mental health support from the Veterans Crisis Line, The Veterans Crisis Line connects Veterans in crisis and their families and friends with confidential support 24 hours a day, 7 days a week, 365 days a year. Additional information on this and other non-profits will be announced in the coming weeks. Dial 1-800-273-8255 and press 1 to speak with someone now.
Following a successful maiden touring cycle for THE ILLEGALS, Anselmo hunkered down at his home studio in Louisiana to record what would become Choosing Mental Illness As A Virtue in 2014 and 2015. The lineup shifted as Stephen Taylor (Superjoint) transitioned from bass to guitar, Mike DeLeon (Flesh Horder, Being Killed, ex-MOD et al) joined as a guitarist, and Walter Howard (Grieved, Oppressive Force, Vaginal Bear Trap) took over bass duties. Meanwhile, Jose Manuel "Blue" Gonzalez (Superjoint, Warbeast) held down the drums. Through rigorous rehearsals and writing sessions, a framework for the new music took shape.
Called, "fifty minutes of gnarly, vicious extreme metal…," by Revolver Magazine, "an ever-shifting fusillade of extreme groove prog…," by Decibel Magazine, "a schizophrenic musical expression that's as insane as it is enjoyable," by Blabbermouth and, "unquestionably one of the angriest and heaviest albums of Anselmo's career," by Exclaim!, the critically-lauded offering is extreme, abrasive, aggressive, and anthemic. In other words, it's purely Anselmo.
Choosing Mental Illness As A Virtue is out now on CD, vinyl, and digital formats in North America via Housecore Records. Order bundles are currently available via the Housecore Store at THIS LOCATION. For digital orders, go HERE.
Mental Health Is Not A Virtue
Mental illness affects everyone regardless of culture, race, ethnicity, gender or sexual orientation.
43.8 million adults experience mental illness in a given year.
1 in every 5 adults in America experience a mental illness.
Nearly 1 in 25 (10 million) adults in America live with a serious mental illness.
One-half of all chronic mental illness begins by the age of 14; three-quarters by the age of 24.
If you, or someone you know is suffering from mental illness, please find help.
The above statistics and more information about mental health can be found on www.nimh.nih.gov
http://www.facebook.com/philipanselmo
http://www.facebook.com/Philipillegals/?ref=br_rs
http://www.thehousecorerecords.com
http://www.thehousecorestore.com
http://www.facebook.com/housecorerecords