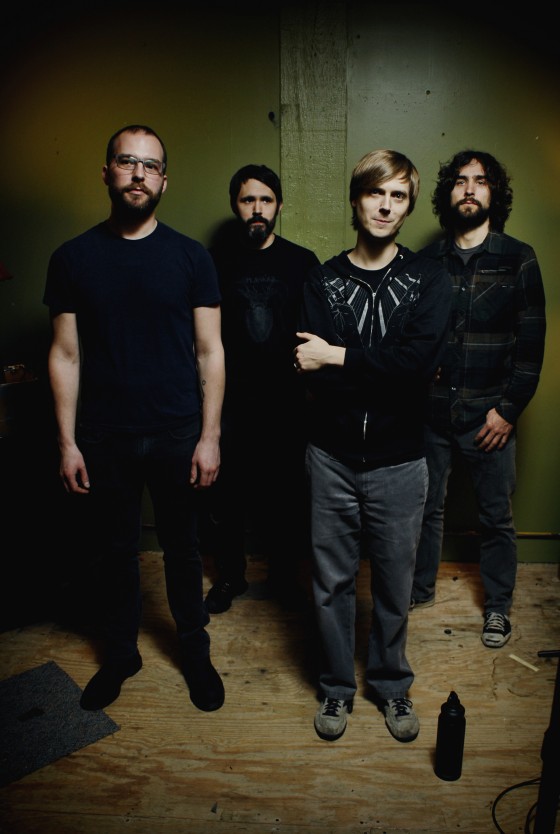 Chicago's esteemed instrumental quartet, PELICAN, is set to release a new EP on Southern Lord in the new year based around fresh reimaginings of "The Cliff," a highlight from their most recent album, 2013's Forever Becoming, and one recently completed new song. Due out February 24th on 12″ vinyl and digital formats, the four track The Cliff EP includes remixes from Justin Broadrick (of Godflesh, Jesu), Aaron Harris and Bryant Clifford Meyer of ISIS/Palms, and, for only the second time in their fourteen year career, vocals.
Allen Epley (Shiner, The Life and Times) once again returns to the band's fold to transform, in a complementary manner, the concept and overall outcome of what we have come to know as PELICAN. No cheap juxtaposition, Epley's seasoned voice is as broad and astonishingly capable on "The Cliff" as the members behind the music, a claim those who have listened to Epley's contribution on "Final Breath" from 2009's What We All Come To Need will attest to. Elsewhere on the record, Justin Broadrick and AH/BCM turn in fresh takes of the source material, feeling less like remixes than new compositions reworked from the original source. Rounding out the set is the previously unreleased song "The Wait", a contemplative semi-acoustic simmer that builds to an explosion of cathartic distortion and melody in true PELICAN fashion. The drums were recorded by Aaron Harris and the rest of the music recorded by Sanford Parker.
Hear "The Cliff (vocal version)" via MetalSucks RIGHT HERE.
The Cliff Track Listing:
1. The Cliff (Vocal Version)
2. The Cliff (Justin K. Broadrick remix)
3. The Cliff (AH & BCM remix)
4. The Wait
http://www.pelicansong.com
http://www.facebook.com/pelicansong
http://www.instagram.com/pelicansong
http://www.southernlord.com
http://southernlord.bandcamp.com
http://www.facebook.com/SLadmin
http://twitter.com/twatterlord